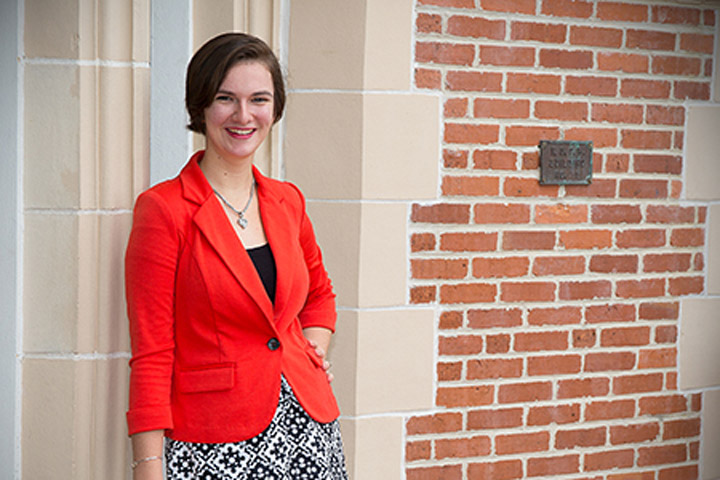 "What stood out to me was that students had a great passion for the university and the programs they put on. As a UROP Leader, I learned a lot about other people and how to motivate passions."
Victoria Sunnergren, Florida State University's 2014 College of Fine Arts Humanitarian of the Year, has transformed countless opportunities into realities for the Tallahassee community.
Whether transforming the academic performance of elementary students or providing an abundance of intellectual thought and discussion with TEDxFSU, Sunnergren has enriched the lives of those she works with. She has proven herself to be an intellectual who puts the success of others before her own.
As a volunteer for Grace Mission, Sunnergren helped provide childcare services and academic opportunities to underprivileged young students of the Frenchtown neighborhood in Tallahassee. With support from Sunnergren and lots of hard work, an elementary student scoring Cs and Ds progressed into a straight-A student.
Sunnergren's affinity for volunteering follows her into her own academic life at FSU, where she serves as an Undergraduate Research Opportunity Program colloquium leader.
"What stood out to me was that students had a great passion for the university and the programs they put on. As a UROP leader, I learned a lot about other people and how to motivate passions," she said.
As the recipient of a Mentored Research and Creative Endeavors Award, Sunnergren plays a role in teaching freshman and inspiring more student involvement in undergraduate research at FSU.
"Victoria is a budding scholar who has shared her expertise and passion with underclassmen as a UROP leader, and over the past year she has even helped train next year's cohort of UROP leaders," said Joe O'Shea, the director of Florida State's Center for Undergraduate Research and Academic Engagement. "Victoria will have a lasting impact at FSU."
In addition to being a UROP leader, Sunnergren is spearheading other programs in the FSU community. As a chair of the Student Leadership Council for the College of Fine Arts, Sunnergren published Six Magazine, organized social events like "Pizza with Professors" to connect students with their instructors and worked toward finding post-college career opportunities for students. Sunnergren also coordinated student groups and FSU's community service fair as a liaison to recognized student organizations.
This year's TEDxFSU conference, a coordinated effort put on by Sunnergren and fellow students, featured speakers on hot-button topics ranging from transgender rights to sexual assault. Each coordinator of TEDxFSU was responsible for supervising multiple event chairs. Sunnergren coordinating the design, programming and video production chairs. TEDxFSU 2015 nearly tripled its audience size from the previous year and provided a wealth of information and resources from leading experts on prominent issues affecting the FSU community and the world.
An art history and religion double major, Sunnergren hopes that through these programs she can create a more open and communicative environment, spreading ideas and encouraging contact between speakers and audience, professors and students. Her work in the community also has helped uphold the idea of arts and humanities as complex, intelligent disciplines saturated in critical thinking and analysis, and as disciplines that are worthy of the same distinction in the research arena as the sciences.
"Many students still think of science when they think of undergraduate research, but Victoria has worked really hard over the past two years to change that," O'Shea said. "Victoria has led efforts to expand FSU students' understanding of undergraduate research to include the arts and humanities. But Victoria hasn't only been a great advocate, she is also a good role model for other students interested in research."
After her graduation next spring, Sunnergren is planning to pursue her master's degree in museum studies, to pursue a career dedicated to highlighting works of art and educating others about the intersection of art and culture. Sunnergren's passion is contemporary Native American artwork. She has interned with the Museum of Northern Arizona for the past two summers, conducting research on Navajo artwork through her Mentored Research and Creative Endeavors grant.
"I fell in love with the symbolism in Native American artwork," Sunnergren said. "This artwork is often highly skilled and symbolic work, but it's not often understood by non-native art enthusiasts, so it does not currently have the prestige it deserves in American museums."
Through her internship with the Heritage Program at the Museum of Northern Arizona, Sunnergren worked closely with artists and helped organize and design the Zuni, Hopi and Navajo festivals.
"Victoria has proven to be quite a renaissance woman at FSU — finely integrating great artistic and intellectual ability as she explores new boundaries," said Antron Mahoney, an assistant director at the Center for Leadership and Social Change who also served as adviser to TEDxFSU. "This is evident by her involvement with the Service Leadership Seminar, experience as an undergraduate researcher and co-coordinator of innovative campus programs like TEDxFSU, among many other endeavors."
---
By Lauren Spaunburgh, University Communications Intern
Produced by the offices of Information Technology Services, the Provost, Student Affairs, Undergraduate Studies and University Communications.