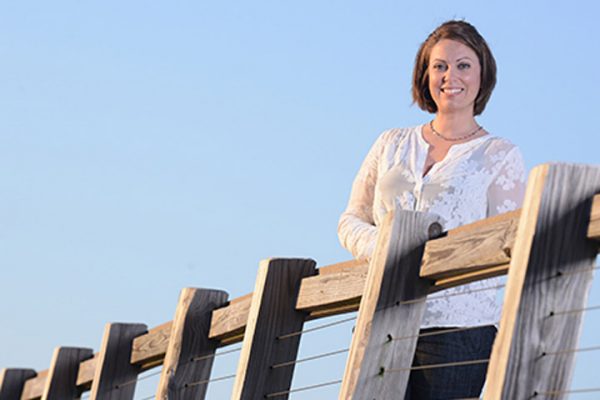 "I have always been a person who believes that helping others is the true way of helping ourselves."
Communications student Sabrina McAlister has been a Seminole at heart for as long as she can remember.
Growing up, FSU was a household tradition for Sabrina's family, and she aspired for years to attend and graduate from FSU and become a 'Nole for life.
When McAlister's husband received military orders to relocate to Tyndall Air Force Base in Panama City, Fla., McAlister saw an opportunity to achieve her dreams of becoming a Seminole. She began the enrollment process immediately after moving to Panama City, and began her studies at FSU Panama City in fall of 2014.
McAlister originally started school to become a nurse, but after working as the client services coordinator at the Surgery Center of Anchorage in Anchorage, Alaska, McAlister discovered and explored new strengths she never knew she had. After a long period of deliberation, she decided to explore these new strengths further through FSU's communication program.
McAlister says her time with the communications department has been a rewarding experience that has helped her to develop skills and knowledge in "a field that is an intricate part of the world around us."
During the spring 2015 semester, McAlister was able to put these skills to use while interning with FSU Panama City's Office of Advancement. The position gave her an opportunity to learn about the inner workings of a collegiate development and advancement office and taught her the importance of marketing, event management and community relations within a collegiate organization.
An accomplished student who maintains a 4.0 grade point average, McAlister still manages to find time to spend with her husband and two children.
"Being a wife and mother comes first and foremost. However, I have high expectations of myself when it comes to my academics," McAlister said.
She has had to make many sacrifices along the way to meet these high expectations, but said her family has been extremely supportive of her and her educational goals.
McAlister's achievements go beyond just her academics. In March of 2015, McAlister was awarded FSU Panama City's Humanitarian of the Year Award for saving the life of a friend by donating one of her kidneys to him.
It was in September of 2013 that McAlister learned that her close friend whom she had known since kindergarten had been diagnosed with a serious kidney disorder.
"As crazy as it may sound," said McAlister, "I knew at that moment, without having any testing done, that this was the reason our lives had crossed paths at such a young age."
Six months later, the test results showed that McAlister in fact was a perfect match for the transplant.
"Everything was perfectly aligned just how family members might be," she said.
At the end of 2014, McAlister and her friend underwent the transplant procedure. The procedure was a success, and now, thanks to McAlister, her friend will be able to live a long and healthy life and start a family with his wife.
"As for me," said McAlister, "I get the satisfaction of being able to watch his beautiful family grow, I get to see him no longer struggle through daily tasks, and I now have the opportunity to use my experience in hopes of touching at least one life."
McAlister now devotes her time to advocating on behalf of organ donation, using her experience as a means to educate and inform others. She hopes that those who come into contact with her will be made aware of the need for organ donors and become registered donors themselves.
"From day one of finding out my friend was sick and needed a kidney to save his life, I felt a strong purpose and direction that I would have never imagined for myself," said McAlister, "I have always been a person who believes that helping others is the true way of helping ourselves, and I believe with this experience God gave me the greatest gift of all — the gift of pure, honest inner-peace and self-worth."
After finishing her bachelor's degree, McAlister hopes to continue her education at FSU by working toward graduate degrees in both corporate and public communication as well as law enforcement intelligence.
---
By Ryan Milejczak, University Communications Intern
Produced by the offices of Information Technology Services, the Provost, Student Affairs, Undergraduate Studies and University Communications.