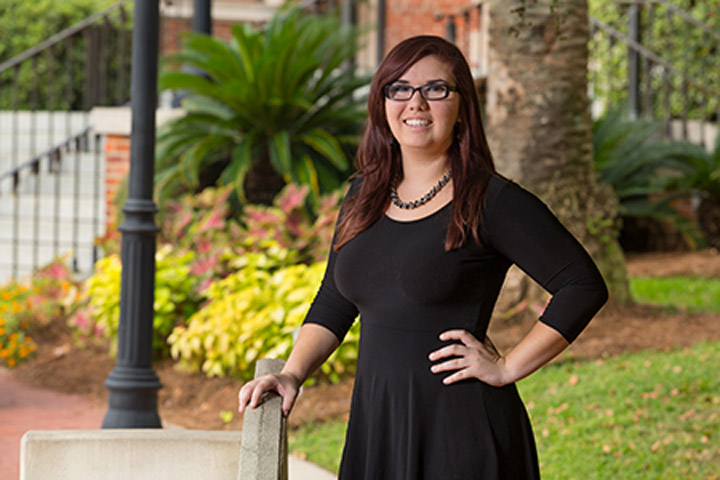 "Being the first to attend college, I knew how important it was to continue to conquer all of the trials life has to offer me and leave a legacy for my younger siblings and family members to follow."
Junior social work student Mackenzie McDougall is the first person in her family to attend college, and she has made the most of her experience.
Her Florida State University career began in 2013 with her acceptance into the Center for Academic Retention and Enhancement's Summer Bridge Program, which aims to provide orientation and academic support for first generation college students from socioeconomically disadvantaged backgrounds transitioning from high school to college.
"Being the first to attend college, I knew how important it was to continue to conquer all of the trials life has to offer me and leave a legacy for my younger siblings and family members to follow," McDougall said.
Upon arriving at FSU for the first time, she knew she had made the right choice of university right away.
"When I first stepped onto Landis Green, I knew I was home," McDougall said, "seeing all of the students studying on the plush green grass with smiles that promise a bright future ahead. I knew instantly I had to sign my commitment to the CARE program and spend the rest of my educational career and beyond as a Seminole."
Later on in her FSU career, McDougall joined the Social Justice Living-Learning Community. Located in Wildwood Hall and known colloquially as SoJust, the living-learning community is a group of about 30 students who desire to engage in meaningful, intentional and open discussion on many societal issues. There, McDougall was able to be an informal mentor to incoming freshman students and provide the resources and tools they needed in their first year as college students.
"Being a first generation college student and being recognized by FSU faculty and staff for my grades helped many of my mentees adjust to college as they realized that hard work will pay off in the long run and that it does not matter where you come from but where you intend to go," McDougall said.
McDougall found another leadership opportunity in the Wildwood Hall government, where she was elected as treasurer. She also held a position as an executive board member for the Association of Student Social Workers, a student organization that works with the College of Social Work and the local community to provide an educational and professional experience for social work students.
McDougall has been recognized for her academic achievements with two consecutive semesters on the Dean's List. She has also received the Social Work Undergraduate Research Award over two consecutive semesters. Using this award, she conducted research under the supervision of Professor Dina Wilke performing an investigation into the turnover rates of child welfare agencies. Most recently, McDougall was inducted into the Phi Eta Sigma National Honor Society in spring 2015.
McDougall is also the recipient of a 2015 Social Work Undergraduate and Creative Activity Award, or SWURCAA. Using this award, McDougall is conducting her own child welfare research by studying and surveying undergraduate social work students entering their summer field placements. The purpose of her research is to compare internships in child welfare agencies and non-child welfare agencies and evaluate trends in personal and organizational factors that may affect retention in later employment in such agencies.
Throughout all her successes, McDougall has had the help of her adviser, Samantha Spears, who McDougall sees as a mentor.
"Mackenzie McDougall is an exceptional student and an even more remarkable person," Spears said. "She is passionate about social work and is enthusiastic about sharing this with others. Mackenzie has been very involved at FSU in the College of Social Work and in the Tallahassee community since she started two years ago, and I know she will be successful in any endeavor she pursues."
After graduating with her bachelor's in social work in spring of 2016, McDougall plans on continuing into the advanced master's program. She hopes to complete that program in spring of 2017 and, from there, join the Peace Corps for two years.
McDougall's long-term plans involve working in a crisis intervention unit for victims of human trafficking and domestic violence, as well as plans to return to school to complete a doctoral degree in social work. After obtaining her doctorate, she plans on opening her own agency in South Florida specifically geared towards helping victims of human trafficking.
---
By Ryan Milejczak, University Communications Intern
Produced by the offices of Information Technology Services, the Provost, Student Affairs, Undergraduate Studies and University Communications.