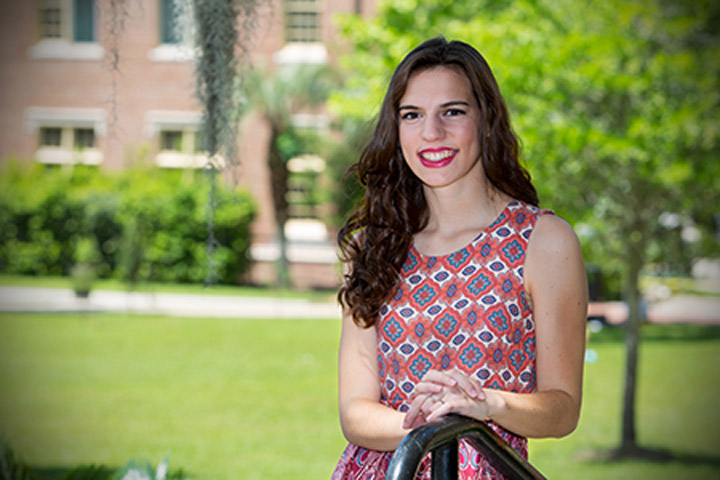 "Presenting my work at a professional conference was an experience unlike any other. I was truly inspired to be the best physical anthropologist I can be.""
Ever since she was a little girl, Florida State University sophomore Alexa Pennavaria has been passionate about the study of anthropology.
"When I was a kid, I told everyone I wanted to be an archaeologist," she said, "but nearly every time I said that's what I wanted to do, I would get a response along the lines of 'good luck with that.'"
Disheartened by those responses, and worried about choosing a field that might not guarantee her a job after graduation, Pennavaria initially declared advertising as her major, rather than anthropology. She saw advertising as more lucrative than anthropology, and was interested in learning about how people think and participate in mass media. Pennavaria's time as an advertising student would be brief, however.
"After taking my first advertising class," said Pennavaria, "I just knew it wasn't for me. After that, I was kind of stuck because I felt like none of my interests would ever help me become successful."
After a few weeks in what she describes as "academic limbo," struggling to decide on a new major, Pennavaria decided to follow her dreams and pursue the field she had always been passionate about from the start: anthropology.
Pennavaria has no regrets about this decision, and has been incredibly successful in her field, having participated in a number of different research projects, presenting her research at three separate conferences, receiving two prestigious research grants and making both the President's and Dean's lists three semesters in a row.
"Alexa is an absolutely fantastic student," said Geoffrey P. Thomas, a member of the Department of Anthropology's teaching faculty who serves as Pennavaria's academic supervisor. "When she sees an opportunity to learn through experience, she just needs to be pointed in the right direction and off she goes. Her dedication and inquisitiveness goes beyond the scope of most undergraduate students and I am proud to be one of her mentors."
Over the summer of 2015, Pennavaria did research in Tübingen, Germany, with the University of Tübingen's Osteology Collections for her honors thesis project. It was a continuation of research she did last year through the Undergraduate Research Opportunities Program, or UROP, involving a new method of determining biological sex using the humerus rather than the more traditional method using the crania and pelvic bones. Her research last year with UROP was performed using the Windover Collection held here at FSU, for which she wrote a paper and presented her findings at both the 84th meeting of the American Association of Physical Anthropologists in St. Louis, Mo., as well as at the Florida State Undergraduate Research Symposium.
"Presenting my work at a professional conference was an experience unlike any other. It was both terribly nerve-wracking and absolutely enlightening to be surrounded by the best in my field and hear about all the discoveries being announced," Pennavaria said, "I was truly inspired to be the best physical anthropologist I can be."
After attending these conferences and learning more about her field, Pennavaria realized the research she had done using FSU's Windover Collection would require a much larger sample of skeletons. To facilitate further research, she applied for both the Undergraduate Research and Creative Activity Award, or URCAA, through UROP, as well as the Benjamin A. Gilman International Scholarship through the Florida Department of State. Pennavaria was lucky enough to receive both of these awards, and is using them to facilitate her research in Tübingen.
In addition to this research, Pennavaria researched endocannabilism in South America with two friends earlier last year and presented this research at the Florida Undergraduate Research Conference in Daytona Beach, Fla. Toward the end of summer, she embarked on an excavation in the south of France with a team of researchers learning about humankind's place in the middle to upper Paleolithic.
Now that she has returned to Tallahassee for the fall, Pennavaria will be a UROP colloquium instructor mentoring future researchers. She also is interning in the Bureau of Archeological Research Collections and Conservation lab. After she graduates, Pennavaria plans on attending graduate school and pursuing a doctorate in biological anthropology and functional anatomy.
---
By Ryan Milejczak, University Communications Intern
Produced by the offices of Information Technology Services, the Provost, Student Affairs, Undergraduate Studies and University Communications.