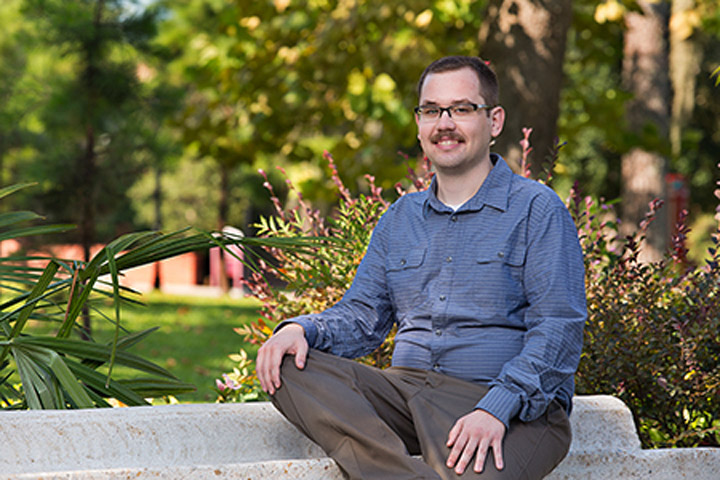 "In my study of the primates, I hope to come to a deeper understanding of the origins of the one characteristic of Homo sapiens that makes us unique amongst the animal kingdom — our capacity to utilize language to describe the world around us.""
Anthropology major Cody Moser had the rare opportunity over the summer of 2014 to conduct research on capuchin monkeys not in the lab, but out in the field in Costa Rica. His primatology research at La Suerte Biological Field Station was carried out through the Maderas Rainforest Conservancy, a nonprofit organization dedicated to protecting Mesoamerican forests, animals and plants. Moser is a passionate scholar when it comes to anthropology and primatology — and is pursuing every opportunity to conduct research and be involved in the community, at Florida State University and beyond.
"Cody is one of those rare students that professors love to find enrolled in their classes," said Dean Falk, a Florida State professor of anthropology. "He attends the lectures, does the reading, engages in class discussion and is genuinely interested in the subject matter."
Over the summer of 2015, Moser pursued another adventure — a research trip to the Duke Lemur Center made possible by a $5,000 summer research stipend from a 2015 Atlantic Coast Conference Intercollegiate Award. Moser acquired the opportunity to study lemurs at Duke thanks to Emily Lemmon and his time volunteering in the Moriarty/Lemmon lab at Florida State. During this experience, Moser developed a newfound interest in genetics and a deeper understanding of the subject. He has since pursued a minor in biology.
"As a first-generation college student, receiving my grant has not only helped me to fulfill my dream of becoming a primate researcher, but also the dreams of all the family members before me who never had the opportunity to attend college," said Moser, a Florida State junior.
For the first time, Moser saw capuchin and howler monkeys in the wild and experienced his research hands-on with his mentor, Katherine MacKinnon, an associate professor of anthropology at St. Louis University. Moser first became interested in anthropology and primatology when he learned that many of the behaviors of humans and their early ancestors are unaccounted for in the fossil records, but that our close relatives may account for many of the behaviors we have today.
"In my study of the primates, I hope to come to a deeper understanding of the origins of the one characteristic of Homo sapiens that makes us unique amongst the animal kingdom — our capacity to utilize language to describe the world around us," Moser said.
"He is pursuing research on communication in certain distant relatives of modern humans," said Elizabeth Peters, Florida State professor of anthropology. "His work will help us to better understand the platform that gave rise to the evolution of modern humans on the one hand and the large diversity of complex species that make up the primate order on the other. Given the precarious future of so many of these species, it is critical research. It is remarkable that Cody is doing as an undergraduate the kind of sophisticated research and analysis that other scholars start at the Ph.D. level."
For Moser, studying primates in the Costa Rican rainforest has been an enlightening and spiritual undertaking. Moser recalls looking through his binoculars and meeting the eyes of a howler monkey staring straight back at him and seeing himself 40 million years removed.
"I really felt I saw a chance version of myself at the other end of that lens; had my ancestor been born to a different chromosome on a fateful day in West Africa so many generations ago that could have been me," Moser said.
Moser's intellectual enthusiasm doesn't stop at his research abroad; he also embraces the anthropology community here in Tallahassee.
"Cody is already participating in various summer research programs and attending and presenting papers at national meetings," Falk said. "I am excited about watching Cody's career develop in graduate school and beyond. In addition to his scholarly pursuits, Cody is involved in FSU's anthropological society and is always there to help out in departmental events."
Since his first semester at FSU, Moser has been a member of the Anthropology Society at Florida State, an organization that has introduced him to some of his very best friends and further roused his interest in his study of mankind. Moser believes the aspiring anthropologists of this tight-knit community are quirky in the best way — claiming that ASFSU is the only organization on campus where students will never be ostracized for "being completely obsessed with dead people." Moser believes that the organization has given an intellectual space for him and his peers to bounce ideas off of one another.
"Cody Moser is an outstanding example of how an excellent student and a great university can benefit each other," Peters said. "Cody is sensitive, curious and smart. But he will be the first to tell you that his academic experiences at and via FSU have given him the tools to dream and achieve big."
In addition to working with his peers at Florida State, Moser serves as an academic liaison to the Department of Anthropology. He also gives classroom talks at his former community college, where he discuses the importance of anthropology and offers advice about opportunities that aspiring anthropology students can pursue. In the near future, he hopes to mentor K-12 students in subjects of race, biology and heritage of the last eight million years.
"I want to teach people that anthropology is a gateway to an endless field of scientific interests that you can freely get lost in without ever intending to come home," Moser said. "Even though humans through time, space and place are completely diverse, unique and often generally strange, we all share a common origin and through that origin a common fate as a species." Moser said.
Moser hopes the students he mentors will take these ideas with them as they embark on their study of anthropology at the university level in the future. As for Moser's future, he is planning to continue his study of anthropology and non-human primates in graduate school. Moser has many questions about the world and is making it his mission to keep the curiosity alive and never stop asking them.
---
By Lauren Spaunburgh, University Communications Intern
Produced by the offices of Information Technology Services, the Provost, Student Affairs, Undergraduate Studies and University Communications.