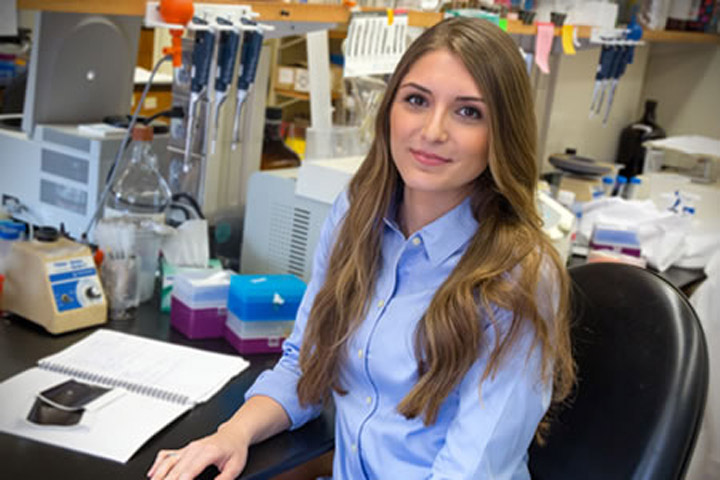 "Undergraduate research has been a magnificent, stimulating, difficult and outlandishly thrilling experience all at the same time."
Reema Tawfiq has always been fascinated by science.
While she originally considered studying biology, Tawfiq wanted a field that was more specifically focused on the human body. She decided to study exercise science to begin working toward her dream of becoming a physician.
In her studies at Florida State University, Tawfiq was exposed to something she had never anticipated or considered doing before: academic research.
Tawfiq first became involved in research in the summer of her freshman year, working with graduate student David Hoover on a study investigating the effects of population density of the fish species Heterandria Formosa, also known as the mosqu or the least killifish. Unfortunately, the study came to an end due to difficulties keeping the fish alive.
Thankfully, this wouldn't be the end of Tawfiq's research experiences. After her study with David Hoover concluded, Tawfiq learned that she had been accepted to participate in the Undergraduate Research Opportunity Program, or UROP.
"UROP was extremely revolutionary for my undergraduate experience," Tawfiq said, "it changed me a lot, because it exposed me to a lot of other successful students and I was like, 'Man, I want to do those great things.'"
It was at the time that Tawfiq joined UROP that she became involved in the laboratory of College of Medicine Professor Myra Hurt, under the supervision of Raed Rizkallah, a research faculty member within the college. Her research was focused on studying cellular signals that control the regulation of proteins in cancer cells, and it was research that Tawfiq found endlessly fascinating.
"To think I was fascinated by the human body before," she said, "imagine my reaction when I began learning more about the complexity of the cell, the basic structural unit of the human body."
Being a part of this lab has also changed Tawfiq's outlook on research and science as a whole.
"Undergraduate research has been a magnificent, stimulating, difficult and outlandishly thrilling experience all at the same time," she said.
In addition to her work under Rizkallah, Tawfiq has gained laboratory experience working at the Florida Department of Agriculture and Consumer Services. She began working there during her freshman year, and continued working there for two years. She first worked as a lab assistant for the Bureau of Agriculture, and was then promoted to work as an independent inspector of the FDA, inspecting animal feed and looking for any deleterious elements.
Tawfiq's experiences in the lab sparked her desire to conduct her own research experiment, and to do that she would need a grant. For this, she looked to the Undergraduate Research and Creative Activity Award, or URCAA. She applied first during her sophomore year, but did not receive it. However, a year later she applied again with more experience under her belt and became a 2015 URCAA winner. She will be using this grant to conduct biomedical research geared toward sequencing the DNA of cancer-causing cells, with the aim of detecting any mutations.
In addition to her research through UROP, Tawfiq is a leader of a training colloquium for them, in which she mentors other students on how to conduct and present research. Not only has Tawfiq won her own URCAA award, but two students she mentored have also won their own URCAA awards. She also leads a Freshman Interest Group, or FIG. FIGs are pre-packaged clusters of courses linked by a theme or academic program, and as a FIG leader, Tawfiq helps introduce freshmen to FSU's academic culture and help them explore their interests. Tawfiq's achievements are impressive, and Hurt strongly praised her.
"She has an inquiring mind," said Hurt, "and has good hands in the laboratory. She wants to understand the complexities of our research, asks questions and participates fully in our lab meetings. She works very hard at everything she does. Finally, she is an excellent communicator, essential for success in her chosen profession. Reema has wanted to be a physician from an early age, she has a calling to the practice of medicine."
Beyond her involvement in research, Tawfiq is also a member of the College of Medicine's outreach program, Undergraduate Science Students Together Reaching Instructional Diversity and Excellence, or USSTRIDE, as well as USSTRIDE's sister organization, the Minority Association of Pre-Medical Students, or MAPS. These organizations have allowed Tawfiq to give back to her community in a number of ways. A few times a week, she mentors students at Shanks Middle School and Hartsfield Elementary School, tutoring them in subjects such as biology and anatomy. She was also involved in this year's Making Strides Against Breast Cancer event. Tawfiq's own aunt passed away in February of 2013 after a long battle with breast cancer, and as such Tawfiq found this event especially meaningful.
"I was thrilled to participate and see the community come together to recognize the people who are and have been affected by breast cancer," Tawfiq said.
Through MAPS, Tawfiq has also volunteered for events such as The Big Event, a massive, one-day, student-run service project aimed at giving back to the community through various service projects, such as home improvement. In addition to this, she volunteers with Big Bend Hospice as well as Oneblood.
Outside of the community, Tawfiq has volunteered abroad in Coast Rica through International Service Learning. With them, she participated in a medical mission trip in the country, setting up medical clinics in poorly developed communities such as Alajuela and Puntarenas. This was such an emotional and motivating experience for Tawfiq that in spring of 2014 she chose to become the FSU representative for ISL. In this role, she leads and assists groups of students to volunteer in one or two of the twelve countries that ISL is involved in.
This fall, Tawfiq is completing an externship as a clinical assistant at Health & Wellness Centers of North Florida.
After finishing her undergraduate career, Tawfiq aspires to continue her education and is currently applying to medical school here in Florida. She hopes to continue her research, and hopes it can advance medical science. In the future, she hopes to have her own practice.
---
By Ryan Milejczak, University Communications Intern
Produced by the offices of Information Technology Services, the Provost, Student Affairs, Undergraduate Studies and University Communications.