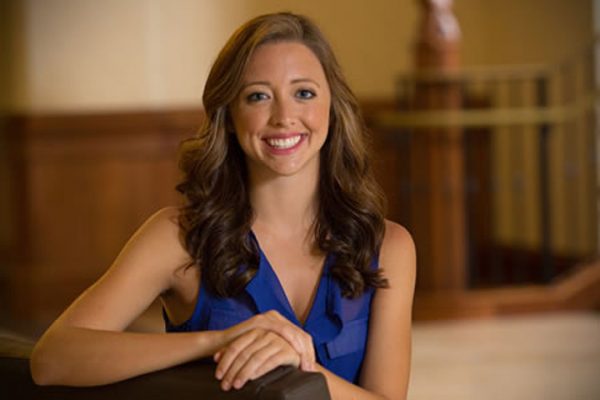 "I feel like I'm getting almost every aspect of the university, and it all really does tie together. They're very different worlds, but I feel very lucky that I get to experience them all."
As a biological sciences major, student athlete, Undergraduate Research Opportunity Program member and Chi Omega sister, senior Barbara Dietrick knows first-hand that Florida State University has a lot to offer — and has developed great time-management skills in order to pursue her diverse array of collegiate interests.
"I feel like I'm getting almost every aspect of the university, and it all really does tie together," Dietrick said. "They're very different worlds, but I feel very lucky that I get to experience them all."
Dietrick is grateful to be involved in communities that are understanding of her busy schedule and always encourage her to pursue her outside interests. Not only is Dietrick involved with multiple aspects of the FSU community, she also maintains a 4.0 grade point average and has won multiple awards for her research. She is the recipient of a Bess H. Ward Honors Thesis Award and a 2015 Undergraduate Research and Creative Activity Award for her academic study of disease progression occurring in the embryonic development of fruit flies.
For the past three years, Dietrick has studied brain-related diseases such as Parkinson's and Alzheimer's in the laboratory of biomedical sciences Associate Professor Timothy Megraw. Her main focus is microcephaly, a congenital condition related to incomplete development of the brain. Dietrick researches the genetic links to these diseases, hoping to one day contribute to the collective effort to implement successful gene therapy in humans.
Currently, she is working to publish a manuscript on a finding she made involving neurodegenerative disease networks. Dietrick made an accidental discovery when a fruit fly larva was punctured during dissection, and noted that the fly formed a tumor-like accelerated melanization around the wound. After testing other flies, the outcome was the same — and Dietrick realized her flies did not have a mechanism to heal their wounds. Dietrick and her lab mates are now studying this phenomenon to learn more. This occurrence could offer more information on diseases like diabetes, in which patients have a reduced ability to heal their wounds.
Dietrick worked on another paper her freshman year under Professor of Social Work, Amy Ai. "Addressing Childhood Obesity Using a Multidisciplinary Approach with Social Workers" was co-authored by Dietrick, Ai and Cara Pappas and was published online this past spring.
"Barbara is a bright and mature scientist and I am very proud of her achievements. She is the kind of person who will be successful at whatever she does," said Timothy Megraw, whohas become a mentor to Dietrick.
Under the advisement of Megraw, Dietrick became a member of the Tribeta Biological Honor Society at FSU and was invited to compete at the Tribeta National Convention. Dietrick traveled to Erie, Penn., and presented her research, taking home second place in her division as a sophomore competing against seniors.
Dietrick also is a member of the American Medical Women's Association at Florida State. The organization is comprised of undergraduate women who aspire to practice medicine and careers like, and regularly hosts professionals who have already been through the process of applying to medical school and taking the Medical College Admission Test. It also gives back to Tallahassee, planning events like the Jogging In Your Jammies 5K Run to collect supplies for the Refuge House, Tallahassee's local domestic violence shelter. Dietrick organized the 5K run her sophomore year.
"I believe the organization cultivates an environment in which aspiring professionals learn the skills necessary to succeed," she said.
Chi Omega also offers Dietrick the opportunity to give back. The sorority participated in Campus Kisses for the Troops, the national effort which raises a dollar per postcard sealed with a lipstick-smudged kiss for the United Service Organization. Dietrick, whose father serves in the military, was proud to invite the Veterans Student Union and other FSU organizations to help make postcards and raise over $2,000 for the troops. Chi Omega also won a video competition sponsored by Maybelline that funded $1,000 to its philanthropy, the Make-A-Wish Foundation.
Dietrick's areas of involvement at Florida State often coincide, as her sorority sister, who won an Undergraduate Research and Creative Activity Award a few years prior, first introduced Dietrick to undergraduate research. Dietrick, who lives in the Chi Omega house, appreciates the academic emphasis of her sorority, where she and her roommates often study. Being a Golden Girl has also provided tremendous support for Dietrick.
"My coach is very supportive of research and is proud of what I do," Dietrick said. "My teammates love it. They call me 'Babs the biologist.'"
"Barbara has a passion for serving others that is unparalleled," said Brittani Richards, head coach of the Florida State University Golden Girls. "She is continually striving to help make a difference and it is her compassion that is a shining light within our program and the FSU community."
Presently, Dietrick is looking forward to new leadership positions she will be taking on this fall. She was recently nominated for captain of the dance team and will also be an Undergraduate Research Opportunity Program Leader, where she will foster a love for undergraduate research in Florida State first-year and second-year students.
With a promising future ahead, Dietrick is applying for fellowships and to medical schools across the country and is excited to see where life after Florida State takes her. As a researcher, Dietrick is eager to continue her study of neurological disease caused by mutations in embryonic development and start her life as a researcher and medical professional.
"Barbara's maturity and interpersonal skills are a big part of what makes her so superb," Megraw said. "She is careful, sincere and compassionate. I firmly believe that she will be an excellent physician and caregiver. Barbara embodies everything that the medical profession represents. I would want her to be my doctor."
---
By Lauren Spaunburgh, University Communications Intern
Produced by the offices of Information Technology Services, the Provost, Student Affairs, Undergraduate Studies and University Communications.