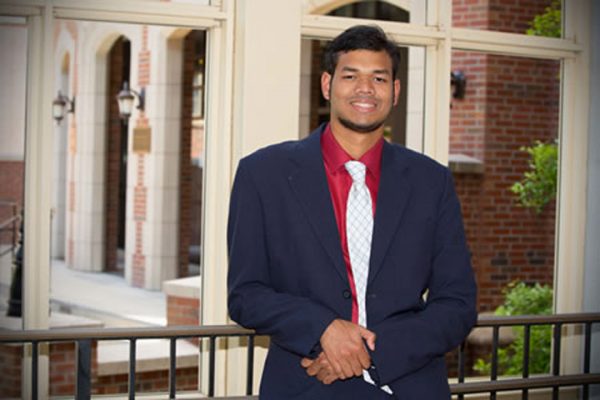 "There's a lot of information in the world, but is it helping all of the people, or just the tech-savvy people?"
As communications student Omar Ismail says, "It's all about experience," and few students are as hungry for experience as he is.
As a high school student in Bangladesh, Ismail was shy and found himself afraid of communicating with others, but he knew he wanted to change that. So, he decided to learn all he could about communication, taking classes and extracurriculars that would give him the experience he needed to effectively communicate with others.
After finishing high school, Ismail knew he wanted to continue learning about communications on an academic level, so he came to the United States to continue his education. He first completed his Associate of Arts degree at Broward College, and from there knew he had to find a university with an exemplary school of communication at which to complete his bachelor's degree.
He found just that with Florida State University, where he decided to major in media and communication studies, with a minor in information and communications technology.
"I had heard that the professors at FSU were friendly and helpful," said Ismail, "and when I came to FSU, I knew I was not wrong."
After taking his first few classes, Ismail realized that he isn't the only one who is shy. Everyone is at least somewhat afraid of speaking. He overcame the fear with the help not only of his classes, but of the Student Government Association's Transfer Leadership Institute, an organization dedicated to providing personal, professional and leadership growth opportunities for FSU transfer students.
In addition to the Transfer Leadership Institute, Ismail is a founding member and current president of FSU's Bangladeshi Student Association, which is devoted to protecting, facilitating and improving the interests of FSU students of Bangladeshi descent.
It was through the Transfer Leadership Institute that Ismail was given the opportunity be a feature speaker at the 2013 Engage Your World: Intercultural Dialogue Series and share his passion for social entrepreneurship. For those not familiar, social entrepreneurship involves the use of business techniques to try to solve social problems. Where typical entrepreneurs will measure their success by profit, social entrepreneurs measure their success by positive impact on society.
It is Ismail's dream to be a social entrepreneur, and he's getting that opportunity. By working with the nongovernmental organization mPower Social Enterprises Ltd., he will receive firsthand experience researching the use of information and communication technologies to assist agricultural workers in rural Bangladesh. In order to embark on this research, however, Ismail needed to secure funding, and so he applied for the Public Research Fellowship (PSRF), which awards undergraduates fellowships to engage in research that directly benefits community-based organizations, programs or groups. Ismail was selected as one of those undergraduates who would receive such funding.
With the help of his fellowship he will be able to travel to Bangladesh to assist with the pilot program for mPower's "Decision Support System," a system that uses cellular technology to deliver information to agricultural works in Bangladesh, such as information to help farmers plan out their crops. Ismail's research will focus on user's experience with the Decision Support System. He will interview them to find out what aspects of the program are working, and what needs to be improved.
"Mr. Ismail has initiated a very important research project," said Steve McDowell, a professor of communication who supervises Ismail. "There is a lot of interest across the world in the application of information and communication technologies to advance economic and social development. Mr. Ismail has identified and will be working with an established organization, mPower, in Bangladesh, in an ongoing project that provides mobile decision support resources for farmers.
"He will be talking with staff and farmers to help understand how the project is working," McDowell said. "It's a great opportunity for him, and in a field in which there are lots of significant needs. I'm very glad to be working with him on this project."
In the future, Ismail hopes to use what he learns to help bring information and communication technologies to those who don't have access to them.
"There's a lot information in the world," said Ismail, "but is it helping all of the people, or only the tech-savvy people?"
If a person is afraid of technology, or doesn't know how to use it, he wants to help change that and make information technologies better and more accessible for regular users.
After completing his research and receiving his Bachelor of Arts, Ismail hopes to continue his studies here at FSU, pursuing a master's degree and eventually a doctorate with the School of Communication.
---
By Ryan Milejczak, University Communications Intern
Produced by the offices of Information Technology Services, the Provost, Student Affairs, Undergraduate Studies and University Communications.