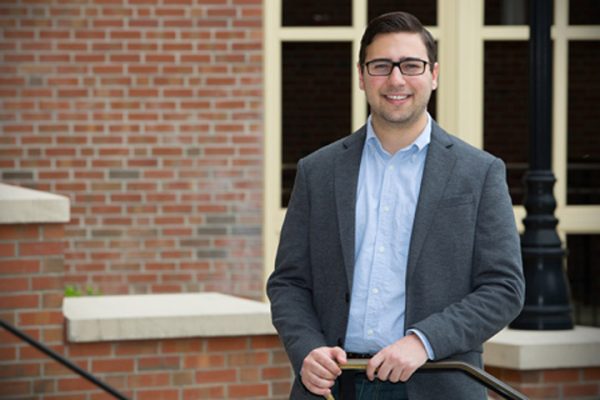 "Learning is my passion, and it's nearly impossible to satisfy my hunger for knowledge. At times it becomes overwhelming but for the most part it functions as a positive driving impulse."
In his own words, Harrison Diskin is a "hunter-gatherer of information."
"Learning is my passion," he said, "and it's nearly impossible to satisfy my hunger for knowledge. At times it becomes overwhelming but for the most part it functions as a positive driving impulse."
It was this passion that led Diskin to where he is today, a student of history who has embarked on a research project in Paris, France. Before history, however, Diskin's first passion was music, specifically, the guitar, which he began playing at the age of 7. He continued to hone his musical skills all through elementary, middle and high school. Upon graduating, he decided he wanted to continue studying the guitar at the college level. He knew he wanted a world-class music education while still maintaining in-state tuition prices, and found the perfect fit with Florida State University's college of music, which Diskin said was the "obvious choice."
The music school afforded Diskin opportunities that he said he "could have never even dreamed of."
These opportunities include participating as a jazz guitar instructor for middle and high school students at the 2012 Tristate Festival as well as at the university's 2014 Summer Jazz Camps. However, for Diskin, his greatest moment as a music student came in March of 2013 when he performed two completely sold out sets at New York City's famous Dizzy's Club alongside his fellow FSU jazz students as well as professor of jazz piano Bill Peterson. For Diskin this was a highlight not just of his musical career, but of his entire life.
It was shortly after this performance at Dizzy's Club that Diskin began to transition away from music and toward a new field of study: History. Diskin's father is a high school history teacher, and due to this Diskin had always had a passion for the subject. In spring of 2012 he decided to do something about that passion and signed up for his first history course, a class on the French Revolution taught by Professor Darrin McMahon.
"I was enraptured from the moment McMahon began his introductory lecture on the first day of class," Diskin said. He began steadily shifting from music to history, finally changing his major at the end of the 2013 fall semester. With the help of McMahon, as well as professors of history Katherine Mooney and Edward Gray Diskin focused his research interests to create his honors thesis. The thesis focuses on how the French Revolution affected American political culture, and Diskin hopes to eventually turn this research into his doctoral dissertation.
"Harrison quickly profiled himself as an exceptionally gifted and motivated student, with great scholarly potential and a keen perception of complex historical and socio-cultural issues," said Professor Reiner Leushuis, a member of Harrison's thesis committee, "His honors thesis project is a fascinating investigation of the transatlantic influence of the ideals of the French Revolution on early American politics as transmitted in the voice of influential newspaper editors. It is bound to become an impressive piece of undergraduate scholarship."
In order to facilitate this research, Diskin would need a research grant. He secured this by becoming a 2015 Undergraduate Research and Creative Activity Award (URCAA) winner. Using this grant, Diskin has spent a month in Paris conducting research at the Bilbiothèque nationale de France.
After completing his Bachelor of Arts, Diskin intends to continue pursuing an education in history, with his ultimate goal being to acquire a doctorate in transatlantic political and intellectual history. After that, he hopes to attain a professorship, and also has hopes of one day opening a small library or café that can serve as a forum for the free exchange of ideas.
---
By Ryan Milejczak, University Communications Intern
Produced by the offices of Information Technology Services, the Provost, Student Affairs, Undergraduate Studies and University Communications.