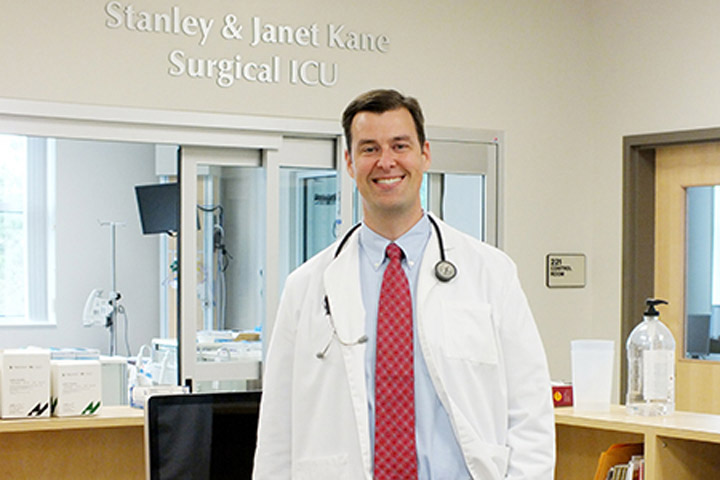 "I hope to help newly diagnosed patients understand the disease and to connect them to local and national resources."
Andrew Blix, a current graduate student of Florida State University, actively pursues his passion for nursing.
During his first semester as a Seminole, he was recognized as the 2013 Outstanding Nursing Graduate and one of four Outstanding Graduate Award Finalists, awarded by the State College of Florida, which is where he obtained his Bachelor of Science in Nursing. He has also been awarded an FSU College of Nursing Scholarship. These accolades are only the beginning of his career.
Blix has published a manuscript, "Personalized Medicine, Genomics and Pharmacogenomics: A Primer for Nurses," in the Clinical Journal of Oncology Nursing during his time here. This publication started as an undergraduate project, but as Blix became interested in learning more about the medical implications of the genetic and genomic basis of various cancers because of the prevalence of breast cancer in his wife's family, he was able to turn that interest into a published work.
"Genomics and pharmacogenomics are hot topics in medicine and nursing — especially regarding cancer. I wanted to produce an article so that more nurses could gain a basic understanding of the implications for oncology," Blix said.
Barbara Little, professor in the nursing department and doctoral chair, described Blix as a highly motivated and goal-oriented student with ambition.
"He's the only student who ever wore a suit and brought in a copy of their resume when they came in to discuss our program," Little said.
Blix has also found a passion for helping Hepatitis C patients. He has been working to improve the accuracy of Hepatitis C screenings, awareness and treatment.
Blix is currently working on a project with the Sarasota County Health Department to develop a bilingual educational pamphlet, "Diagnosed with Hepatitis C? Disease Facts and What to do Next."
"I hope to help newly diagnosed patients understand the disease and to connect them to local and national resources," Blix said.
Blix explained that healthcare acquired infections are a major problem as well. He has previously been chair of a hospital CAUTI committee to help reduce incidences of catheter-associated infections. He is also involved with the Sarasota County Nurse Practitioners and has served on a committee for that group as well.
After graduating Blix plans to work as a family nurse practitioner. He wants to continue his work with Hepatitis C in hopes of helping as many people possible. He wants to further develop currently existing programs to help the community overall.
---
By Katherine Sinner, University Communications Intern
Produced by the offices of Information Technology Services, the Provost, Student Affairs, Undergraduate Studies and University Communications.