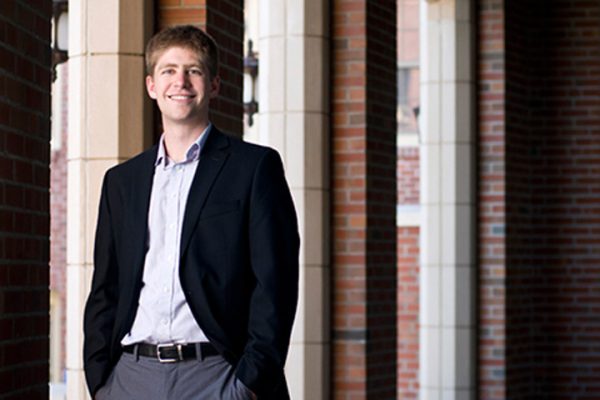 "There's simply so much here at Florida State that it's impossible to not find things that resonate with you. …I hope students walk around campus from day one with their eyes wide open to all that they have available."
Florida State University student Samuel Bacaner, like many incoming students, entered his first 8 a.m. class ready to conquer college. It was to his surprise that a general chemistry class and its instructor — chemistry and biochemistry department Honors Lecturer Mark Kearley — would have such an impact on his college journey.
"Dr. Kearley spoke about the varied majors he had and jobs he held before he settled on chemistry," Bacaner said. "It was important for me to hear as a freshman that I didn't have to have it all figured out."
Based on Kearley's advice, Bacaner explored some of his interests, including pre-engineering, biochemistry, biomathematics and chemical engineering. Through the Undergraduate Research Opportunity Program, Bacaner spent a year in an inorganic chemistry lab synthesizing crystals with spin crossover properties.
"Essentially, these materials would change spin when exposed to different stimuli such as pressure or light," Bacaner said. "It was a pretty cool experience which I highly recommend to younger students."
Bacaner ultimately decided that a major in applied mathematics would best suit his goals. Bacaner also chose to add a discipline that would have an immediate impact, thus adding accounting as a second major.
Kearley, who has taught college students for the past 20 years, characterized Bacaner as one of his best students.
"Sam has very diverse interests and he enjoys learning so much that he did not want to limit his educational journey," Kearley said. "I think his decision to explore was an intelligent choice."
Now a senior, Bacaner is a Freshman Interest Group (FIG) leader where he passes this message to other freshmen so they can feel the same comfort that Kearley offered him.
Kearley has also been a guest speaker in Bacaner's FIG class, making the message resonate even more. Last year, Bacaner led an engineering group and most recently a business FIG where he enjoyed mentoring and connecting with incoming students.
Bacaner is a member of the Student Leadership Council for the College of Business, where he was the Wall Street Prep chair. Bacaner, his co-chair and the rest of the leadership council were in charge of awarding 30 scholarships that paid for the Wall Street Prep, a training program for first-year analysts on Wall Street.
The program received overwhelmingly positive reviews from those students that participated, making Bacaner's efforts a success. Since they received more than 100 applications, the council plans to show the exit survey to potential donors in hopes that they will be able to award more scholarships next year.
A major accomplishment for Bacaner was being initiated into Phi Beta Kappa, the oldest and most prestigious undergraduate honor society. Joining this particular honor society was a goal Bacaner made soon after enrolling at Florida State.
"It was a pretty big day for me when I got in," Bacaner said. "I bought the Phi Beta Kappa cords and gave them to my dad because I knew he would appreciate them."
Bacaner's involvement at Florida State doesn't end there. After spending a summer volunteering in Israel after his freshman year, Bacaner wanted to continue helping others when he returned. His friends introduced him to a co-ed community service fraternity, Alpha Phi Omega, where he is currently the treasurer.
"There's simply so much here at Florida State that it's impossible to not find things that resonate with you. The opportunities really are endless and I've been able to be involved in a variety of different activities here that have benefited me enormously," Bacaner said. "I hope students walk around campus from day one with their eyes wide open to all that they have available."
Having accepted a finance internship with Disney, Bacaner looks forward to spending next fall in Orlando.
"I'm really looking forward to learning about the multifaceted issues of park and resorts finance. It's such an enormous and complicated business," he said. "It will be a great learning opportunity and hopefully I'll have the opportunity to have an effect on my area within the Walt Disney Company."
As for his future, Bacaner's varied interests, matched with an impeccable academic resume, allow him to keep his options open after graduation.
---
By Kate Mueller, University Communications Intern
Produced by the offices of Information Technology Services, the Provost, Student Affairs, Undergraduate Studies and University Communications.