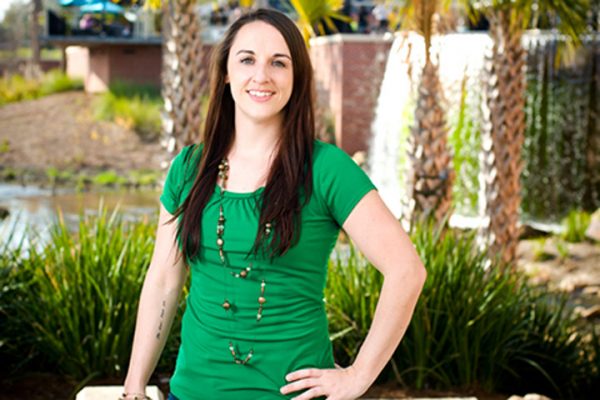 "One of the things I try to help my students understand is that the choices they make now and the person they are right now makes a difference."
Kathleen Callahan has a passion for helping students reach their full potential so they can be the best they can be.
"One of the things I try to help my students understand is that the choices they make now and the person they are right now makes a difference," said Callahan, who is seeking a doctorate in higher education. She received her bachelor's degree in sociology from North Carolina State University and then moved on to the University of South Florida to earn her Master of Science in college student affairs.
Callahan has taught three undergraduate courses in leadership here and served as a teaching assistant to one master-level course. She has taught leadership theory and leadership and change classes that are meant to build a foundation for students to understand leadership as a process. Students explore their understandings of what leadership is through being involved in a hands-on and discussion based environment.
"In each of these classes, students are really exploring themselves as individuals and possible future leaders," Callahan said.
Callahan has been the recipient of many awards during her time as a student. She received FSU's Higher Education Student Association (HESA) Mentor, Graduate Leadership and Seminole Torchbearer Recognition awards.
"I will never forget being inducted as a Seminole Torchbearer," Callahan said. "I was surrounded by so many of the students that I have taught in my few years here."
Callahan has felt humbled in being invited to present her work across the country. She has presented in Virginia, Arizona and Louisiana to name a few. However, being invited to Mexico was the most humbling experience for her. She was able to serve as a significant keynote speaker at the 3rd annual Foro Internacional de Asuntos Estudiantiles (FIDAE) for student affairs professionals.
"As a new profession in Mexico, it is critical to let professionals know how the work they do is important. It matters to students," Callahan said.
During her academic career, Callahan became an accomplished writer, publishing articles such as "The Value of our History: Long Lost?" and "Intercultural Knowledge and Global Competence: Are we Making a Difference?"
Callahan plans to continue her work in the history of student affairs and in higher education.
"History in our field seems to be a dying art," she said. "This is unfortunate but I want to change that."
In the future, Callahan plans to "pay it forward" by serving in a faculty role somewhere after graduation. She would like either to work in a higher education program teaching future student affairs professionals or in an undergraduate leadership program. She enjoys helping students learn about leadership, student development and diversity.
"It's important for me to ensure that future professionals are passionate about their field, and to continue to make it a place where students can come to learn in an inclusive, safe space — and to discover their purpose in life," Callahan said.
---
By Katherine Sinner, University Communications Intern
Produced by the offices of Information Technology Services, the Provost, Student Affairs, Undergraduate Studies and University Communications.