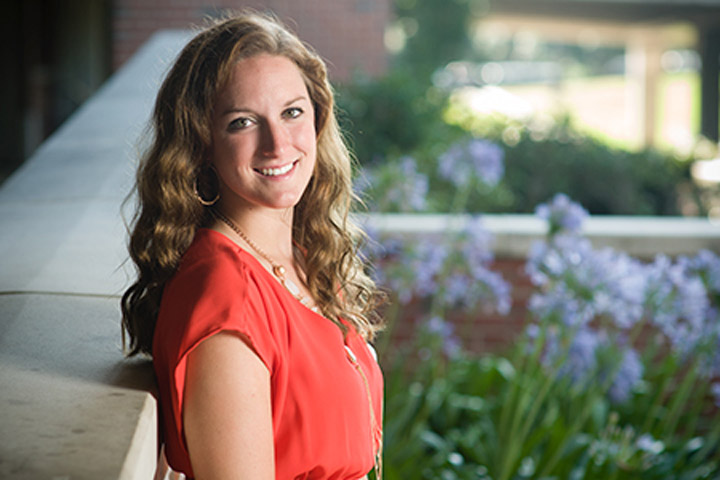 "I believe in the idea that it is important to develop yourself as a person, but just as important to share the knowledge gained in the process of your development to those around you."
Grace Chrzanowski became a Florida State Seminole to pursue her academic curiosity for biomedicine. Because FSU was the only university in Florida offering a well-established biomedical engineering program at the time, Chrzanowski knew it was the only choice for her.
"My decision was based on which university could fulfill my priorities of education and aid me in the transition from being a high school graduate to an independent adult," Chrzanowski, a native of Gainesville, Fla.
When she arrived at Florida State, Chrzanowski — who is now an Undergraduate Research and Creative Activity Award (URCAA) winner — was unsure of what she would study. She selected biomedical engineering out of curiosity and soon found it was exactly what she was looking for, as a student fascinated by solving problems with numerical equations and formulas.
"Grace is an exceptionally diligent and thoughtful student, in the classroom and in the lab," an associate professor of chemical and biomedical engineering in the Florida A&M University-FSU College of Engineering. "She has the talent and skill to overcome most challenges. Surprisingly, she also is exceedingly modest and open to helping other students learn and understand material."
Since the start of her sophomore year in Grant's lab, Chrzanowski and her peers have been devising methods to look at the neural pathways of the brain in a more direct and less invasive manner. Chrzanowski performs research using ultra-high magnetic fields to analyze the conduction and connectivity in neuronal systems, which may help make faster diagnoses while minimizing patient risk.
Chrzanowski believes her professional relationships with Grant and professors of the engineering community at Florida State have enabled her to grow both personally and academically. These relationships have inspired Chrzanowski and taught her to think like an engineer, speak like a professional and mature into the individual she is today.
Chrzanowski credits her involvement in student organizations and volunteer activities such as Thank a Soldier, Relay for Life and the Biomedical Engineering Society for providing her with personal and intellectual growth during her undergraduate study of biomedical engineering. She served as the president of the Biomedical Engineering Society during her junior year, arranging for company representatives and experts in the biomedical field to speak at the university. By hosting these professionals, she enabled engineering students to network, receive advice from best and prepare for their future careers.
For Chrzanowski, volunteering for the Undergraduate Research Opportunity Program (UROP) has been one of her most rewarding experiences at Florida State. Through UROP, Chrzanowski has been able to pass on her expertise to others.
"Grace is committed to helping develop students' capacities. She understands how students evolve and develop, setting high expectations but providing the support, encouragement and scaffolding for students to reach them," said Joe O'Shea, director of Florida State's Office of Undergraduate Research.
As a co-leader of UROP, Chrzanowski instructs new engineering students in personal development as students and young professionals, and shows students what it means to be involved in undergraduate research.
"A lot of engineers get their jobs from their involvement in research. It's important for new students to know how their research can make an impact," Chrzanowski said.
Through the Theta Tau Professional Engineering Fraternity, Chrzanowski focuses not on research, but on her personal and social development within the community. She says that her membership with Theta Tau has been unlike anything she has experienced at Florida State, and that it has served a memorable and unique purpose in her life. After being awarded the URCAA, Chrzanowski presented her research at the President's Showcase of Undergraduate Research Excellence to what she thought would be a near empty room. She was humbled and excited to see the faces of her fellow fraternity members in the crowd, celebrating her achievement — a moment she won't forget.
"I can't explain how much that meant to me," Chrzanowski said, "Theta Tau has truly supported me and encouraged my success."
Chrzanowski believes her fellow members have shaped her as a student and individual and have challenged her to improve throughout her time at Florida State.
"They all have such diverse personalities and I get to learn how to carry myself. When I go to interviews, I channel our colony president," Chrzanowski said.
By meeting fellow engineering students, building relationships and participating in community service, Chrzanowski and her peers aspire to becoming well-rounded students.
"Grace is the type of student we aim to develop at Florida State — a critical, innovative thinker and problem solver, but also a person of character willing to use her talents to help others," O'Shea said. "Grace has empowered countless undergraduates at FSU to embark on research projects, and I'm so proud of her and the work she has done. I'm excited to watch Grace continue to grow as a scholar and citizen."
As an undergraduate, Chrzanowski already understands and embraces what it takes to achieve professional success and personal growth — a quality that will undoubtedly follow her into a prosperous future. With her affinity for learning from her mentors and peers, Chrzanowski will cultivate her own success and pay it forward.
"I believe in the idea that it is important to develop yourself as a person, but just as important to share the knowledge gained in the process of your development to those around you," Chrzanowski said.
---
By Lauren Spaunburgh, University Communications Intern
Produced by the offices of Information Technology Services, the Provost, Student Affairs, Undergraduate Studies and University Communications.