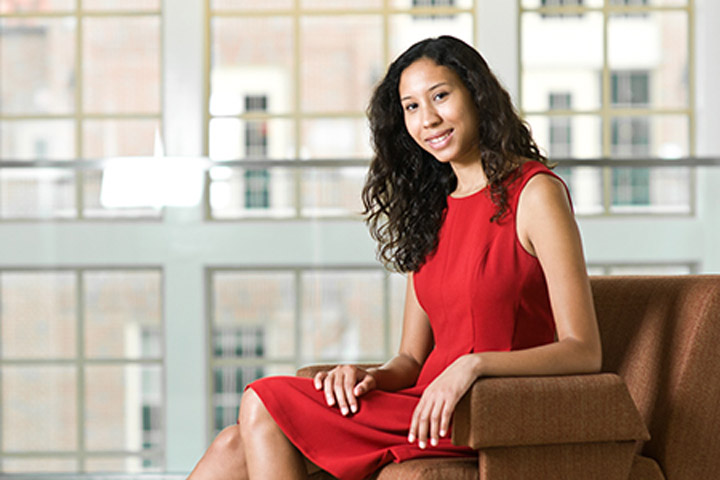 "To me, there's more to education than studying and looking at books. I love reading, but there's a lot you can learn from experience and actually talking to people. That was something I could not have gotten if I hadn't gone abroad."
Though her family hoped she might become a doctor, senior Rachel Crooks decided to major in a different kind of science — a social one. After studying famous figures and taking several history classes in high school, Crooks realized she had found her passion. Through her study of history at Florida State University, Crooks has learned that through understanding the world, she can better understand herself.
As any student majoring in the realm of arts or humanities, Crooks is often hounded with the question, "What are you going to do with your life?"
Crooks' answer?
"I'll get back to you."
As a national finalist for the Truman Scholarship and member of the Phi Beta Kappa Honor Society, it is needless to say that Crooks' life after Florida State will hold many opportunities. In 2014, Crooks became one of 59 college juniors across the country to be nominated for this honor.
Although her initial interest was history, while completing research on race and ethnicity in the United States and independence movements in Latin America, Crooks decided to apply for a second major. Crooks added Latin American and Caribbean Studies just a week after learning of the program. Although there is no formal department, Crooks has familiarized herself with professors of the anthropology, art, history and Spanish departments.
"Rachel works tirelessly to genuinely help the community. Not only does she have an enviable GPA, but even more importantly she has undertaken original research on diverse topics such as the persistence of racism against people of African descent in Latin America. Despite her rigorous academic schedule she has investigated scholarships, fellowships and other funding opportunities for fellow students. I consider her among the brightest and most genuinely selfless students that I have ever met," Professor Robinson Herrera said.
Crooks plans to publish essays written under the guidance of Herrera and history Professor Alexander Aviña, who both specialize in various aspects of Latin American history at Florida State.
Outside of her major studies, Crooks has embraced several FSU leadership opportunities. As a sophomore, Crooks started her first semester of the Undergraduate Research Opportunity Program (UROP), where she has participated as an instructor for two years. She is also a former president of Empowering Women Globally. The organization's events and workshops focus on positivity; creating a narrative of empowerment for women, rather than headlining the negatives. Crooks stays very involved with Florida State as vice chair of the College of Social Sciences and Public Policy Leadership Council and member of the Undergraduate Research Ambassadors. She has also completed more than 500 hours of service in the United States and abroad. Currently, she is in the process of becoming a part of the Garnet and Gold Scholar Society by writing a synthesis essay on research, service and leadership experiences. Membership requires involvement in three of five separate areas of engagement; the other two are internship and international experiences.
"Rachel Crooks' determination and dedication to elevating the opportunities of all students is inspiring, said Craig Filar, director of Florida State's Office of National Fellowships. "She has sought out challenging and meaningful scholarly and service opportunities on our campus and around the world. Whether teaching first- and second-year students about research in the Undergraduate Research Opportunity Program or serving the Quechua community in Sapo Rumi, Ecuador, Rachel encourages and motivates others to consider their impact and to achieve more than they had thought possible. With fortitude and a great sense of humor, Rachel has been instrumental in creating a culture of opportunity on FSU's campus."
Crooks has funded independent study abroad through working with the Social Science Scholars Program. She has traveled abroad to Costa Rica, where she served as an after-school program intern at Asociación CREAR, and Ecuador, where she completed ethnographic fieldwork firsthand and learned basic Quechua, an indigenous language associated with political movements. During two summers abroad, she combined her interest in scholarly research and social activism, and had several unique adventures that immersed her in the cultural experience — a landslide, public protest, dynamite fishing and a few proposals from Ecuadorian boys her host family hoped she would wed, to name a few. For Crooks, studying abroad independently enhanced the cultural immersion experience and enabled her to learn about nations in her area of focus. She aspires to continue her travels abroad after graduation.
"To me, there's more to education than studying and looking at books. I love reading, but there's a lot you can learn from experience and actually talking to people. That was something I could not have gotten if I hadn't gone abroad," Crooks said.
Back on American soil, Crooks interned for the Florida Association of Volunteer Action in the Caribbean and Americas (FAVACA) in the Tallahassee community. For Crooks, the daughter of a Mexican-American mother and Jamaican-American father, study abroad was also an opportunity to learn more about her heritage. After experiencing discrimination as children, her parents assimilated to American culture and part of Crooks' connection to her roots was lost. Crooks hopes to bring awareness to the situations that arise out of prejudice and inequality through her study of race and ethnicity.
Crooks is ending her final semester at FSU with an internship with the Office of National Fellowships, working toward increasing the diversity of applicants to nationally competitive awards by promoting the office to different multicultural student organizations.
"I think that there are many resources on campus that students do not take advantage of because they think they aren't competitive. A couple of years ago, I might have thought the same way but I had great mentors through UROP," Crooks said.
After graduation, Crooks hopes to continue her education and pursue international law, to help promote success and opportunity for all people regardless of socioeconomic status. After four years of ethnic studies and journeys abroad, Crooks will be graduating with more than just a degree. Crooks will leave Florida State with a cultured and well-rounded understanding of people, and share it with the world.
---
By Lauren Spaunburgh, University Communications Intern
Produced by the offices of Information Technology Services, the Provost, Student Affairs, Undergraduate Studies and University Communications.