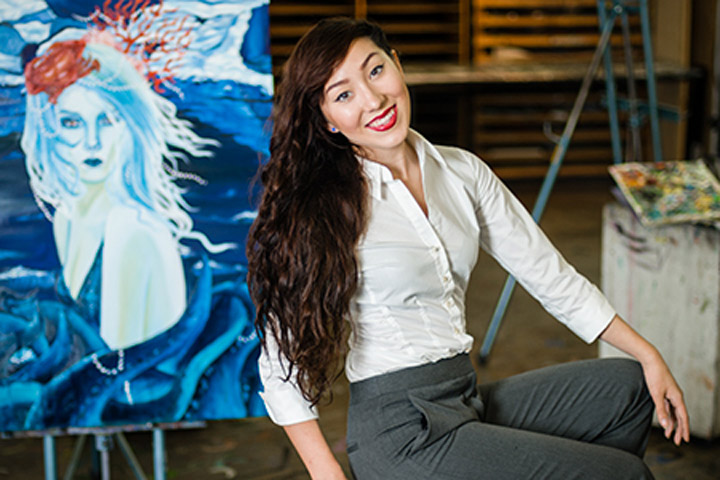 "I chose to attend FSU because I knew that in doing so, I would be a part of something that meant so much more than just a university."
There are a wealth of reasons why senior Mari Kyle chose to attend Florida State University — the academic programs, the beautiful campus and the plethora of opportunities that are available to students. However, there is one reason that made Florida State the obvious choice — the sense of belonging.
"I chose to attend FSU because I knew that in doing so, I would be a part of something that meant so much more than just a university. I would be a part of an 164-year-old family driven by the pursuit of knowledge and success."
While working as an assistant to Professor Joelle Dietrick of the Department of Art, Kyle helped gather data for an exhibition that explored the rising statistics of homelessness and home-insecurity in the South.
"I realized for the first time that there were children just like me who didn't have a place to go home to every night or a safe place to rest during the day," Kyle said. "Of course, before this I had always been aware of homelessness and home insecurity, however, I was never so blatantly faced with the shocking statistics."
Knowing she wanted to help, Kyle was faced with a predicament — what could a studio art major do to contribute to the lives of home-insecure youth? After bringing the question to Dietrick, the answer became clear.
Kyle created The Housing Crisis, a series of nonprofit, art-based workshops where she and other volunteers taught art-foundations classes at the PACE Center for Girls. After six classes, the girls began working on a mural at the PACE Center to promote the female spirit and creativity. Kyle also exhibited the girls' work at the 621 Gallery.
"Mari Kyle has an extraordinarily warm personality that allows her to connect to people and bring out the best in them. Her work at the Pace Center for Girls exemplifies this personality trait," Dietrick said. "It's exciting to watch her develop with such grace and speed."
Because of Kyle's determination to heighten awareness of the home-insecure youth of Tallahassee, she was awarded the Public Service Research Fellowship for summer 2014. This fellowship, sponsored by the FSU Center for Undergraduate Research and Academic Engagement, allows undergraduate students to engage in research that directly benefits the community.
"These girls have experienced far more hardship in their lives than I ever had and I could not help but stand in awe of their courage," Kyle said about working with the girls at the PACE Center. "They themselves refused to be defined by their hardships and instead made beautiful art and created incredible concepts."
As part of the Undergraduate Research Opportunities Program, Kyle participated in the Art + Feminism project that researched the acceptance of female artists in the contemporary art world. She created a list of museums that was ranked by prominence and the current count of exhibitions by female artists.
This project was taken a step further when Kyle decided to direct the Women + Art Wikipedia Edit-a-thon for Florida State. This nationwide event sought to bring attention to the fact that there were very few Wikipedia entries that commemorate female contemporary artists.
"The event was created so that people could gather together and have fun while updating Wikipedia with new female artists and raise awareness for the unsung female heroes of modern art," Kyle said.
Currently, Kyle is working to complete her Honors in the Major thesis on virtual reality technology. Her project, Building Worlds: Creating an Affordable and Efficient Virtual Reality, focuses on methods that transform two-dimensional video games into reality. She hopes to defy the stigma associated with video games and virtual reality technology by showing that they, too, can contribute to society.
Upon graduating, Kyle would like to move back to her hometown of Tokyo, as it is one of the leaders in virtual reality technology. However, she also has hopes of exploring the unique and rich culture of Moscow. Kyle plans to continue The Housing Crisis project, as well.
---
By Kate Mueller, University Communications Intern
Produced by the offices of Information Technology Services, the Provost, Student Affairs, Undergraduate Studies and University Communications.