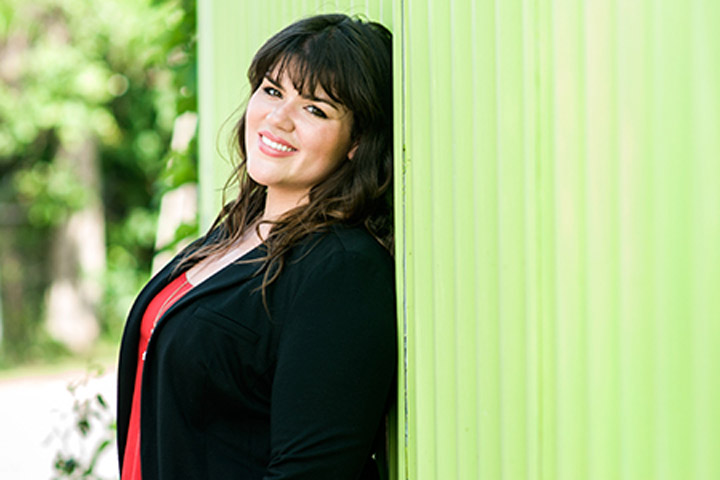 "I didn't think that, as a creative writer, I would be so involved in the research community at Florida State."
Florida State University senior Kate Mazzotta proves that important and meaningful research doesn't need to come from a lab. For Mazzotta, her research stems from her love of literature and creative non-fiction writing.
"She's a talented writer and a sharp political thinker," said Diane Roberts, professor in the Department of English. "I like the way Kate is always curious, always trying to learn. She's the kind of student professors dream of."
Nearly a decade prior to her enrollment at Florida State, Mazzotta was reading classic fantasies like "The Lion, the Witch and the Wardrobe" and "The Hobbit." Her interest in these British narratives lived on and inspired her to enroll in an Irish literature class during her sophomore year at Florida State. That's when she first was introduced to the Troubles, the civil unrest between Catholic and Protestant communities in Northern Ireland. Her curiosity took over the reins and a passion for research was born.
"I'm definitely driven by my own curiosity, for better or for worse," Mazzotta said. "I didn't think that, as a creative writer, I would be so involved in the research community at Florida State."
Alongside her research partner and peer Annalise Kapusta, Mazzotta won the Undergraduate Research and Creative Activities Award in summer 2014 to travel to Belfast for 8 weeks. While there, Mazzotta studied the role of the peace walls during and after the Troubles.
"I relaxed my own preconceptions of what I thought I knew about the conflict and just wanted to hear both sides," Mazzotta said. "I was no longer judging a society, but rather trying to understand their situation. Belfast is trying to reimagine itself, and celebrate the Protestant and Catholic culture in a positive way."
One by one, Mazzotta began collecting interviews from professors, victim counselors, senior political party officials and members of the working class – all in order to figure out where Belfast stands after years of conflict and violence. As part of her Honors in the Major thesis, her research aims to determine how the people of Belfast are coping with their experiences.
Mazzotta gives back to the Florida State community by encouraging other undergraduate students to participate in research. As the assistant director of the Student Council for Undergraduate Research and Creativity, she leads the Undergraduate Research Ambassadors (URA), which strives to advocate research in every field.
"With my work as part of the URA, I encourage young humanities students that not only can they do their research, but also that the research is valuable," Mazzotta said. "I also love that I have been able to inspire students of all years to take on creative projects. I want humanities students to understand that they are not excluded from research just because of their major."
As for her future, Mazzotta submitted her Fulbright full grant application in hopes to return to Belfast to continue studying the role of self-identification in working class communities. While she has always planned on getting a Master of Fine Arts in non-fiction writing, she is putting those plans on hold and instead wants to travel and study in other post-conflict countries.
"Writing will always be important to me and central to any work I do. What I hope to do by taking a few years off and just building up my experiences is that, in time, I'll have more to write about."
---
By Kate Mueller, University Communications Intern
Produced by the offices of Information Technology Services, the Provost, Student Affairs, Undergraduate Studies and University Communications.