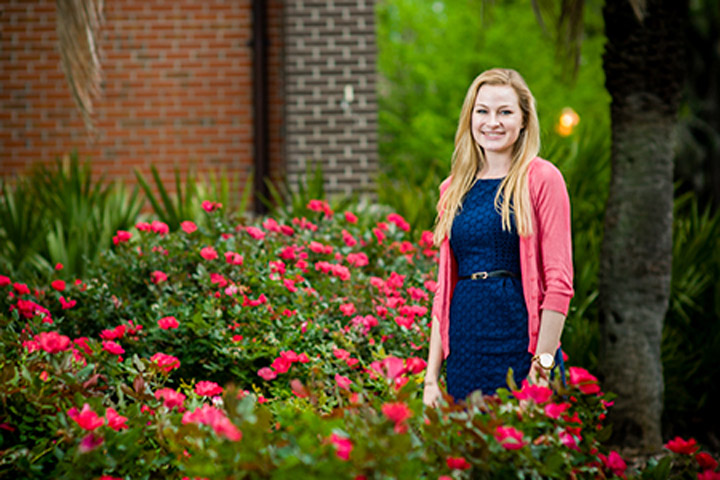 "This past summer I was able to apply the research skills that I have honed at FSU to conduct a program evaluation of an orphanage in Peru."
With experiences in England, Belgium and Peru to her credit, Lindsay Greene has found Florida State University to be the perfect springboard not only see the world but exercise her growing interests in international affairs and social work.
"As a sophomore, I was one of the lucky 1,600 Florida State students who study abroad each year," Greene said. "I spent that fall semester learning about international affairs in the beautiful and historical London Study Centre."
While in London, Greene participated in an intensive international affairs program, which included a trip to Brussels to visit the headquarters of the North Atlantic Treaty Organization (NATO) and the European Union.
Greene continued her study of international affairs the following summer with a Samuel Rose Scholarship, which allowed her to participate in leadership programs and seminars as an intern at the National Defense University in Washington, D.C.
On the social work side, Greene has gained experience volunteering at Tallahassee's Westminster Oaks Retirement Community and the Family Literacy Center at the Leon County Library, and interning at the Parent-Child Center in West Palm Beach, Fla. Greene also has assisted in the Tallahassee Homeless Coalition's Point-in-Time Count of the city's homeless population, under the guidance of graduate teaching assistant Danielle Groton, a social work doctoral candidate.
"The count is a very important event on both a federal and local level, and Lindsay volunteered to be a part of it," Groton said. "It was raining and barely above freezing the night that Lindsay was scheduled to help collect data, but she still showed up on time and ready to go out in the cold and interview individuals experiencing homelessness. I was impressed by her eagerness to complete a research study and her dedication to the project."
All these experiences gave Greene the confidence to apply to the Global Scholars program at Florida State and, through a Social Work Undergraduate Research and Creative Activity Award, accept a volunteer position with a childcare provider in Peru under the guidance of social work Professor Neil Abell.
"Lindsay is an incredibly creative and dedicated student who continues to seek out new opportunities to expand her skills, capacities and understanding of cross-cultural engagement," Abell said. "Her sensitivity and dedication to the well-being of others is evident in everything she undertakes, and her determination and good humor are inspiring."
"This past summer I was able to apply the research skills that I have honed at FSU to conduct a program evaluation of an orphanage in Peru, in which I provided information on gaps in services and recommendations for program enhancement," Greene said. "Thus far, the Global Scholars program has been a highlight during my time at Florida State."
Greene presented her findings from Peru at the university's President's Showcase of Undergraduate Research Excellence to raise awareness of the welfare issues faced by children around the world.
On the home front at Florida State, Greene has been on the Dean's List since fall 2012 and is currently conducting an undergraduate honors thesis on the impact of an undergraduate study abroad experience on sensitivity to human rights, capacity for empathy and level of cultural competency.
Following graduation Greene plans on taking a gap year to hone her language skills and apply for fellowships. After that she plans to continue her education by pursuing a Master of Social Work degree to be better positioned to serve clients and promote social justice internationally.
"My particular interests are in both international social work and child welfare, and I intend to concentrate on these important issues as I continue my studies."
---
Produced by the offices of Information Technology Services, the Provost, Student Affairs, Undergraduate Studies and University Communications.