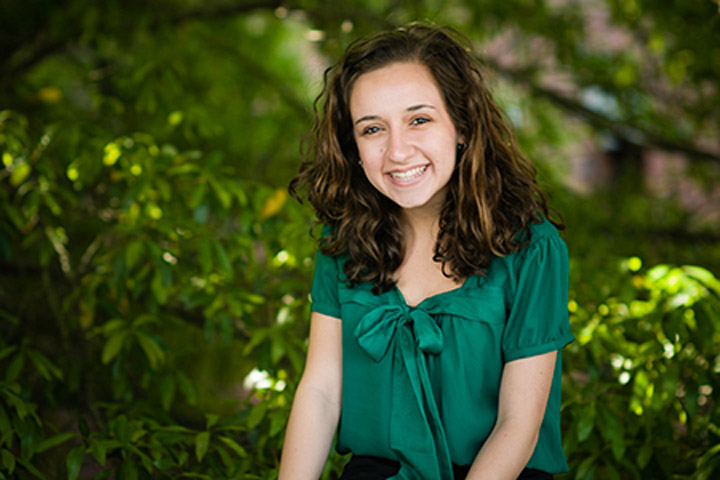 "I have been very fortunate to find opportunities to share my passions and advocate for people with disabilities in ways that allow me to share these passions with the Florida State community."
In drawing upon the leadership and service experiences that helped her develop confidence in her own abilities, Florida State University senior Emily Singer has been able to help her fellow students through similar experiences to find a confidence of their own.
As an incoming freshman, Singer participated in the Service Leadership Seminar (SLS), where she was fascinated by the way that both her service and leadership could affect each other. She began exploring programs such as PeaceJam and the Freshman Leadership Institute of the Student Government Association.
After tutoring elementary students at Grace Mission Episcopal Church, Singer spent the summer of 2012 on staff at Camp Barnabas, a camp in Missouri that serves people with all types of disabilities and special needs. She had previously been a volunteer at the camp over four summers.
"Serving on staff solidified my passion for people with disabilities and special needs," she said.
To make sure that her time spent at Florida State involved more than obtaining her degree, Singer worked to confirm that her service and leadership activities reflected her interest in helping people with disabilities and special needs.
As a current member of the National Society of Collegiate Scholars, Singer is pursuing two certificates at Florida State: one in leadership studies and another in interdepartmental developmental disabilities. Despite the demands of her numerous academic and service-related commitments, she has maintained a 3.7 GPA and has been on the President's List twice and the Dean's List for four consecutive semesters.
In the fall of 2012, Singer prepared an exhibit about physical disabilities for With Words, a museum-style multisensory exhibit that highlights social justice issues in creative ways. Singer's exhibit was able to reach more than 600 students, faculty and community members.
"With a committee, I designed, organized and created a room on physical disabilities, which remained on display in The Globe for a week in January 2013," she said.
In March 2013, Singer had the opportunity to speak at the TEDxFSU: Being Aware of Being conference on the Florida State campus. She discussed her experiences at Camp Barnabas, as well as how people can relate to each other on the most human level. Her audience consisted of 100 attendees and countless viewers on the live stream and through YouTube.
"The opportunity to give back to programs through facilitation and service is to me the most important way I have impacted Florida State," she said.
Singer has spent the 2013-2014 school year continuing involvement with the Center for Leadership and Social Change, including a leadership development internship that allowed her to work on the inaugural Women's Leadership Institute and facilitate Leadership LOGIC, a two-day leadership development program for students.
After graduation from Florida State, she plans to immediately pursue a Master of Social Work degree with a focus in clinical social work practice. Her plans after completing school include working in a health care setting supporting families that are affected by disability and special needs. She hopes to connect these people with resources and opportunities throughout the community.
---
Produced by the offices of Information Technology Services, the Provost, Student Affairs, Undergraduate Studies and University Communications.