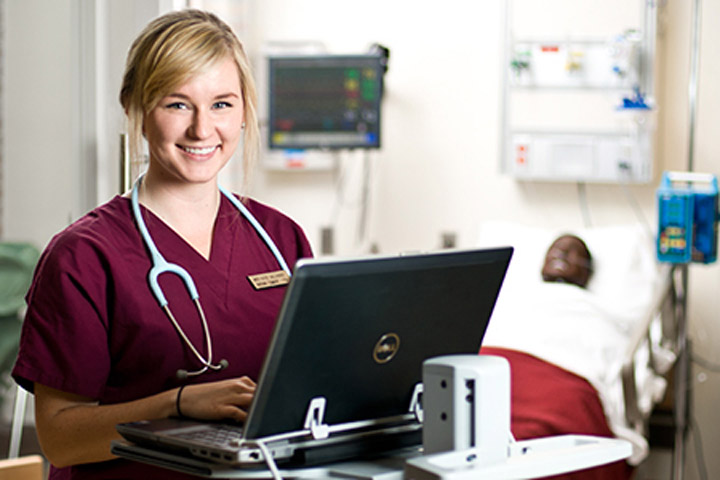 "As a nurse, I aim to care for the whole person, which includes their emotional and spiritual health. My goal is to be a light in dark places for my patients…"
As an active member of the Wesley Foundation since her freshman year at Florida State University, Katherine Gallagher has found a host of opportunities for community service locally and abroad.
In May 2012, Gallagher went on a mission trip to Haiti, where she and others helped care for orphans. They were able to build a water filtration system for the orphanage that would collect rain water to help reduce the difficulties of finding pure and safe water.
"Though incredibly challenging at times, it has made me realize how much I want to one day be doing medical mission work," she said. "It has been a humbling experience and solidified my desire to be a nurse."
In the summer of 2014, Gallagher traveled on a mission trip to Mustard Seed Communities, an orphanage in Nicaragua for mentally and physically handicapped children. Gallagher and others prepared a field for planting food and picked up trash around the property.
While Gallagher was still a senior in high school, Florida State's College of Nursing began a new undergraduate program that allowed incoming freshmen to apply for admission to the program at the same time they applied to the university. Around 100 students were offered early admission and Gallagher was one of them.
Her decision to attend Florida State was not based solely upon her acceptance to the nursing program, though. The incredible academic opportunities, the sense of school pride and the surrounding city of Tallahassee intrigued her.
"I have learned what it means to be a leader on campus, to represent something great, and to work with people from many different walks of life," she said.
As a member of Phi Eta Sigma Honor Society, Omicron Delta Kappa Leadership Honor Society, Golden Key International Honor Society and the university's Honors Program, Gallagher has had the opportunity to participate in nursing research over the past two semesters. She hopes to implement her own research project this fall, as a senior.
During her junior year at Florida State, Gallagher had the opportunity to study under nursing Associate Professor Eileen Cormier, who was patient and understanding of her questions, and encouraged her immensely.
In the fall of 2013, she assisted Cormier with a research project discussing the effects of alcoholism on chronic disease.
In the spring of 2013, Gallagher assisted Cormier again, this time researching psychotropic adherence interventions. As they collected data over the course of the project, they began to focus the research specifically on adherence to ADHD medications.
"Our research concentrated on what nurses can do in order to help patients maintain adherence, including assessing patient knowledge and perceptions of medication, teaching and methods of follow-up," Gallagher said.
Because of her clinical nursing program, Gallagher has been providing care for individual patients in Tallahassee hospitals since January. She was responsible for performing nursing tasks under the supervision of both a nursing instructor and the nurse assigned to the patient.
"As a nurse, I aim to care for the whole person, which includes their emotional and spiritual health. My goal is to be a light in dark places for my patients — to be whatever they need me to be, whether it is a personal cheerleader, a listening ear or simply a shoulder to cry on," she said.
Gallagher also just completed an externship at St. Vincent's Southside in Jacksonville, where she worked in the surgical services department as a nurse learning about perioperative nursing.
After graduation, Gallagher plans to work as a nurse in a critical care area for a few years until she begins adventures in travel nursing and medical missions. Upon figuring out what field really interests her, she will decide about graduate school, but she is keeping her mind as open as possible at this point.
---
Produced by the offices of Information Technology Services, the Provost, Student Affairs, Undergraduate Studies and University Communications.