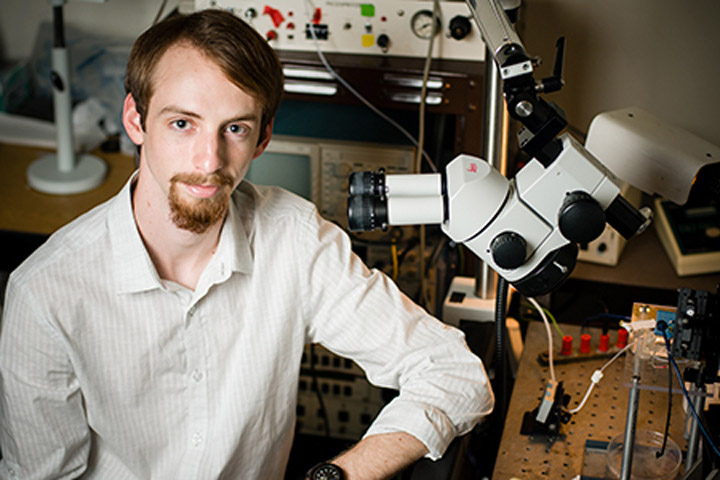 "The seemingly limitless amount of opportunities at Florida State was something that just could not be beat."
Cody Call's decision to attend Florida State University came from what he already knew and had heard about its academic services, undergraduate research, and nationally ranked degree programs.
"The seemingly limitless amount of opportunities at Florida State was something that just could not be beat," Call said.
Call began conducting undergraduate research during his freshman year. His first project involved analyzing neuroscience experiments that investigated birdsong in zebra finches, which had undergone a surgical procedure that affected the brain region involved in song production.
The following year, under the guidance of cognitive psychology Professor Michael Kaschak, Call took part in the Undergraduate Research Opportunity Program, developing an electroencephalography experiment that aimed to understand how the phonetic structure of novel words might lead to attitude changes.
As a recipient of an Undergraduate Research and Creative Activities Award, Call is working on his honors thesis in the neuroscience lab of psychology and neuroscience Professor Richard Hyson. The project seeks to identify how stimulation from the auditory nerve prevents cellular degeneration in auditory brain regions by analyzing intracellular calcium homeostasis.
"I plan to continue investigating the effects of cellular stress on neurons in sensory systems and further understand the causes and mechanisms for neuronal degeneration," Call said.
Hyson praised Call's prospects for a bright academic career.
"In my opinion, a successful scientific career starts with insatiable intellectual curiosity. Cody certainly has this key trait," Hyson said.
Call enjoys sharing his research experiences at Florida State with younger students to help them acclimate to the rigors of campus life. As a delegate with the honors program and Phi Eta Sigma member, he has the opportunity to mentor students on how to become more involved in research and other academic opportunities.
As a member of Phi Eta Sigma, Psi Chi and Phi Beta Kappa honor societies, Call has maintained a 4.0 GPA and had Florida State President's List recognition for three consecutive years. He is a recipient of many awards, including the Bess H. Ward Honors Thesis Award and a Goldwater Scholarship honorable mention.
Call's success does not stop with his academics. In 2012, he co-founded the official Quidditch at FSU sports club, in which he served as vice president and captain. The team made it to the Quidditch World Cup in 2013 as one of the best 60 teams in the world.
In the future, Call's goal is to earn a Ph.D. in neuroscience and then conduct postdoctoral work at a research university abroad. After this, he plans to come back to the United States and begin his own lab as a professor at a university to promote neuroscience research.
---
Produced by the offices of Information Technology Services, the Provost, Student Affairs, Undergraduate Studies and University Communications.