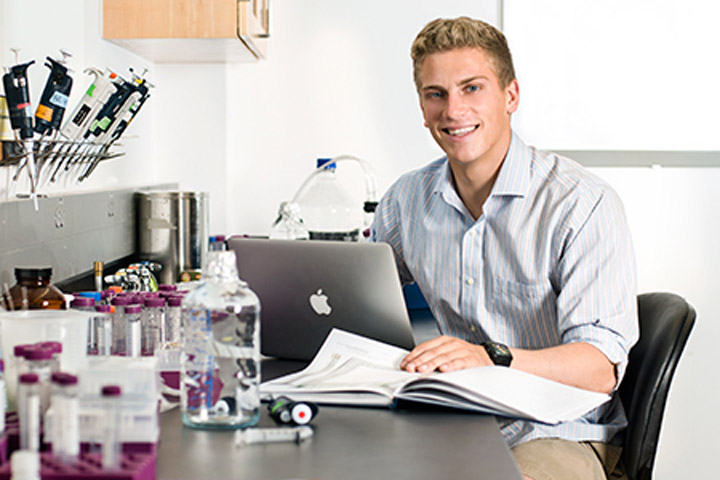 "I want to create an organization where everyone works together … striving to do whatever it takes to make those who are ill, well."
Cole Friedes believes that access to health care should not be an issue of money, geographic location, race, ethnicity or socioeconomic standing. The Florida State University student has dreams of creating a nonprofit organization that represents a cultural mosaic — one that advocates for health and well-being by integrating modern medicine and research.
"A community or individual should not be left to suffer simply because of a lack of access to modern and affordable medicine," Friedes said. "I want to create an organization where everyone works together — scholars, researchers, doctors, workers and professionals — striving to do whatever it takes to make those who are ill, well."
In 2014, Cole Friedes presented the research he did with Florida State biological science Professor Jonathan Dennis, "Cocaine Induces Rapid and Widespread Reorganization of Chromatin," at the Spring Undergraduate Research Symposium. He is now in the process of publishing the results of this study.
At the Fall Showcase of Undergraduate Research Excellence, Friedes will be presenting the Public Service Research Fellowship-funded research he is currently doing on water sanitation and public health in rural Ghana.
In the summer of 2014, Friedes traveled to Ghana to help establish a public health water sanitation program. Living in the rural village of Adaklu Anfoe, Friedes worked with a local nonprofit, Humanity Community Development Projects, to perform assessments that will be used to gain funding to build water filtration systems for five primary and secondary schools in the Adaklu District. The ultimate goal is to improve the public health of the community.
From Friedes' first visit to Florida State, he was captivated by the beautiful and welcoming campus, where he was reassured that he had the potential to be and do something great.
As a 4.0 GPA President's List student, Friedes was the 2014 Public Service Research Fellowship Award Winner and a Florida State Global Scholar. In addition, he is a member of the National Society of Collegiate Scholars and Florida State's Garnet and Gold Scholar Society.
Beyond the classroom, Friedes was part of a group of students that founded a new student organization on campus, Advocates for World Health. He has served as its marketing director and is its current president.
"Our overall goal for the organization is to obtain excess medical supplies from local hospitals and clinics, and reorganize and redistribute these supplies across the globe and country to hospitals and locations in need," he said.
In addition, Friedes is serving as an Undergraduate Research Opportunity Program leader and is the current president of the Florida State men's Ultimate Frisbee team. He has accumulated more than 250 community service hours this academic school year. He also traveled to Michigan with the International Surf Lifesaving Association to help establish a lifeguarding program — the Great Lakes Surf Rescue Project — by teaching classes.
"The goal of the program was to help establish a lifeguarding foundation in the Great Lakes area in order to combat the large amount of drowning," Friedes said.
Friedes considers his greatest impact on the Florida State community to be his efforts to inspire his fellow students to enact positive change on the world around them.
"I hope to impact the community by showing students that it's possible to succeed and do well, as long as you work hard and you're dedicated to your goal," he said. "I want to show every student that they have the potential to do great and inspirational work while they are at this university, regardless of what major they are or what their interests are."
In the future, Friedes plans on pursuing an "Honors in the Major" thesis, as well as applying to M.D./M.P.H. or M.D./Ph.D. programs, focusing his interest on global health. He hopes that choosing this career path will enable him to create a nongovernmental organization that will help improve and enhance healthcare across the globe. His organization would focus on performing the latest medical research, and then implement the research within disadvantaged communities such as Adaklu Anfoe.
---
Produced by the offices of Information Technology Services, the Provost, Student Affairs, Undergraduate Studies and University Communications.