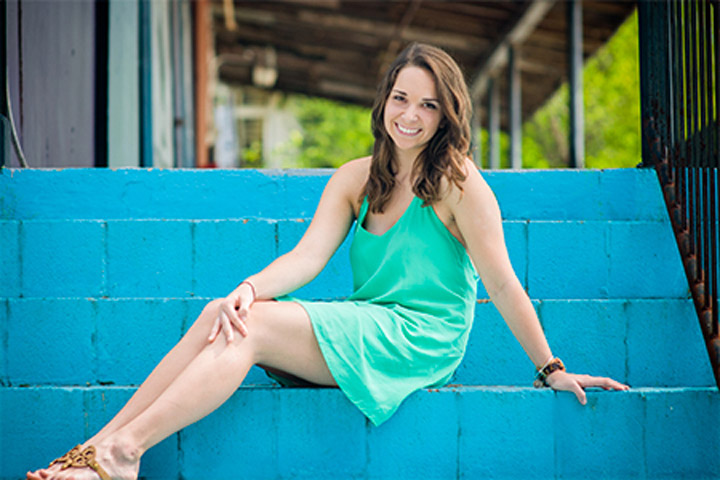 "Working with children has always been something I am passionate about."
As a junior anthropology student and Global Scholar, Hilary Smith spent this summer in Southern India working with Sevalaya, a nonprofit secondary school, residence and clinic.
While there, Smith taught English and social science classes, as well as organized a mural that was painted in the boy's hostile by all of the volunteers. In addition to these activities, she worked with her research partner, Tayelor Valerio, on an ethnographic study on the role of the elderly population in Sevalaya.
"Through this fieldwork, Smith combined her anthropological training, global knowledge, and passion for enacting positive social change, all of which will continue to fuel her future work as an anthropologist, or potentially working with the Peace Corps," said Latika Young, Smith's Global Scholars mentor through the university's Division of Undergraduate Studies.
Smith received a Public Service Research Fellowship (PSRF) grant for her cultural anthropology research project. The project will require her to speak with seniors and some of the older youth through human interviews in order to record the histories of the elderly through text and photography. The purpose is to strengthen the connections between young and old residents by displaying their histories to the community.
"Our goal is to provide a lasting service to Sevalaya that could also bring useful research about the community," Smith said.
Smith is hoping to find out why it was common for seniors to end up in senior homes. She learned that extended families are moving to bigger cities for jobs and marriage. The seniors no longer have families in the villages to live with.
She will be presenting the findings of her heritage appreciation project at the Florida State's Undergraduate Research Symposium in fall 2014. The findings are based upon the displacement of seniors in a society that is becoming increasingly more industrial with more focus placed on a nuclear family setting rather than a close, extended family. She hopes that by having her project acknowledged, there will be a larger interest in the university's anthropology department, which could help it to grow.
With a campus that offered school pride and historic tradition, Smith felt a sense of community at Florida State that she did not find at other schools. Her most memorable class at Florida State was Anthropology of Religion, taught by anthropology faculty member Amy Kowal. In this course, Smith learned about the cultural aspects of minor religions and sects all over the world, and this inspired some of the things that she did in India with Valerio.
After graduation, Smith plans to work her way up at a nonprofit organization that works closely with children and adults. She would love to work somewhere in the United States and then travel abroad to assess what needs the company should be spending its money on.
"I've always loved World Vision as a possible nongovernmental organization to work for. They work to help sponsor children for a monthly fee to provide all their basic needs. Working with children has always been something I am passionate about," Smith said.
Smith said that her favorite thing about anthropology is that it teaches people how to see others from a nonbiased perspective to avoid making assumptions.
---
Produced by the offices of Information Technology Services, the Provost, Student Affairs, Undergraduate Studies and University Communications.