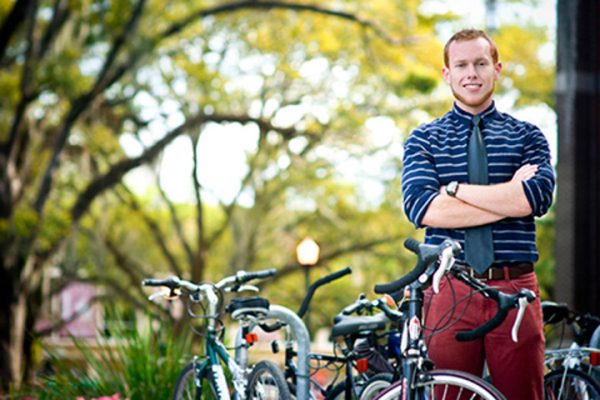 "I was able to provide the participants of the Service Leadership Seminar with skills that will allow them to create change."
After realizing that he could make a difference in his community through leadership and service, Mark Kastner has approached his career as a student at Florida State University with a passion for creating change.
As a participant the week before his freshman year in 2011, Kastner began getting involved and creating change at the Florida State Service Leadership Seminar. Later, going into his sophomore year, he chose to become a facilitator where he impacted the lives of 42 freshman participants by helping them identify their personal passions and direct them into action. By his junior year, Kastner had become a co-coordinator for the Seminar. This experience presented many challenges that ranged from forming the curriculum to ordering food for the seminar, but through this, he was able to inspire 42 new participants along with 12 facilitators to create positive, sustainable change.
"I was able to provide the participants of SLS with skills that will allow them to create change. It was incredible. While exposing them to the community service opportunities in Tallahassee, we built a connection between leadership and service," he said.
Kastner is currently creating change at Florida State through the reCycle Bike Program that allows students to rent a bike for a semester or even a full year.
"This program allows me to educate students on the benefits of choosing a more sustainable and healthy method of transportation," Kastner said.
The program also gives students the opportunity to save money on gas, avoid parking frustrations, and be more mobile on campus and throughout Tallahassee.
He presented the growth of the program at the 2013 Association for Commuter Transportation Conference in San Antonio, Texas, to make more people aware of the increased need to reduce their carbon footprint.
Kastner has revolutionized the reCycle Bike Program at Florida State that now rents 57 bikes and always has an extensive waiting list. The program also benefits the community and economy in that it provides transportation to local businesses.
By providing the bikes for rent, he hopes to help students reduce their carbon footprint, reduce the amount of traffic on the roads, and save money.
This year, Kastner has been selected to be a Seminole Torchbearer for all of his positive contributions in the Florida State community.
"This was such an honor because it showed me that what I am contributing as a student-leader is moving Florida State University in the right direction," he acknowledges.
At Florida State, Kastner is a member of Phi Eta Sigma and the Honors College. He has worked with numerous community service organizations, including Garnet and Gold Goes Green, the Outreach Program, USSTRIDE undergraduate tutoring, Take Back The Tap, City of Tallahassee Bike Workgroup, Big Bend Hospice, Second Harvest, and the most influential experience, Service Leadership Seminar.
"I have been fortunate enough to be given the opportunity to create change in multiple areas of the community," Kastner said.
"Mark Kastner truly has a heart and care for others," said Erica Wiborg, program coordinator for the Center for Leadership and Social Change at Florida State. "Through serving others he has realized his passion for medicine and wants to see positive, sustainable change in the world through patient care."
Throughout his time at Florida State, Kastner has performed strong academically, maintaining a 3.9 GPA.
"Working hard in my classes is something that was instilled in me at a young age and has allowed me to excel in my academics," he said.
As the recent recipient of the "Aspiring Physicians" scholarship from the FSU College of Medicine Student National Medical Association, he is currently working on medical school applications and plans to become a physician.
---
Produced by the offices of Information Technology Services, the Provost, Student Affairs, Undergraduate Studies and University Communications.