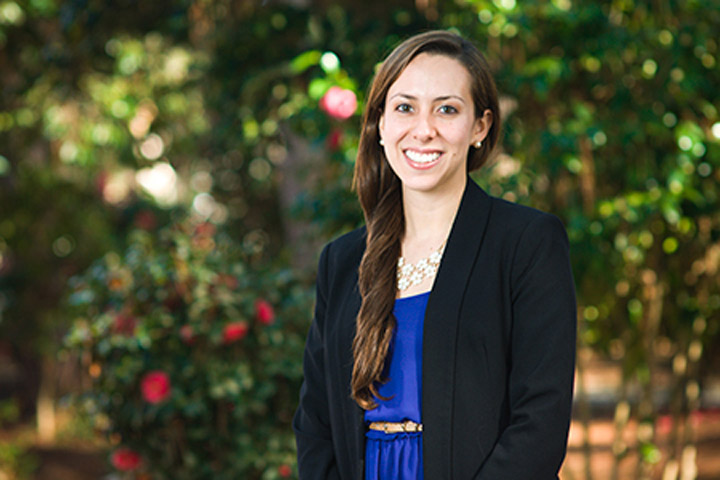 "Throughout my time at FSU, I have strived to make this institution more diverse, civically engaged and aware."
Believing in social justice above all else, senior international affairs and political science dual major Maria Naranjo has used her time wisely at Florida State, aiding in the fight for human rights on a global scale over the course of the past four years. With academic concentrations in French and social work, Naranjo has been a driven scholar and model humanitarian both on and off campus.
"Maria is an excellent student and a wonderful person," said John Mayo, professor and dean emeritus in the College of Communication and Information at FSU. "In addition to her exemplary academic record as a dual major, Maria has been a forceful advocate for immigrant and refugee rights throughout her collegiate career. She lobbied the Florida Legislature and led petition drives on campus in support of in-state tuition for undocumented students."
As she immigrated to the United States and not yet fluent in English, Naranjo never dreamed that she soon would begin a journey serving as an advocate for equality and the rights of the disadvantaged and inspiring her peers to raise their voices in pursuit of justice.
"Maria is passionate about combating social inequality and injustice," said Megan Shannon, assistant professor in the Department of Political Science at FSU. "It is rare to encounter a student who is so driven on issues of inequality, and who has become familiar with relatively unknown problems of social justice."
Seeking to empower others in each of her endeavors, Naranjo has participated in programs such as ANYTOWN, a youth leadership program, and LEADD, a religious youth advocacy program. She also committed her time and efforts as an intern and volunteer for PeaceJam — an international educational program that hopes to inspire a new generation of peacemakers — and served as an active member of Advocates for Immigrant and Refugee Rights and Florida State's Alternative Break Corps, volunteering during spring break.
"I have counted on Maria's wisdom and dedication to help build PeaceJam," said Rody Thompson, PeaceJam program coordinator in the Center for Leadership and Social Change. "Maria is an outstanding young woman and truly 'walks the talk.' Maria's passion for immigrants' rights has led her to leadership positions on campus and to activism both locally and nationally. She has developed programming for youth with a focus on diversity, team building and authentic communication."
Wishing to expand her service ventures to an international level, Naranjo traveled to Ghana in the summer of 2013, where she worked as a public health outreach intern to educate the community and raise awareness for Tuberculosis. During her time spent in Africa, she was able to cultivate her knowledge of international advocacy, and became all the more motivated to change the world.
"Maria's hundreds of hours of community service, including many hours spent educating the campus community about social issues, demonstrate significant investment in community engagement," said Jillian White, community engagement program coordinator in the Center for Leadership and Social Change. "She is a critical thinker who cares about education and strengthening global communities. Maria is a passionate community advocate who will no doubt continue to be a positive force for positive, sustainable global change."
Naranjo has earned a Global Pathways Certificate with a concentration on Human Rights, membership to the Garnet and Gold Scholar Society, the Phi Beta Kappa Honor Society and the Global Scholar Program, and was selected to be a Seminole Torchbearer — a prestigious organization recognizing a select few students who are exceptional leaders.
"Throughout my time at FSU, I have strived to make this institution more diverse, civically engaged and aware," Naranjo said. "I value diversity in all its forms. Bringing issues of immigrants to campus, working for human rights and asking students to voice their opinions, has contributed to a more civically engaged student body."
Naranjo's diligence and dedication has not gone without recognition, having been awarded the Hispanic Scholarship Fund twice, the Charles Billings Public Service Award, the Knight Foundation Service Ambassador Scholarship, the Social Science Scholar grant in 2013, the Colombian Student Association's 2012 Executive Board Member of the Year and being chosen to represent the university at the Florida International Leadership Conference in 2012.
"Maria is a bright student who has spent the past four years developing a solid foundation for continued global service," White said. "During her time at Florida State University, Maria demonstrated a strong desire to serve the community, learn about social issues, and ensure her impact was meaningful and sustainable."
Graduating summa cum laude with the Honors Medallion this spring, Naranjo plans to go to Thailand for a year to teach English language and culture through the Teach Thailand Corps program and afterwards hopes to pursue a master's degree in international development. She wishes to continue empowering victims of injustice and advocate for the rights of others.
---
Produced by the offices of Information Technology Services, the Provost, Student Affairs, Undergraduate Studies and University Communications.