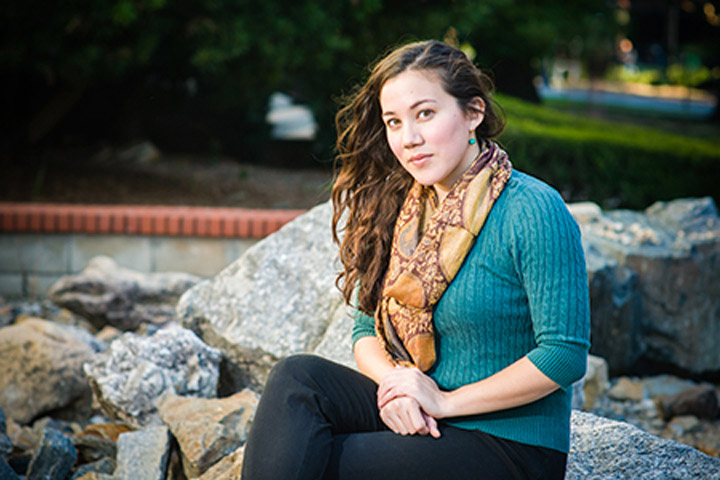 "I recognized it as an incredibly unique opportunity to not only engage in project management and travel abroad but to actually be able to have the autonomy to coordinate plans with my peers … ."
Florida State University's Global Peace Exchange is racking up some impressive accomplishments due to the leadership of one impressive student, senior Joanna Douglas.
Douglas not only has taken part in the organization's work to help people in developing countries around the world, she also has played a critical role in strengthening its operation on the Florida State campus.
"One of the main reasons I chose to attend FSU was Global Peace Exchange," Douglas said. "I recognized it as an incredibly unique opportunity to not only engage in project management and travel abroad but to actually be able to have the autonomy to coordinate plans with my peers, nonprofit administrators and community members."
The student-led organization at Florida State partners with nonprofits abroad to coordinate sustainable community development projects throughout the world. Largely because of Douglas' efforts, it was awarded the 2014 Organization of the Year Leadership Award out of more than 600 registered student organizations on the Florida State campus. Her leadership has resulted in a dramatic increase in participation — perhaps as much as tenfold — and has laid a foundation that establishes continuity for future governance and growth.
"Joanna Douglas started the Global Peace Exchange project in Nepal in a partnership with Clinic Nepal in 2012 and co-authored a BA dissertation with the title, 'A History and Critical Review of the GPE Nepal Project,' based on those experiences," said Peter Garretson, a Florida State professor of history and director of the university's Middle East Center who serves as adviser to the Global Peace Exchange. "It is an important document in the history of GPE."
The dissertation, co-written by Ian Michaels, consolidates the history and knowledge of the organization's past directors, projects, partnerships, funding and other relevant information for the benefit of its future volunteers.
"Thus the new leadership does not have to reinvent the wheel every year," Garretson said.
Douglas worked her way up to director of Global Peace Exchange in August 2013 and has had two sustained international experiences as project director of the GPE Nepal development project. In 2012, she spent three months in Chitwan, Nepal, in order to establish a partnership with Clinic Nepal, and then returned to Nepal in 2013 with more Global Peace Exchange volunteers for two months.
Clinic Nepal is a nonprofit that has worked to provide access to healthcare, education and clean water and sanitary facilities in Chitwan. Douglas's scholarship and overseas experience has earned her entry into the prestigious Garnet and Gold Scholars Society.
"I continue to stay in touch with mero Nepali satiharu (my Nepali friends) and help Clinic Nepal in any way I can, including helping to recruit and prepare the next GPE Nepal team of FSU students," Douglas said.
Because of her outstanding academic career at Florida State, Douglas was eligible to join the university's Garnet and Gold Scholar Society, which celebrates involvement in three of five areas beyond the classroom: leadership, internship, service, international experience and research.
Douglas' plans for the immediate future are to work at the DeVoe Moore Center in the College of Social Sciences and Public Policy as a full-time project manager for the Diehl Family Social Enterprise Competition and to pursue a Master of Public Administration from Florida State's Askew School of Public Administration.
Ruth Krug, social entrepreneurship project manager for the DeVoe Moore Center and a former director of the Global Peace Exchange, praised Douglas as a "person, student and advocate who never gives up and strives to not just help people, but to empower them."
"She will continue to shape lives at FSU and around the world as she uses her education to better herself and others," Krug said. "She has already shaped many lives and will continue to while at FSU and wherever she decides to go in the future."
---
Produced by the offices of Information Technology Services, the Provost, Student Affairs, Undergraduate Studies and University Communications.