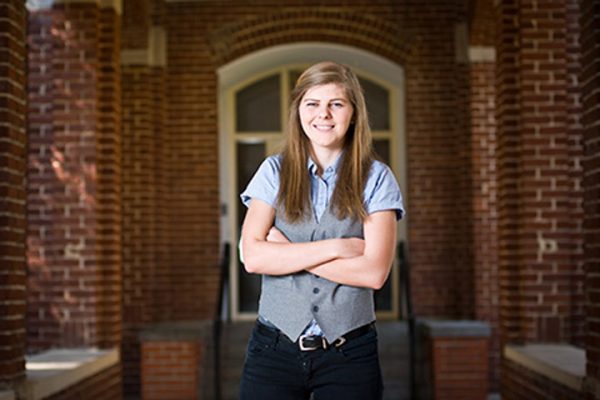 "I've come to realize that this is where my heart really is."
When she enrolled in Florida State University, Barbara Willis anticipated receiving an education in criminology to pursue a career as an FBI special agent. However, as she took an honors course on international human rights, a surprising new passion for victim advocacy came alive.
"Injustices happen everywhere, yet we are so easily blinded to them," said Willis, who credits the course's instructor, Terence C. Coonan, executive director of Florida State's Center for the Advancement of Human Rights, for opening her eyes to the myriad struggles of people.
"I had an idea of what lawyers could do with a law degree, but human rights advocacy wasn't part of that," she said. "Professor Coonan broadened my perspective about the possibilities of this kind of career by demonstrating all the good he does for people coming into the United States."
A subsequent honors seminar on human trafficking, again led by Coonan, added another dimension to Willis' worldview.
"He really made the material come alive because he is actively doing the work that he teaches," she said.
Though Willis still believes that becoming an agent with the FBI would be a positive career choice, her interest in victim advocacy remains strong.
"I've come to realize that this is where my heart really is," she said.
In studying with Coonan, Willis had opportunities to become an "agent" of human rights advocacy on days when he would come to class and announce that he was preparing to meet with an advocate connected to pending legislation concerning the very trafficking issues being discussed in the seminar.
"He would ask us to come up with ideas of topics to address, as well as strategies to tackle them," Willis said. "He would not only listen to our ideas, but they would become part of what he planned to bring up at his meeting.
"When the person teaching your class happens to be the top person in the field of human rights advocacy, there are definite perks — being asked to contribute solutions, attend symposiums and getting to hear about critical happenings in human trafficking in a small-group setting," she said.
Coonan praised Willis as a "wonderful student."
"It was a delight to teach Barb in a number of human rights courses here at FSU," he said. "She has that great combination of real passion for human rights as well as top-notch critical thinking abilities. The human rights world awaits Barb and her tremendous skill set as she graduates!"
This new perspective of some of the world's most harsh realities helped to enlarge Willis' vision of how she could use a criminology degree, from police work to becoming an attorney. A second major in psychology also expanded her vision.
"Psychology was a very useful parallel study," she said. "While criminology theories focus on broad ideas of why crime is committed, the individual mind is not the priority. Through studying psychology, I was given a chance to better understand the individual and why certain people do certain behaviors.
"By combining the macro- and micro- levels, I was able to get a 'big picture' idea of why criminology is such an important area of study," she said.
Willis has excelled in her studies, being eligible to join the university's Honors Program and landing on the President's List over five semesters and on the Dean's List every semester from fall 2010 to fall 2013. She anticipates receiving the Honors Medallion to wear at commencement.
In addition, Willis was accepted into the College of Criminology and Criminal Justice's Combined Bachelor's-Master's Degree Program. She received the Military Family Support Trust Scholarship, 2010-2014. In addition, she worked as a resident assistant from 2011 to 2013 and received the 2012 Michaela Thomas "Heart of the RA" Award.
After graduation, Willis plans to take a gap year to serve as a resident assistant and program assistant with Columbia University's High School Summer Program as well as seek an internship or job working as a victim advocate. Then she will go on to graduate school to pursue a master's degree.
"I'm glad I chose to attend Florida State because it is home to one of the most prestigious programs in criminology and criminal justice, and there are certainly ample opportunities for career path development and experience opportunities here," she said.
---
Produced by the offices of Information Technology Services, the Provost, Student Affairs, Undergraduate Studies and University Communications.