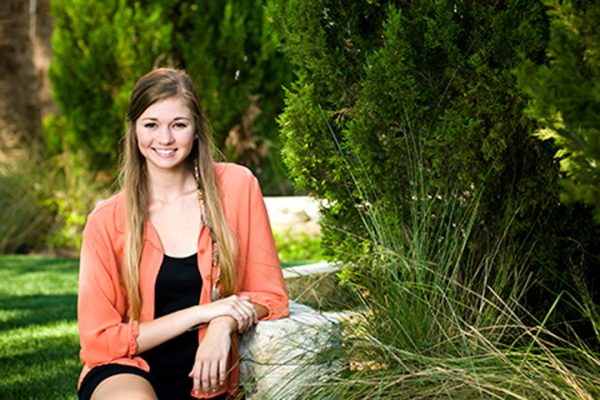 "If everyone just grew empathy and traveled to see other parts of the world, and researched things out of their element and comfort zone, people would learn to be a lot more open-minded."
For as long as she could remember, junior anthropology major Katrina Crankshaw has had undying interests in humanity, science, culture and languages.
"Finding a major that fused all of that together was hard," Crankshaw said. "Until the undergraduate anthropology major became available in spring 2013, I didn't know what to do."
In fall 2012, Crankshaw — then political science major — and photography enthusiast and art major, LeeAnne Steers, conjured the dream of venturing abroad together to conduct an anthropological-photographic research study of a foreign culture.
"If everyone just grew empathy and traveled to see other parts of the world, and researched things out of their element and comfort zone, people would learn to be a lot more open-minded," Crankshaw said.
Through the guidance of the Global Scholars program at FSU and the Omprakash Foundation — which serves to place volunteers in locations all over the world to work at grassroots organizations — Crankshaw and Steers discovered an ideal opportunity to both volunteer and pursue ethnographic research in the Pamohi village in Assam, India.
For three months they studied the villagers and volunteered at Parijat Academy, a nonprofit that provides free, nonreligious education for impoverished villagers. For their project, they were awarded 2013 Public Service Research Fellowship Award.
From her first anthropology course at FSU — Introduction to Cultural Anthropology taught by Amy Kowal, adjunct professor in the department of anthropology and supervising professor for the project — Crankshaw drew a great amount of valuable knowledge for her already planned research trip to India, as the curriculum ran parallel with her project proposal.
"It was the first class that made me realize this is what I want to do, and it was the class that basically took me to India," Crankshaw said.
Crankshaw sought to interview the Pamohi people to gauge the reasoning behind parents sending their children to school and advocating education.
"It's such a poor village," Crankshaw said. "We thought it was interesting that people were sending their children to school instead of having them work to earn money for their family. We found that the parents looked at education as an effective and invaluable tool to break the cycle of poverty. Having the next generation be educated isn't only going to benefit the individual families, but the entire village."
Crankshaw was able to break both cultural and language barriers to have the people of Pamohi share their lives on camera, a concept alien to them.
"Having a big camera with microphones and equipment intimidated the locals," Crankshaw said. "It was difficult to get people to express opinions and thoughts because they were scared or nervous. Some people even thought their opinions didn't matter enough to be on camera, but after a while, we were able connect with them and get them to open up to us."
When it came to teaching, Crankshaw had to jump in headfirst and engage the students from day one. With no set curriculum, she taught the students anything from English to arts and computer skills, learning to be flexible because of the unpredictable nature of a rural village, where students and teachers alike often didn't show up.
"Having little experience in anthropology at that time, but an overwhelming desire to help those disenfranchised, Katrina became a skilled ethnographer during her research trip to India," Kowal said.
Upon returning from India, Crankshaw presented the first part of her project, titled "Bridging the Gap: Exploring Education Abroad Through Art and Anthropology," at the 2013 fall Undergraduate Research and Creative Activity Awards (URCAA) symposium, and began to serve as a mentor for fellow students wishing to pursue research abroad.
"Katrina met the challenges inherent with encountering difference exceedingly well and she has forged long-lasting friendships with the family who runs Parijat Academy as well as within the local community," said Latika Young, associate director of the Office of Undergraduate Research.
Crankshaw hopes to present additional findings focusing more on the cultural aspects of the village at the 2014 URCAA symposium.
"What motivates me most in life is people, alive and dead, past and present," Crankshaw said. "I think that studying people is fascinating. I like going places like Parijat and being an outsider and having to learn a new way of living in order to fit in. I also like studying the past and how it affects the present and the future and how we can change and make life better overall."
Crankshaw is an active participant of the anthropology society and the Global Scholars program, through which she has conducted various presentations, and has been able to inspire other students to go abroad and pursue research.
After graduation in spring 2015, Crankshaw plans to return to Pamohi to continue her research of the culture and view the progress of her former students at Parijat Academy. She also hopes to pursue more cultural studies and fieldwork in diverse countries. Crankshaw aspires to earn her doctoral degree in anthropology and to eventually become an anthropology professor.
"Katrina has a wonderful future as an applied anthropologist, using her knowledge to assist other communities in their goals, finding practical and functional solutions to their problems, and utilizing this research in scientific studies as a professional anthropologist," Kowal said.
---
Produced by the offices of Information Technology Services, the Provost, Student Affairs, Undergraduate Studies and University Communications.