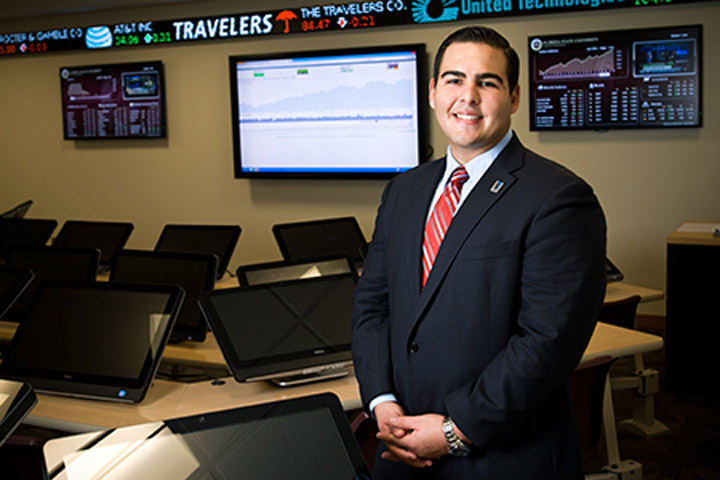 "Though I haven't done it all, I've done the best I could and I've given it my all. If you can balance areas of your life, you can accomplish anything you set your mind to."
An inspiration to everyone around him, senior Daniel Herrera seems destined for greatness. During his exceedingly successful years at Florida State, Herrera has established a name for himself as a relentlessly driven double major in entrepreneurship and management, and as a motivational leader on and off campus.
"People I idolize, like Nelson Mandela and Martin Luther King Jr., were able to take something that they held as a belief and impart it on others, and that's what my goal is in business," Herrera said. "The ability to motivate and persuade, remaining compassionate and having a strong work ethic is what makes a great leader."
Earning a pristine 4.0 GPA throughout his time at FSU, Herrera has never ceased to challenge himself in both the academic and extracurricular realm.
"Both of my parents are immigrants of Cuba, and their struggle of coming from nothing to becoming very respected professionals within their fields has instilled a work ethic in me that continues to motivate me every day," Herrera said. "I've had that in the back of my mind constantly, knowing that nothing is ever given to you in life. If you do want something, it's there for the taking, but you have to work for it."
Now in his final semester, Herrera is working toward earning Honors in the Major distinction through researching, composing and defending a thesis project in collaboration with Wayne Hochwarter, Jim Moran professor of management in the Jim Moran Institute for Global Entrepreneurship at FSU. The project is entitled "The Moderating Role of Work Drive on Politics Perceptions — Work Outcome Relationships."
To be defended in April, the final thesis will be the culmination of two years of data collection and analysis, and will serve to examine varying degrees of professional drive exhibited by employees, and how that drive affects the perceptions of office politics and work relationships. FOX Business has already recognized part of Herrera's findings in the article "Are Workaholics Good For Your Business?"
"Daniel is an incredible student and ambassador of FSU," Hochwarter said. "He has all the attributes to be extremely successful, as he is smart, persistent, and 'other-serving.' Unquestionably, the sky is the limit."
Through the entrepreneurship major, Herrera has been able to attain valuable hands-on experiences, like co-founding a brick and mortar tutoring service at FSU, called Spear It Tutoring, which successfully operated for nine months and had six tutors on staff. For a senior entrepreneurship course, Herrera is currently creating a business plan for the Chempreneur program, which collaborates on commercialization plans and feasibility studies for new chemistry products.
"I love business and I know that if you want to get to the upper echelon of the business world, you have to work at it," Herrera said. "With me being a very goal- oriented person I know that if it's my goal to be CEO of a certain company one day, I know that there are certain steps I have to take to get there. It's a very results-driven industry, and in the end you can see your effort come to fruition. I see myself in an upward trajectory, and all of that in combination drives me."
In summer 2013, Herrera was accepted into the prestigious Congressional Hispanic Caucus Institute's internship program in the nation's capital. For eight weeks, Herrera worked as a congressional intern under Sen. Michael Bennet of Colorado, conducting legislative, constituent-relevant research projects. With the mission of developing the next generation of Latino leaders, the CHCI program exposed Herrera to the various government processes and strengthened his professional and leadership skills.
"Daniel represents the epitome of what is possible for our undergraduate students," said Randy Blass, the executive director of The Jim Moran Institute for Global Entrepreneurship at FSU. "He is that exemplar student that not only excels in the classroom, but also outside of the classroom. He's an amazing young man and I honestly do not know how he finds the time to do all that he does, and all with such vigor."
Since 2011, Herrera has been an active member of the Oscar Arias Sanchez Hispanic Honor Society (OASHHS), rising from the roles of treasurer and academic chair to his current presidency.
"I think being president has been beneficial to me because I've been able to learn and understand different perspectives," Herrera said. "It allows me to feel good knowing that in some way I've touched these peoples' lives as a leader. It may not be apparent now, but I hope that whatever I do offer, in terms of words of wisdom, or just speaking to people or influencing them with my actions, that it touches them, and they can take away from that and build on it."
During his junior and senior years, Herrera worked as a Freshman Interest Group leader, where he taught a freshman course on building good work ethic and planning for the future, motivating students to take advantage of the many opportunities and experiences available at Florida State.
"Daniel is a servant leader," said Professor Ricardo Jose Gonzalez-Rothi, chair of the department of clinical sciences and OASHHS adviser. "He will make FSU proud and is on a path for great success. I will miss him greatly, but will be pleased to follow his progress in the years to come."
Herrera is currently a member of the Beta Gamma Sigma international honor society, the Garnet and Gold Scholar Society and is a volunteer tutor. He has served as a model representative of the FSU Honors Program as an honors delegate, is the former vice president of the Young Entrepreneur Society and is the former treasurer and marketing chair of the Collegiate Entrepreneurs Organization.
"I hope that people realize that I'm not a superhuman student," Herrera said. "I'm someone who people can look up to and can mold their experiences after while they're here at FSU. Though I haven't done it all, I've done the best I could and I've given it my all. If you can balance areas of your life, you can accomplish anything you set your mind to."
Herrera's determination and dedication has not gone without recognition, as he has received various scholarships and awards during his time at Florida State, including the Bank of America Scholarship, the David Ford Ethics Scholarship, the James M. McCrimmon Writing Composition Award and the four-year Outstanding University Freshman Scholarship.
After graduation this spring, when he will receive recognition for the highest honors distinctions of a 4.0 GPA and a top 1 percent class ranking, Herrera will move to Chicago, where he has been offered a position as a business analyst with A.T. Kearney, a management consultant firm. Herrera also hopes to be sponsored by A.T. Kearney's scholarship program for his Master of Business Administration degree.
"Daniel has all the makings of a great businessman," said James Dever, research associate and entrepreneur in residence in the Jim Moran Institute for Global Entrepreneurship. "To have been able to watch one of our students create his road to success is something of which we as faculty can only dream."
---
Produced by the offices of Information Technology Services, the Provost, Student Affairs, Undergraduate Studies and University Communications.