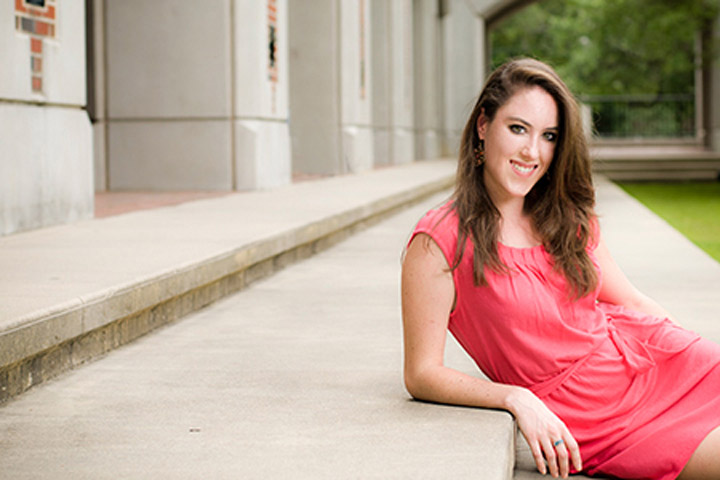 "Ever since I was little, I've had an insatiable curiosity to understand absolutely everything around me."
Valuing discovery beyond all else, Lexi Morgan has pursued research projects with unwavering determination since the beginning of her undergraduate career at Florida State University. As a biochemistry major and biology minor, Morgan works relentlessly in and out of classrooms and laboratories, striving to fulfill her scientific dreams.
"I was awestruck when I first learned of the scientific triumphs achieved at FSU," said Morgan, a finalist for a 2014 Fulbright Scholarship. "The number of world-renowned scientists who are professors or once studied here is impressive, and when I received my acceptance letter, I envisioned working with scientists who make groundbreaking discoveries that could change the lives of millions."
Perhaps the most defining moment in Morgan's scientific career thus far was in 2012 when she earned the Summer Undergraduate Research Fellowship at the Scripps Research Institute (TSRI) in Jupiter, Florida. For 10 weeks in the summer, she worked with Kate Carroll, associate professor in the Department of Chemical Biology at TSRI, conducting cutting-edge biomedical research.
"I believe that engaging in research is an exceptional opportunity to truly learn and grow in a hands-on manner that cannot be taught in a lecture hall or through a book," Morgan said.
The following summer Morgan was invited back for 12 weeks after being awarded the prestigious Undergraduate Research and Creative Activity Award (URCAA) to expand upon her research.
"I am so impressed by Lexi's motivation and drive," Carroll said. "Her scientific ability and critical thinking skills are very advanced for her age and are comparable to that of a Ph.D. student."
Morgan is a decorated scholar, as the winner of the URCAA, as well as the 2013 Russell H. and Dorothy P. Johnsen Scholarship in Chemistry. Morgan entered the university having earned the 21st Century Scholarship, which was later extended to 10 semesters of funding to accommodate her super senior year, and was recognized as one of FSU's top 100 incoming freshman in 2009.
"I don't believe that anyone achieves anything alone," Morgan said. "Any success I have earned is a testament to the outstanding people who I have worked with over the years. I am incredibly grateful for the Office of National Fellowships and the professors who helped shape my future."
Morgan's first hands-on research experience was during her sophomore year studying the genetics of fruit flies with Wu-Min Deng, associate professor of biological science. The following summer, Morgan volunteered to work with Professor Tyler McQuade, in the Department of Chemistry and Biochemistry, studying basic organic chemistry research methods.
"I think the key to finding solutions in science, as well as in all areas of life, lies in looking at old problems in new ways," Morgan said. "With each setback and unexplained result, I become more determined and motivated to discover the solution to each problem I pursue."
After persistently lobbying chemistry and biochemistry Professor Igor Alabugin to earn a spot in his lab for her junior year, Morgan was offered yet another research position, this time studying synthetic organic chemistry and radical cyclizations.
"Lexi was one of the most dedicated and intensely involved undergraduate participants in my research program," Alabugin said. "She is intellectually fierce and not afraid to concentrate fully on a difficult problem, often taking the lead."
She considers Alabugin to be one of her greatest inspirations in the field.
"Ever since I was little, I've had an insatiable curiosity to understand absolutely everything around me," Morgan said. "I've had to dissect everything that has come my way. From the first flute I owned, to mixing every chemical I could get my hands on just to see what kind of reaction I could get."
Playing flute is a longstanding passion of Morgan's and has remained a priority along with her research pursuits. As a freshman, Morgan auditioned for the College of Music, and was offered a place in the Flute Studio to expand upon her finesse in flute, but declined in order to focus on her biochemistry degree. During her time at FSU, she was a member of both the Campus Band and Flute Choir.
"I have had Lexi in two upper-level chemistry courses, and have always been impressed with her enthusiasm and drive," said John Dorsey, the Katherine Blood Hoffman Professor of Chemistry and Biochemistry at FSU. "As I have gotten to know her better, I realize that is matched by her ambition and intelligence. That's a great combination!"
Morgan has served on the Student Council for Undergraduate Research and Creativity as a research ambassador since fall 2011, most recently serving as the liaison to the College of Arts and Sciences. In this role, she reaches out to undergraduates to educate them on research opportunities available at FSU. In addition, Morgan was an active member of the Chemistry Outreach Program and worked as a teaching assistant for two general chemistry II lab sections in spring 2012.
"Working with fledgling scientists provided me the opportunity to build a strong foundation in the principles of chemical science, reinforcing the material as I passed it on to others, and challenging me to view scientific problems in new and innovative ways," Morgan said.
After graduation, Morgan wishes to continue her research in all areas of biochemistry and hopes to pursue graduate studies. Morgan is currently awaiting a response from the Fulbright Program, as she has applied for a fellowship to continue her scientific education abroad in Dublin, Ireland.
"It has been a privilege to attend FSU," Morgan said. "It was one of the best decisions I have made in my life so far."
---
Produced by the offices of Information Technology Services, the Provost, Student Affairs, Undergraduate Studies and University Communications.