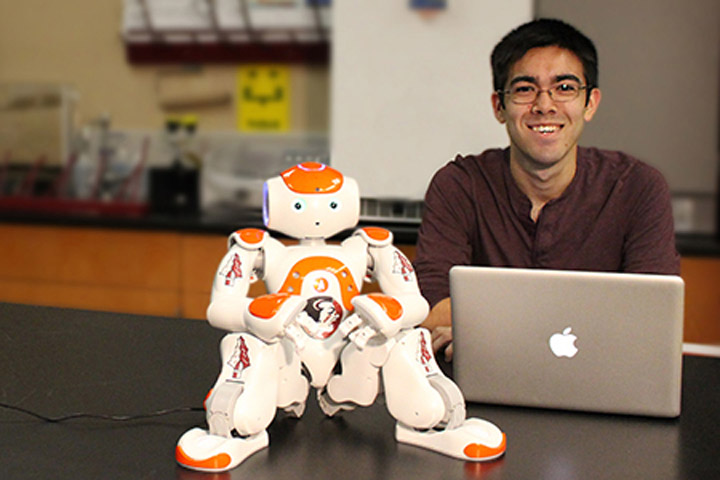 "The most important thing I've learned so far is that you have to take opportunities as they are presented to you."
With continuous advances in computer technology comes the need for budding computer masterminds like Brian Hague. Majoring in computer science at Florida State University's Panama City campus, Hague's knack for programming and involvement in a highly recognized robotics project has sparked enthusiasm over his boundless potential in the industry.
Hague serves as the lead programmer for Sam E. Nole, a 23-inch-tall interactive humanoid robot designed by Aldebaran Robotics. Together with Sam E., Hague helps to create engaging learning experiences for K-12 students as he conducts demonstrations of its encoded abilities. With this project, initiated in September 2013, Hague hopes to inspire the next generation to pursue STEM (Science, Technology, Engineering and Mathematics) education and careers.
"The most important thing I've learned so far is that you have to take opportunities as they are presented to you," Hague said. "You don't advance in life by letting an opportunity like working with a robot pass by. You take those opportunities and see where life takes you."
Hague's involvement with Sam E. Nole began after being approached by his academic adviser, Stephen Leach, assistant dean at FSU PC. Leach recommended Hague for the position, knowing Hague would commit his intellect and focus to the mission of the STEM program.
"Brian is one of our academically strongest students and has a very bright future as a computer scientist," Leach said.
Over the past months, Hague has assembled a team of students to work with him on expanding the project, programming the robot to her greatest capacity. Through Hague's coding, Sam E. can recognize faces and photographs, play Marco Polo and even execute the FSU Tomahawk Chop.
"Brian has a full learning load, yet shares his precious spare time with Sam E., programming and learning how to make it perform ever more challenging and impressive activities," said Ginger Littleton, director of FSU PC's STEM Institute.
Hague ultimately hopes to make a difference with his presentations and demonstration of Sam E.'s functionality when he visits local schools, and he has been recognized by the media and several large corporations for his ambitions and computer science talents.
Hague's interest in computer science came to fruition in his high school Advanced Placement computer science class, where he learned how to program in Java.
"I found it really interesting to learn how developers write code and create products that people use every day," Hague said. "From then on, I really wanted to learn how to work on computer applications."
Hague's determination to succeed in his field never falters, as he excels in the classroom and beyond. Hague most enjoyed courses that reinforced his passion for computer science and programming, specifically computer organization I, taught by Leach, and Android programming.
"Dr. Leach and my algorithms professor, Dr. Chris Lacher, have encouraged me throughout the computer science program," Hague said. "Their knowledge and expertise are extremely valuable to all computer science students."
Hague thinks fondly of his time working on class projects involving algorithms, data structures and mobile programming.
"In my Android class, I worked with a group to increase functionality to a student-created Android application," Hague said. "In another class, I also helped create a mine countermeasures training manual for the U.S. Navy using HTML/CSS and Javascript."
In 2013, Hague was awarded with the Owenby Undergraduate Scholarship through the Department of Computer Science and was asked to be a student speaker at FSU PC's Annual Dinner. The event, a gathering of local business leaders, philanthropists and members of the university community, benefits the endowment of Florida State's College of Applied Studies.
Hague currently works at the Library and Learning Center at FSU PC, where he enjoys looking out at the panoramic view of St. Andrew Bay while he writes code, reads and drinks coffee. He currently serves as vice president of the student chapter of the Association for Computing Machinery and is a member of the special events committee on campus. Most recently, he joined the Entrepreneur Club, hoping to garner business skills for building a company in the future.
"His brains, his people skills and his commitment to always performing at the highest level make Brian an asset to Florida State University," Littleton said. "We will certainly see more successes from Brian as he progresses through life."
This month Hague will travel to Seattle to interview for a position at a top-tier corporation. After graduation, he plans to work within the robotics, web development and mobile programming fields, and hopes to eventually start his own software company.
---
Produced by the offices of Information Technology Services, the Provost, Student Affairs, Undergraduate Studies and University Communications.