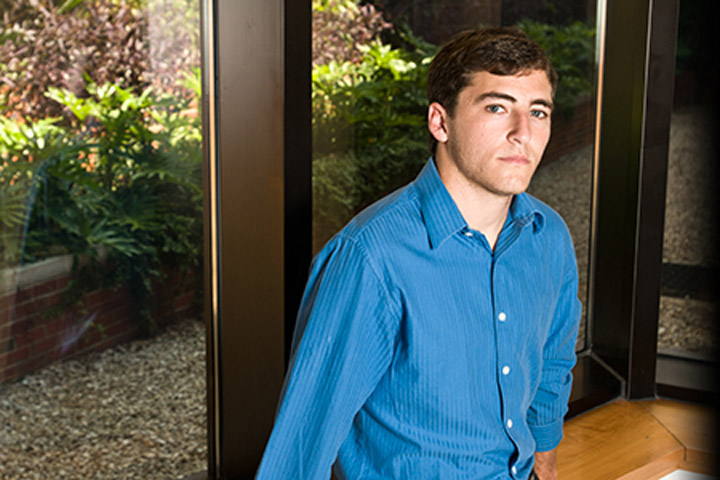 "Florida State University obviously has one of the best criminology programs in the country, and that brought me here."
Florida State University senior Michael "Eli" Mitrani's dedication, ambition and educational pursuits position him well to reach his professional goal of working in national security — about which he can't say much due to the nature of that profession.
"I just know I want to work for the federal government," the dual criminology and psychology major said. "I'm interested in doing criminal investigations."
And that's nearly all the detail one can get out of Mitrani about his future goals. His ideal job in international affairs and law enforcement requires extreme secrecy.
"I like the word 'guarded,'" Department of Psychology adjunct instructor Jim Sullivan said of his student's demeanor.
Sullivan taught Mitrani in two psychology courses and found him to be hard working and disciplined.
"He plans well. He gets a lot accomplished," Sullivan said. "Even on the side of the students who accomplish quite a bit, he still stands out."
Mitrani grew up in Hollywood, Fla., southwest of Fort Lauderdale. He was interested in studying medicine until his senior year at Cooper City High School, when he took a psychology class.
He applied to and was accepted at several universities, but couldn't pass up the opportunity to study at Florida State's College of Criminology and Criminal Justice.
"Florida State University obviously has one of the best programs in the country," Mitrani said.
A dual degree was always part of the plan, he said. Mitrani showed up at FSU his freshman year with two years of college credit earned while in high school — why not double major?
Mitrani's favorite courses in his time at Florida State include psychology of psychopaths, criminal delinquency behavior and crime statistics. He has collected much academic recognition, including National AP Scholar, the FSU Criminology Frederick Simon Memorial Scholarship and the FSU Criminology Robert Williams Memorial Scholarship, and is involved in the Phi Kappa Phi Honors Society, the FSU Honors Program and the Omicron Delta Kappa Honor Society and is a Seminole Torchbearer. Mitrani also won the FSU Humanitarian of the Year award for 2013 for the College of Criminology and Criminal Justice for his work in Israel.
Mitrani first served as a Freshman Interest Group, or FIG, leader in 2011-2012, and returned to that role this school year.
He is a resident assistant in Salley Hall and enjoys working with residents and being available to them.
Mitrani has made good use of other opportunities available to him, interning with the Drug Enforcement Administration and the U.S. Marshals Service.
His time with the U.S. Marshals in Miami was over a summer and included typical intern duties, Mitrani said. But while with the DEA office in Tallahassee, Mitrani got a hands-on experience working investigations.
"I helped conduct a search warrant on a home. I went through the house after the perps were arrested and the scene was secure," he said.
Mitrani's ambition has taken him abroad. He took a year off school between his junior and senior years to live in Israel for 10 months as part of an Israeli teaching fellowship program. He taught English as an assistant in an elementary school in Netanya and coached basketball in an after-school program for at-risk youth.
Mitrani's time in Israel solidified in him a desire to study and work in the Middle East. He enjoyed experiencing Israel's culture and learned some Hebrew while there. He's now studying Arabic, and is applying for a Fulbright to study that language and be an English teaching assistant in Jordan.
He is also considering graduate school; there's a master's program in counter-terrorism in Israel that interests him. Or he may decide to get a master's in government with a specialty in counter-terrorism.
Asked if Florida State's criminology department turned out to be all he'd hoped it would, Mitrani said absolutely.
"The professors are amazing, and the department finally got its new building" — the renovated Eppes Hall — "which it deserved."
---
Produced by the offices of Information Technology Services, the Provost, Student Affairs, Undergraduate Studies and University Communications.