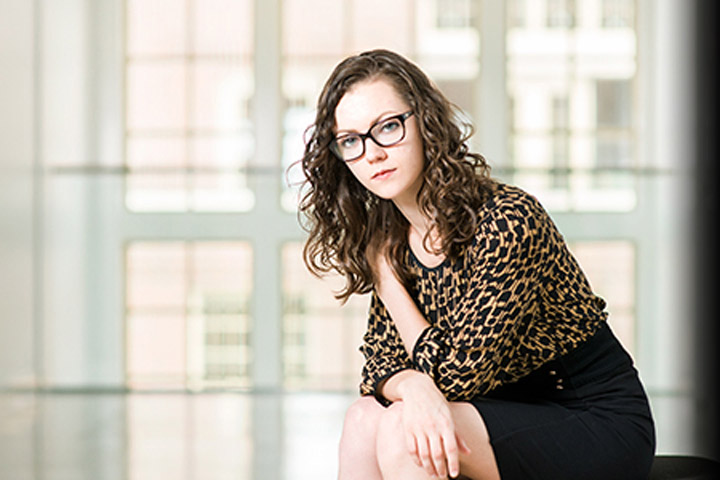 "I want to answer some of the questions about why things happen to protect the interests of disadvantaged peoples."
When explaining her passion for public policy, Florida State University senior Amelia Watts gives the same scenario a professor once gave her.
"You're walking past a stream and you see that there are babies floating in the stream. And you say, 'I have to do something.' There are two types of people. One person will jump into the stream and start pulling babies out, and the other will run upstream, trying to figure out why there are babies in the stream."
Watts knew right away — she is an upstreamer.
The international affairs major and women's studies minor is interested in helping others by answering large-scale questions through policy research.
Watts grew up in a household that she says emphasized feminism, which engrained in her a passion for gender equality and international women's issues. When she started at FSU, "It seemed like the natural fit for me," she said. Since then, she's made impressive strides in the field.
In 2012, she was named a Florida State Social Science Scholar, one of only 18 students awarded this honor on the basis of academic achievement, community service and leadership potential. In 2013, she was nominated for the Truman Scholarship for Public Service.
Last summer, Watts gained another coveted award — the prestigious Public Policy and International Affairs (PPIA) Fellowship Program at Carnegie Mellon University's Junior Summer Institute.
The seven-week program aims to increase diverse representation in the policy and public service fields by preparing them for a career. Chosen students must pass an intensive curriculum that includes four graduate courses a day, a feat Watts says wasn't easy.
While at Carnegie Mellon, Watts met many people in her field — researchers, consultants and PPIA alumni, and took part in professional development that included a weekend trip to Washington, D.C., for a career graduate expo.
"It was an extremely diverse environment where we all lived together in the same building and on the same floor, had all of our classes together and really got that sense of camaraderie even though we were all really different," Watts said.
Now that she's back at Florida State, Watts is working on an Honors Thesis that she hopes to defend in April. She is researching pre-natal sex determination in India, specifically how civil society organizations in India are responding to sex-selective abortion.
"I'm interested in failures even more than I'm interested in successes," said Watts, who is studying why policies have failed to legislate the practice.
To advance these studies, Watts has applied for a critical language scholarship (CLS) through Florida State's Office of National Fellowships. CLS is a fully funded language immersion program, which Watts would like to use to travel to India and study Hindi. Later this year, she also plans to apply for a Fulbright research grant.
In the meantime, Watts is teaching international affairs as a Freshman Interest Group (FIG) leader and is interning with the Oasis Center for Women and Girls, where she is an assistant for the "Woman Can Run" campaign. Based on the idea that there is an underrepresentation of women in government, the nonpartisan campaign encourages women to run for elected office.
"About 19 percent of the U.S. Congress is female," Watts said. "That kind of underrepresentation is one contributing factor to widespread gender inequality."
Through Women Can Run and the Social Science Scholar program, Watts and another student are designing a youth outreach program for local high schools, providing educational materials that challenge students to think critically about challenges facing women in public office.
Social Science Scholars Director John Mayo said in the time he has known Watts, she has been an intelligent, highly motivated and socially conscious individual.
"Amelia has gone the extra mile at FSU to extract and benefit intellectually from what a large, research university has to offer," Mayo said. "Based on her problem-solving skills and empathy, I believe she is capable of overcoming whatever obstacles she may encounter in unfamiliar and challenging learning environments."
In the past, Watts has been awarded a certificate by the American Red Cross for the "Exploring International Humanitarian Law" seminar and also has volunteered for the local domestic and sexual violence center, Refuge House. Her work there included a rigorous 60-hour training program for sexual/domestic violence crisis counseling.
Watts' work at Refuge House stemmed in part from a service project by Empowering Women Globally, a student group she helped to found that raises awareness for gendered human rights abuses and promotes global gender equality. The group's motto is one that Watts has taken to heart: "Think Globally, Act Locally."
"Our goal is to take the concentration of resources that are located at FSU and disperse it to rightful causes," Watts said of her group.
After graduation, Watts hopes to get experience in her field before pursuing a Master of Public Administration degree and eventually a doctorate in public policy, concentrating on gender.
And her ultimate goal?
"It's always under construction," Watts said. "What I said yesterday is probably different from what I'll say today, and will probably be different tomorrow. But I do know that I want to answer some of the questions about why things happen to protect the interests of disadvantaged peoples."
---
Produced by the offices of Information Technology Services, the Provost, Student Affairs, Undergraduate Studies and University Communications.