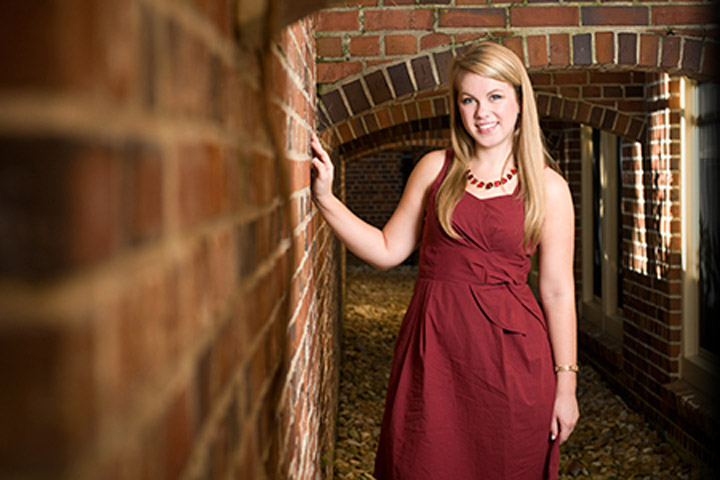 "I think there's a little bit of a gap between what's going on in the lab and how you can apply it to daily life and I'd like to remove the gap."
Florida native Jessica Smith is no stranger to hurricanes.
She recalls changing her birthday parties into hurricane parties, explaining to her friends why her backyard swing set was covered with water.
Then, Hurricane Katrina opened her eyes to the impact of weather.
"Even being young, I remember how communication was awful across the board," Smith said. "Just getting messages relayed from government officials down to the people was terrible."
Now, the Florida State University meteorology major is making it her goal to fix that flaw.
"That is one of my peak interests — better communication between the science community and the general public," Smith said.
Though she was always interested in weather, it wasn't until her freshman year at Florida State that Smith knew she wanted to pursue it. On a whim, she enrolled in Intro to Atmosphere because she needed a science credit.
"I loved every second I was in the class," Smith said. "After that I went straight to the dean's office and changed my major. That was it for me."
Now a senior, Smith has done impressive work in her field, becoming a National Oceanic and Atmospheric Administration (NOAA) Ernest Hollings Scholarship recipient.
"This has been my greatest achievement at the university," said Smith, who was one of 115 scholars to be chosen from a pool of over 900 applicants. "I got the email of acceptance in meteorology class and almost fell on the floor."
The prestigious award carries a $16,000 scholarship over two years and a paid, nine-week internship with NOAA in Boulder, Colo. — the go-to city for atmospheric research. Smith completed her internship this summer, working on projects that provided a perspective of historic weather events to be released to the public. Her projects included posters and presentations on events including the Denver flood of 1965 and the 100th anniversary of the crippling Denver blizzard of 1913.
"I realized that was my goal — to link the scientific community to the public through better communication skills," Smith said. "I think there's a little bit of a gap between what's going on in the lab and how you can apply it to daily life, and I'd like to remove the gap."
Whether it's letting the community know about a devastating storm or helping them study calculus III, Smith has an inherent need to help others. She tutors her friends and is often told she could become a teacher.
"I just love seeing people succeed after I help them," she said.
Aside from meteorology and tutoring, Smith said she has been happy to experience much of what Florida State offers. She played the flute for Florida State's renowned band, the Marching Chiefs, for two years.
She also is an honors student and delegate, is a volunteer for the campus ministry, and is a member of Chi Epsilon Pi, a nationally recognized meteorology honor society, as well as Phi Kappa Phi and Phi Eta Sigma national honor societies.
Most recently, Smith served a position on the 2013 Homecoming Court, which she called "an honor."
"I feel blessed to have shared this experience with 11 other diverse students at the university who I wouldn't have met if I wasn't on Homecoming court," Smith said. "We're so close that I feel like I have lifelong friends."
For now, Smith is unsure what she'll do post graduation, but she could see herself returning to Colorado to pursue a career with the National Weather Service (NWS). However, Smith said she will be keeping in mind that the NWS is in a hiring freeze potentially for the next two years.
No matter. Jon Ahlquist, an associate professor in the Department of Earth, Ocean and Atmospheric Sciences who has taught Smith in two courses, says he's never known Smith to shy away from a challenge.
"She has a positive attitude and a ready smile," Ahlquist said. "She gets all her work done, and it is done to a high standard of quality."
With her passion for teaching in mind, Smith has an alternate plan. She said she might go on to pursue a master's degree in education to teach earth space science or physics.
"I can already see in my mind taking my students out to do cloud observations, explaining the types of formations," Smith said. "I just love helping other people discover their own passion for science."
---
Produced by the offices of Information Technology Services, the Provost, Student Affairs, Undergraduate Studies and University Communications.