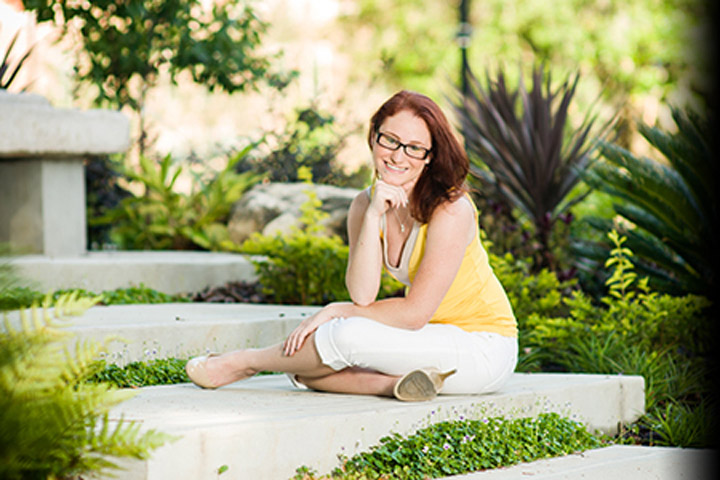 "There is a cycle to emergency management that includes mitigation and planning to prevent damages from occurring in the first place."
When most people think of emergency management, they think of the response needed when major storms strike, such as 2012's Hurricane Sandy, which caused widespread destruction in New York and New Jersey, or Typhoon Haiyan, which devastated the Philippines Nov. 8.
At Florida State University, graduate student Jamie Leigh Price has learned that there is more to the equation of emergency management than the response to huge disasters.
"There is a cycle to emergency management that includes mitigation and planning to prevent damages from occurring in the first place," she said. "These equally important aspects are what my studies are focused on."
Price is completing a Graduate Certificate in Emergency Management with Florida State's Emergency Management and Homeland Security Program in the Askew School of Public Administration and Policy.
Through internships, Price had the opportunities to edit the Emergency Standard Operating Procedures for the City of Tallahassee and write the Continuity of Operations Plan for the Tallahassee office of the Florida Catholic Conference. As a class project, she wrote an emergency plan for Lucy and Leo's Cupcakery of Tallahassee.
"The papers I've written have all been based on policy — either writing a new policy, analyzing an existing policy or revamping an outdated policy," she said.
Beyond writing papers, Price has put boots on the ground, so to speak, during a two-day emergency-management exercise, Seminole Storm, held in spring 2013. The simulated hurricane drill, which brought together representatives from the university, the City of Tallahassee, Leon County and the Florida Division of Emergency Management, was created by a group of seven undergraduate and graduate students in Florida State's emergency management program.
As a planner for the event, Price was involved in running the meetings and conferences, writing the questions that would be asked, developing the name and logo, and serving as an informational resource during both the tabletop and functional exercises, among other tasks.
"I learned the extensive process that goes into creating an exercise such as this, as well as how to facilitate a conversation, and write summaries of each portion of the exercise, including the "After Action Report" and "Improvement Plan."
To further broaden her student experiences, Price is an active member of the FSU chapter of the International Association of Emergency Managers and the university's Public Administration Graduate Association.
Price's willingness to help people extends beyond her emergency management coursework into the realm of mentorship. In fall 2012 and fall 2013, she led a pre-law Freshman Interest Group (FIG), a pre-packaged cluster of high-demand courses that help first-year students build a sense of community on campus.
"I chose to teach a pre-law FIG because I had taken the courses and I know enough law students to be able to adequately answer my students' questions," Price said. "Also, most pre-law students end up not wanting to go to law school by the end of their first semester, so I was there to help them figure out what they may want to do next."
Price expresses her affinity for Florida State with the same energy and enthusiasm as she exhibits in her coursework and in mentoring. Even in high school, she knew she was "born to be a Florida State Seminole."
"I stayed up until midnight the night the (undergraduate) admissions decisions came out and was completely overcome with joy when I saw 'congratulations' on the screen," Price said. "I immediately told everyone. Driving up College Avenue and seeing Westcott for the first time, I knew I was home."
As an undergraduate at Florida State, Price distinguished herself as an honors student and political science major with four minors: criminology, psychology, political philosophy and chemistry. She also began her involvement with Phi Sigma Pi National Co-ed Honor Fraternity, joining in spring of 2010 and, subsequently, holding four offices — secretary, judicial board member, parliamentarian and recruitment chair. Currently, she serves as alumni adviser to the chapter.
"Phi Sigma Pi has been a huge part of my FSU career," Price said. "Membership allowed me to fine tune many of my leadership and interpersonal skills, as well as form relationships with members nationwide."
As an undergraduate, Price also completed two internships — one in Tallahassee and the other at the Centers for Disease Control and Prevention in Atlanta — and earned an undergraduate certificate in emergency management. She graduated with a Bachelor of Science in December 2012.
Rob McDaniel, a senior fellow with the Emergency Management and Homeland Security Program, praised Price as a model student who is dedicated to academic excellence and her fellow students.
"Jamie Leigh is one of the most conscientious students I know," McDaniel said. "She cares deeply about her responsibilities within the university as a residence hall (University Housing night staff) supervisor. Her enthusiasm for her work is why we entrusted her with multiple internships, all of which she has excelled at."
After she completes her master's degree, Price hopes to live out her passion to better prepare people for disasters by working at the local, state or federal level in emergency management.
"I know that nothing else would make me happier than working in public service for the rest of my career," she said.
---
Produced by the offices of Information Technology Services, the Provost, Student Affairs, Undergraduate Studies and University Communications.