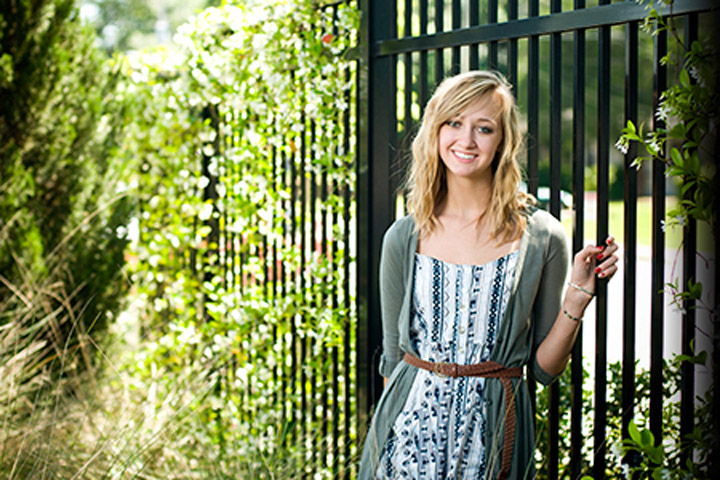 "There's a fine line between photography that can help people and photography as voyeurism."
The first time Florida State University junior Lee Anne Steers traveled outside the United States, she chose a doozy of an itinerary.
The studio art major and a friend and fellow FSU student, Katrina Crankshaw, flew from Orlando, Fla., to Charlotte, N.C., to Chicago to London to Delhi, India, to their destination, Guwahati, in the northeastern India state of Assam.
It took three days — and this was after securing funding, procuring travel documents, getting shots and on and on — and was worth it. Steers spent three months in India this past summer and lived with a family in a rural area of Assam.
A member of Florida State's Global Scholars program and a recipient of an Office of Undergraduate Research 2013 Public Service Research Fellowship, Steers taught photography, art and computer skills to students at the Parijat Academy in the village of Pamohi. The school's teachers educate children from surrounding rural villages.
It was a life-changing experience for Steers, one that made her appreciate the beauty of India, the comforts of home and the rewards of volunteering. She has told her tale in images and words and is working on a documentary film about her experience.
Steers lived in a guesthouse on land belonging to a family in the Karbi tribe, known for raising pigs and farming rice. People there speak Assamese, the official language of Assam. But Steers found she could rely on art to communicate with her students.
"We really didn't need to rely on words so much."
It became clear quickly that the school, started by a local family so children in that rural area could have a formal education, suffered from a lack of structure. This Steers believes is due to the cultural disregard for schedules. Steers consciously tried to respect local customs while also doing what she believed was best for the children at Parijat Academy.
Steers and Crankshaw helped to develop the Parijat Youth Club, tasked with organizing educational events for students, working to develop a volunteer program and promoting the academy.
The Florida State students also taught the academy students how to create a blog, and started a fundraising site to secure Internet access in Parijat's computer lab. Access to the Internet would change the quality of education at the academy, and also connect Parijat to volunteers who want to visit and help the school.
Through it all, Steers was shooting photos. She hopes to put together an art show and book of her images. She taught her students how to shoot and download images and learned much about the possible roles of a photographer.
"There's a fine line between photography that can help people and photography as voyeurism," Steers said.
She wanted to make her photographic subjects comfortable with the process, so she would elicit their help when composing a photo and also let them use the camera.
Steers took advanced photography classes at her Jacksonville, Fla., high school and always had artistic inclinations.
"I've just been all over the map," when it comes to her passions, Steers said. But her time in India cemented her love for photography, particularly photography as anthropology.
"It's sort of just coming together in my mind," she said of her future and combining photography and anthropology. Steers said she may join the Peace Corps after graduating from Florida State, or may enroll in a graduate anthropology program.
"Lee Anne is a remarkable young woman. Her journey to India changed her noticeably," said Florida State assistant professor of art Judith Rushin, who advised Steers on her India trip. "She returned to FSU with a deepened sense of purpose, which focused on making a real contribution to the world."
Whatever she decides, Steers has developed an appetite for travel and volunteering.
Assam was beautiful, she said, with its mountains and waterfalls. She never felt unsafe but always traveled with her host family or translators. In Indian culture guests are placed on a pedestal, Steers said, always welcomed warmly into homes and fed well. In crowds, Steers was seen as an object of fascination and photographed.
The water was safe to drink, she noted, and the village had electricity about half the time. Her host home had an outdoor kitchen with a clay oven.
Government there, in general, is extremely corrupt, Steers said. She was prepared for this, having taken a 12-week online course that educated her on real-world issues and social problems and taught her to think critically about the situations she'd find herself in. The training came courtesy of Omprakash, an online platform that connects volunteers with grassroots organizations around the world.
"It was priceless," Steers said of the online training.
Steers will present her India project at the Oct. 1 Showcase of Undergraduate Research Excellence at Florida State's Turnbull conference center.
---
Produced by the offices of Information Technology Services, the Provost, Student Affairs, Undergraduate Studies and University Communications.