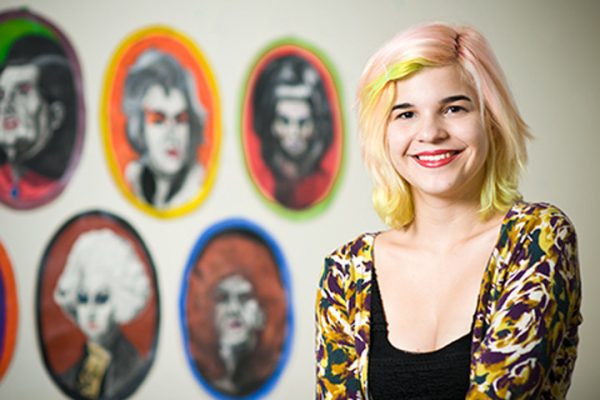 "Why would something fun and playful make you uncomfortable?"
Senior Isabella Steele was not a visual artist before she came to Florida State University. She didn't think she could paint. Now, a year from graduation, she plans to make a living as a working artist.
In the meantime, she's applying for a Fulbright, writing, painting, planning a fall art exhibition of her pieces and completing the Honors in the Major Program.
At Florida State she has learned an important lesson: That art is fun and "whatever I want it to be."
The Studio Art and Creative Writing double major wasn't interested in visual arts before enrolling at FSU. Steele spent her high school years in South Florida writing and in drama class. Word-of-mouth brought Steele to Florida State — she had a writer friend here who told Steele about FSU's exceptional creative writing program.
It was a Drawing II class that "really helped me figure out what to do and to learn not to take art so seriously," Steele said.
The visual medium allows Steele to present themes she first explored in high school. She is interested in gay culture, gender as performance, camp, drag as performance art and the manipulation and appropriation of femininity. She enjoys taking different images and making them "as gay as possible."
Hence her portraits of U.S. presidents in drag. Steele has used chalk pastel, charcoal and pencil to render George Washington, Andrew Jackson, Richard Nixon and so on in makeup and fabulous hairdos.
"I like to imagine them actually like this," she said.
Steele is not afraid to have fun in her work, said FSU art professor Paul Rutkovsky.
"Her visual work does have a conceptual and/or humorous edge as well," he said. Rutkovsky remembers Steele's artistic awakening in that Drawing II class. He said Steele came into the course believing he, as instructor, had specific goals in mind for her on how to achieve an assignment. But at some point, around mid-term, he said, Steele realized "I wasn't dictating any specifics."
A light when on, Rutkovsky said.
"I saw something in Isabella I hadn't seen. She was just flying, in terms of excitement."
Given support and freedom at FSU, Steele has created artwork some would consider controversial. She's made bumper stickers that have gay themes to stick around Tallahassee in an effort to "hopefully make it a little gayer."
And while her technical skills are sound, Steele doesn't rest on technique as many young artists do, Rutkovsky said. She is sincere and thoughtful about pushing the boundaries of artistic content.
"That's certainly what she's doing, full throttle and straight ahead," Rutkovsky said. "She's a very good researcher. She writes, reads. She's wonderful in that sense."
Steele doesn't necessarily intend to shock others with her art. She doesn't find her artistic content all that shocking.
"I don't get why people would be uncomfortable with gay culture." She creates harmless works that are campy and fun, she said.
"Why would something fun and playful make you uncomfortable?"
While her art is largely an exploration of gay culture, Steele's writing tends to be inspired by everyday occurrences, overheard conversations and personal experiences. Her mother's native tongue, Portuguese, also finds its way into Steele's writing.
Steele says she's happy she was able to double major at FSU and have writing as a fallback career. Her main focus this last year of school is her visual art. She's planning a fall art exhibit in a studio space in Tallahassee's artsy neighborhood, Railroad Square.
Steele has received a 2013 Undergraduate Research and Creative Activity Award from Florida State, which comes with a $4,000 stipend. She plans to create works of art that counter the "closeting of history," a term that refers to the practice of hiding the homosexuality of historical figures.
There will be fun, campy, colorful work that explores many facets of gay sexuality.
"It's just a community I really love and have a lot of respect for," Steele said.
---
Produced by the offices of Information Technology Services, the Provost, Student Affairs, Undergraduate Studies and University Communications.