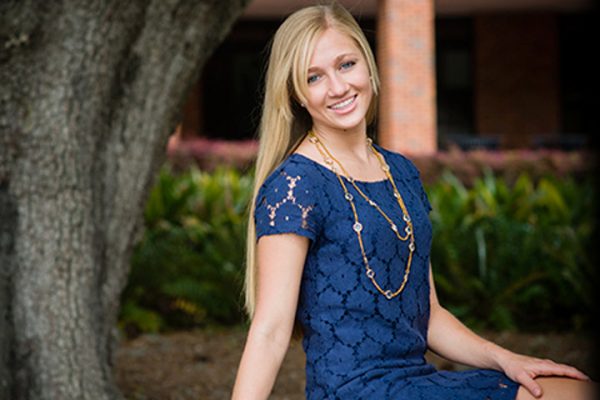 "Being environmentally conscious and living in a way that reduces our negative impact on the environment is the first step to reestablishing a sustainable life for all of the creatures that share our Earth."
Florida State University senior Kristin Engebretsen has always had an appreciation for the intricacy and beauty of nature. Majoring in biological science with a minor in chemistry, Engebretsen has devoted her life to working with animals. From veterinary clinics and animal sanctuaries to a lab in Tallahassee and even the plains of South Africa, Engebretsen strives to preserve the species of this planet for future generations to enjoy.
"The Earth is full of such amazing biodiversity that must all work together to remain sustainable and healthy," Engebretsen said. "Being environmentally conscious and living in a way that reduces our negative impact on the environment is the first step to reestablishing a sustainable life for all of the creatures that share our Earth."
Until her junior year in conservation biology class, taught by Nora Underwood, associate professor in the Department of Biological Science, Engebretsen was unsure of her career path.
"Conservation biology was where it all clicked for me," Engebretsen said. "The class helped me to better understand the struggle of balancing humans, animals and ecosystems, and taught me how I could be part of the solution to environmental damage and species' extinction."
In May 2013, Engebretsen had the opportunity to conduct research for six weeks in Africa. With the financial assistance of FSU's Public Service Research Fellowship Award, Engebretsen traveled to South Africa to work for the Siyafunda Conservation Initiative at the Makalali Game Reserve.
Siyafunda, which means "to learn and to teach" in Zulu, allowed Engebretsen to engage in a self-directed project in which she studied big predator interactions on an enclosed reserve to establish the populations' effects on each other.
"Being in South Africa magnified how amazing this planet is to me," Engebretsen said. "I have always had a good view of the world, but Africa is so radically different from America. When you are in the middle of the bush with no technology, it is just so overwhelming to observe how this beautiful world works."
Engebretsen used a mapping system to create a database and maps to illustrate the distribution of Siyafunda's predators. Participating in monitoring drives, Engebretsen collected location data of home and territory ranges, predator-prey interaction data and kill data for lions, cheetahs, leopards and hyenas.
"I enjoyed getting postcards from Kristin describing her many adventures while interning in Africa," said Ed Oaksford, an academic adviser for the Department of Biological Science. "She is an intelligent young woman with boundless energy, infectious enthusiasm, and dogged determination all wrapped up in a cheery positive can-do attitude."
Working on analyzing her own six weeks of data, along with eight years of data collected by the Siyafunda Initiative, Engebretsen plans to produce a research publication in the next few months.
Emily Moriarty Lemmon, assistant professor in the Department of Biological Science, first introduced Engebretsen to research in the fall of 2012 during a course on experimental biology, which focused on the behavior and ecology of amphibians.
"Kristin was very creative in developing an interesting independent research project for my course," Lemmon said. "She has the enthusiasm, motivation and intellect to succeed — I expect Kristin to go far."
The same semester, Engebretsen began conducting research in the Moriarty Lemmon Laboratory, where she is currently studying the interactions between two species of chorus frogs in a contact zone along a river where hybridization may be occurring.
"I'm using Dr. Lemmon's data from the past few years as well as the data of collaborators at Louisiana State University," Engebretsen said. "I'm doing molecular analysis and looking at genetic markers to examine the extent of hybridization occurring."
Engebretsen plans to submit her research for publication to a small-scale journal before she graduates.
"Kristen is a bright, talented young researcher," Lemmon said. "She has worked hard and learned quickly on the chorus frog project."
Engebretsen has received scholarships and recognitions throughout her time at FSU, and has maintained a 3.93 grade point average in FSU's Honors Program. Her academic achievement has earned her membership in the Phi Kappa Phi, Phi Eta Sigma and Phi Beta Kappa honor societies.
"I have always worked hard in all of my classes, and I try to encourage and motivate those that I am in classes with to do the same," Engebretsen said.
Beyond academics, Engebretsen has pursued a role of leadership in Cru, a campus ministry. Leading small group studies and mentoring two younger girls, the close-knit community of Cru has allowed Engebretsen to develop friendships with people from all walks of life.
"Family, friends and faith are so crucial to my life," Engebretsen said. I believe that being surrounded by the people you love and doing things you are passionate about is what makes life worth living."
Anticipating graduating with summa cum laude distinction this fall, Engebretsen plans to study conservation in graduate school and hopes to receive funding to pursue a full-scale research project in Africa.
"I want to study novel things," Engebretsen said. "I want to ask questions that no one has ever asked, discovering things yet to be found. Continuously being challenged and learning more is what really excites me about research."
Engebretsen wishes to pursue a career in conservation biology, working as a conservation biologist at a large research facility, a government agency or a non-governmental organization.
"Kristin is a real source of pride for the biology department," Oaksford said. "I have no doubt that she will go on to make great contributions to the field of conservation biology."
---
Produced by the offices of Information Technology Services, the Provost, Student Affairs, Undergraduate Studies and University Communications.