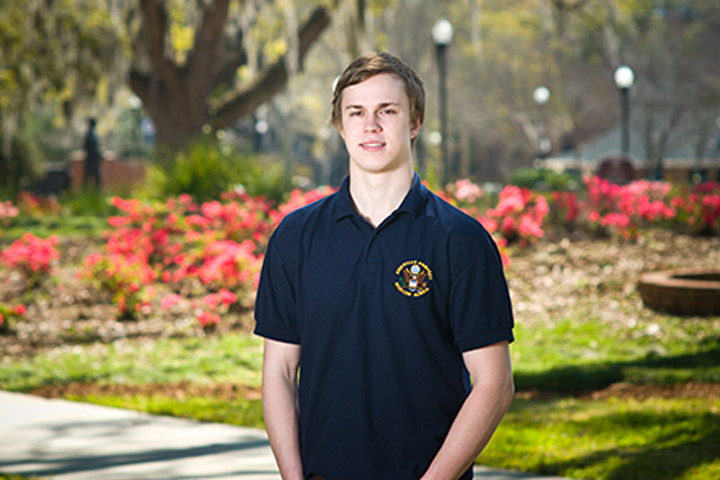 "I want to make new friends as well as build my leadership and teaching skills."
Now that he has graduated from Florida State University, Daniel Taylor's next stop is Smolensk, Russia, where he will serve for a year as a Fulbright English Teaching Assistant.
Taylor's road to Smolensk has been paved with plenty of exposure to foreign cultures from his youth spent living abroad.
"I grew up in the American military community in Stuttgart," Taylor said. "My classmates came from all over the world and spoke several languages. Living in Germany gave me the opportunity to travel extensively across eastern and western Europe.
"Being exposed to different cultures allowed me to take on their best beliefs and values," he said.
During these years, Taylor grew to appreciate the power of languages and was excited to work toward becoming fluent in German. The people he met and places he visited sparked Taylor's interest in studying international affairs.
As a freshman at Florida State, Taylor became a resident of the university's Social Science and Public Affairs Living-Learning Community. Housed in DeGraff Hall, it is a program that encourages interaction among students with majors offered by the College of Social Sciences and Public Policy, including international affairs.
"This gave me the opportunity to live with like-minded students and deepen my understanding in the social science and public affairs fields," Taylor said.
During his junior year, Taylor spent time studying abroad at Carl von Ossietzky University near Oldenburg, Germany, where he took courses in Russian language, European Union politics and European history, all of which were taught in German. Back on the Florida State campus, he earned the Teaching English as a Foreign Language certificate from university's Center for Intensive English Studies.
During his senior year, Taylor completed a directed individual study on the Russian language while interning at the U.S. Embassy in Moscow. Lisa Ryoko Wakamiya, an associate professor of Slavic at Florida State who served as Taylor's Russian language adviser, praised his commitment to language learning and professional development.
"His internship at the U.S. Embassy in Moscow, and now the Fulbright English Teaching Assistantship, speak to his academic achievements and a bright future in the professional sphere," Wakamiya said.
Also that year, Taylor passed the DSD-2 exam, which certified him as fluent in German by the German government. Birgit Maier-Katkin, an associate professor of German at Florida State, praised him as "an impressive student with multinational interests and great language skills."
"In addition to his knowledge of Russian, Daniel acquired an excellent understanding of the German language and culture," Maier-Katkin said. "The Fulbright experience in Russia will help to further advance his interest in Central and Eastern European regions and world peace."
Taylor took the DSD-2 exam through the German School of Tallahassee, where he also volunteered and taught for two semesters.
"I enjoyed being apart of the German community in Tallahassee and sharing my experiences in growing up in the German-American community," he said. "It was a good feeling to help people improve their language skills and make new friends."
Taylor also helped international students at Florida State to gain insight into American culture and campus life by volunteering as a conversation partner at the Center of Intensive English Studies.
With his Florida State graduation behind him and his sights set on Smolensk, Taylor is looking forward to the chance to represent the United States to the Russian people. He is set to arrive in Moscow for his Fulbright orientation in late September.
"I want to make new friends as well as build my leadership and teaching skills," he said. "I'm a little nervous to take on this important job, but I'm relieved that my hard work has paid off, and I'm delighted that my life is on a very good path."
After he completes his Fulbright assistantship, Taylor plans on earning a master's degree in public policy or international affairs, and then work for the federal government or an international corporation.
---
Produced by the offices of Information Technology Services, the Provost, Student Affairs, Undergraduate Studies and University Communications.