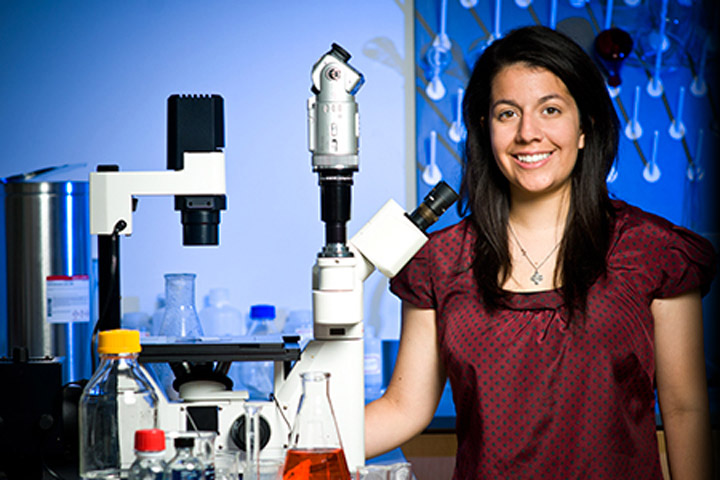 "I see myself founding centers for the advancement of research in a teaching hospital setting. I also hope to develop a nonprofit organization … that works to bring the arts to children with terminal and chronic conditions."
For Sofia Fernandez, the choice of which university to attend was never a question.
"I was born in 1993, the same year the Seminoles won their very first national championship in football," Fernandez said. "Born to two Florida State University alumni, I had garnet and gold blood coursing through my veins long before I would attend college. FSU offered me everything I was looking for: A university with a hometown feel, a competitive academic atmosphere and a diverse community."
Her pursuit of education at Florida State has been highly successful. Fernandez is a dual major in biological science and the FSU Teach program, preparing her for a career in research and teaching. She works with chemistry and biochemistry University Distinguished Teaching Professor Ken Goldsby, who inspired in her a love of biochemistry. Fernandez joined his lab as a researcher and this summer hopes to publish two papers through Goldsby's mentoring.
"Sofia is a natural. She is genuinely curious and knows how to ask the right questions. And when it comes to discussing her work, she is confident and understands that research is largely about trying to disprove our own ideas," Goldsby said. "Sofia's candor and good humor in expressing her opinions is refreshing, and the fact that she writes well is a huge bonus."
Fernandez's work also earned her a 2012 Undergraduate Research and Creative Activities Award, which enabled her to do research in Zurich, Switzerland, for three months. The lab there had formulated a strategy to use synthetic nucleosides to detect damaged DNA molecules and a nanoparticle-based strategy for detecting DNA damage in genetic hotspots. Fernandez worked with an international team of scientists — headed by Shana Sturla of the Swiss Federal Institute of Technology — to test the aforementioned synthetic nucleosides' ability to detect and discriminate between damaged and undamaged DNA molecules, in hopes of making contributions to cancer detection and prevention strategies.
"Certain chemicals that turn up in food, either from natural sources, such as processing by-products, or unintentional contaminants, are well known to initiate mutations that can cause cancer, but exposure is usually so low and erratic that it is difficult to understand how they realistically contribute to individual cancer risk," Sturla said. "This situation drives us to better measure tiny amounts of DNA damage in particular human genes, a difficult task that we hope to have new ways to address with the use of chemical probes built themselves with short DNA pieces that Sofia was involved in synthesizing and purifying in our lab."
Although she spends much of her time in the lab and studying, Fernandez finds time for her spiritual side. As a Bible study leader for the Catholic Student Union (CSU), she guides others in discussions of biblical texts while also serving as a leader in the praise band.
"Sofia has played various instruments in the CSU praise band and was one of the leaders of our student-led Bible studies," said the Rev. Christian Winkeljohn of Tallahassee's Co-Cathedral of St. Thomas More. "Sofia was a delight to have in the Bible study I gave the student leaders because she asked great questions, she had good insights, and she gave good feedback. She made me want to bring my best to each Bible study."
Fernandez has contributed her time to the university's Student Disability Resource Center, providing note-taking services to aid disabled students. As a sophomore, she worked with the American Medical Women's Association raising money and soliciting clothing for underprivileged children in rural communities.
Fernandez has plans to do further work on behalf of children in the future.
"Upon graduating, I plan to pursue a doctorate in biochemistry or biomedical sciences," she said. "I see myself founding centers for the advancement of research in a teaching hospital setting. I also hope to develop a nonprofit organization, Performing Arts To Children's Hearts (PATCH) that works to bring the arts to children with terminal and chronic conditions. Ultimately, I want to encourage and assist children — the most innocent of all — to live a full enriching life."
---
Produced by the offices of Information Technology Services, the Provost, Student Affairs, Undergraduate Studies and University Communications.