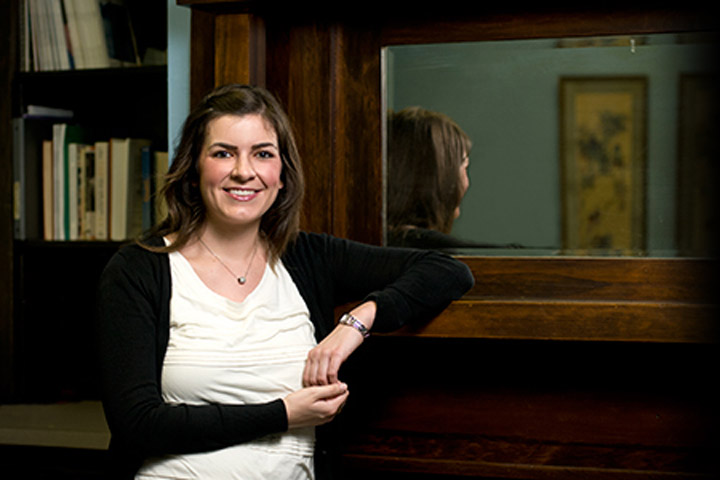 "I came to Florida State because of their focus and dedication to the scientific process, and I hope my work continues this legacy."
Christine Helfrich, a Fulbright scholar and Florida State University doctoral candidate, realized her passion for family therapy in 2008 after reading a thought-provoking publication by psychologist Peter Fraenkel.
In the article "Whatever Happened to Family Therapy," Fraenkel presents a modern perspective on therapy while acknowledging the functional role an individual's relationships play in the process. He theorizes that if therapy is pursued beyond the individual client and involves his or her environment and family systems — with the aim of modifying behavior-altering dynamics — a patient's problems could be resolved more easily.
"The article opened my eyes," said Helfrich, who came across Fraenkel's work after she earned a bachelor's degree in psychology from Clemson University. "It helped me understand that problems existed between people, not only within them."
Following her epiphany, Helfrich went on to pursue her master's degree in human development and family studies at Colorado State University, graduating in 2010.
The pinnacle of Helfrich's academic career came when she entered Florida State's nationally accredited doctoral program in marriage and family therapy. Now in her fourth year in the Department of Family and Child Sciences, Helfrich has been able to explore opportunities beyond academics through the program.
"I came to Florida State to receive optimum research and clinical training from the Department of Family and Child Sciences," Helfrich said.
Helfrich's primary research interests include at-risk adolescents who access intensive mental health treatment. She focuses chiefly on parents-child relationship and barriers to relationships while in care, as well as transitioning out of and back into the community.
"I want to develop and implement systemic interventions with at-risk youth and their families," Helfrich said.
During the past three years, Helfrich has submitted publications with distinguished researchers in her field, has been honored with prominent grants and scholarships towards her studies, and has represented the university on a national level at conferences, meetings and workshops. Helfrich received a Study/Research Grant through the Canada-U.S. Fulbright Program to conduct research and study at the University of Guelph in Ontario, Canada, for the 2012-2013 academic year.
"Without Florida State and the Department of Family and Child Sciences, I don't think I would have received the Fulbright," Helfrich said. "In my grant writing courses, I produced mock grants that prepared me for the application, and beyond that, my department provided endless support and so many hands-on opportunities which qualified me for the grant."
Some of Helfrich's experiences at FSU prior to beginning her Fulbright term included online student mentoring for undergraduate classes, teaching her own section of family and individual lifespan development and working as therapist in the Center for Family and Couple Therapy.
"The clinical work I do inspires the research that I do, so I feel like I have an advantage and am constantly getting fueled to study new things or look at things differently," Helfrich said. "I really enjoy working with families, children and couples. It's nice to feel like you're influencing peoples' lives."
In May 2012, Helfrich received notice that she won the Fulbright grant to study and conduct research alongside Michelle Preyde to work with youth accessing intensive mental health treatment in Ontario.
"Helfrich independently identified Preyde, an outstanding Canadian researcher at the University of Guelph, to mentor her in studying at-risk adolescents at in residential treatment facilities," said Kay Pasley, Florida State's Norejane Hendrickson professor and chair of the Department of Family and Child Sciences. "She crafted the Fulbright proposal and represented FSU well in the associated interviews both locally and nationally."
In September 2012, Helfrich moved from Tallahassee to Guelph to pursue research internship and dissertation credits towards her doctorate degree. Helfrich worked with data collected by Preyde, and treated her research as a full time job, managing a project and connecting with faculty at the University of Guelph.
In the evenings, Helfrich participated in a clinical internship at Family Counseling and Support Services, a local agency in Guelph. Working 12-hour days, Helfrich also took several classes for leisure at the university, including: theorizing, structural equation modeling and evidence-based practice and knowledge translation.
While already maintaining a vigorous schedule, Helfrich seized opportunities to further her knowledge and experience during her nine months in Guelph, working on previous publications and publishing with Preyde and another University of Guelph faculty member.
"Using Dr. Preyde's data collected from a vulnerable population of youths who access treatment, we looked at youth mental health and parenting sense of competence in five different residential treatment facilities," Helfrich said. "We analyzed how mental health in adolescents, particularly ones who access intensive mental health treatment, was influencing [150] parents' sense of competency."
Helfrich begins her fourth and final year in the doctoral program at Florida State feeling privileged to have had the Fulbright opportunity.
"It is no surprise that Christine was awarded the Fellowship, because she has a reputation for maintaining high academic standards through hard work and critical thinking," Pasley said. "For the College of Human Sciences and our department, she is our first student to be recognized with this award, and her Canadian mentor speaks highly of her knowledge, skill, and professionalism."
After graduation next spring, Helfrich would like to continue work in an academic setting. She plans to pursue research with at-risk youth, developing interventions and programming to meet the needs of this vulnerable population.
"I came to Florida State because of their focus and dedication to the scientific process, and I hope my work continues this legacy," Helfrich said.
---
Produced by the offices of Information Technology Services, the Provost, Student Affairs, Undergraduate Studies and University Communications.