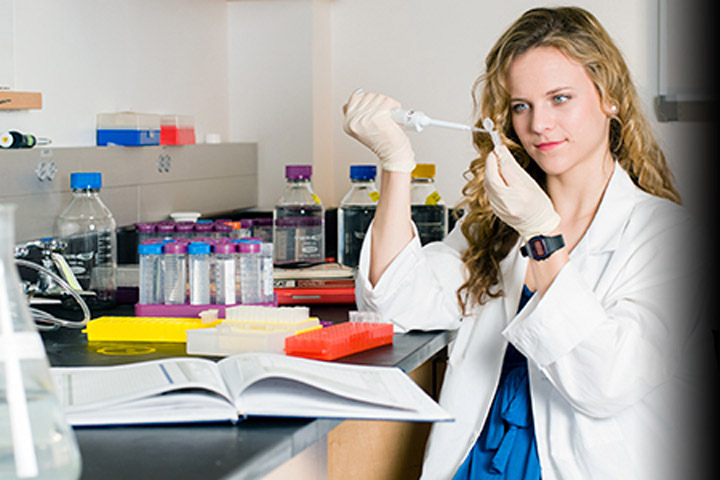 "I would like to engage in clinical research and clinical trials of new innovative forms of surgery or cutting edge pharmaceuticals as a physician."
Florida State University student Olivia Gruder has a framed picture of herself in kindergarten with a sign saying, "When I grow up, I want to be a doctor." Unlike the majority of children who wanted to be movie stars or cowboys, Gruder is well on her way to making her dream come true.
Through the university's Office of Undergraduate Research, Gruder has worked since her freshman year in biology Professor Jonathan Dennis's laboratory doing DNA research crucial to creating drugs to prevent and treat a wide array of diseases. She has presented her work several times and won several awards including the Undergraduate Research and Creativity Award and the Charles M. McCallister Undergraduate Research Award.
"Olivia has become one of the best researchers in my laboratory," Dennis said. "Scholarship comes naturally for Olivia because she is a truly inquisitive person. She is studying one of the hardest projects in my lab, the relationship between an immune stimulus and the immune response. She has attacked this project with great enthusiasm. This enthusiasm is motivated by an ambition to figure out all there is to know about the regulation of the innate immune response. Olivia has an overwhelming a desire to figure out the biology underlying so much of life that we take for granted."
"Participating in undergraduate research has been a priceless experience for me," Gruder said. "Not only has it enabled me to grow and mature as a student but, also, it has exponentially increased my thirst for science. Every day I study in my lab, I learn something new."
Gruder also has been teaching something new in local grade schools. In the spring of 2012, she started The Dance Project at FSU, which provides dance classes for children in Leon County, Fla., whose families may not have been able to afford the opportunity to dance otherwise. The project has been extremely successful and has grown steadily since its inception.
Andra Copeland, the principal of one of the schools that hosts the project, is one of many project admirers.
"The children and teachers of First Presbyterian Preschool love Ms. Olivia," Copeland said. "She has brought The Dance Project to our school once a week for the past two years. We have watched the program grow with more FSU students involved and more dance ideas and activities for the children. Olivia Gruder took a small idea and quickly made it a big success."
"It is my belief and hope that The Dance Project will continue to thrive and gain members long after I have left Florida State," Gruder said.
Gruder chose FSU after talking with alumni.
"After the past few years I have had at FSU, I am proud to say that I have fallen in love with this school, and cannot imagine having spent my undergraduate years anywhere else," she said. "FSU has a great balance between challenging academics and extracurricular activities, which not only enhances what is taught in classrooms, but also to creates well-rounded leaders and thinkers."
Gruder has taken advantage of much of what Florida State has to offer. She is a member of Tri-Beta Biological Honors Society, Phi Eta Sigma Honor Society, FSU Honors Program, Pi Beta Kappa Honor Society and the National Society of Collegiate Scholars. She was the recipient of the Bess Ward Honors Travel Scholarship, which she used to study the French language and culture in Paris, France, and won a USSTRIDE grant from FSU College of Medicine to take a Pre-medical Clinical Assisting course, which she hopes will better prepare her for medical school. She also has been involved for three years with Dance Marathon, Light the Night, Relay for Life and events of the Chi Omega sorority that support the Make-A-Wish Foundation. All of which she hopes will make her attractive to medical schools so that she can fulfill the goal she set for herself in kindergarten, becoming a doctor.
"Two of my greatest passions in life are science and helping people," Gruder said. "I would like to engage in clinical research and clinical trials of new innovative forms of surgery or cutting edge pharmaceuticals as a physician."
---
Produced by the offices of Information Technology Services, the Provost, Student Affairs, Undergraduate Studies and University Communications.