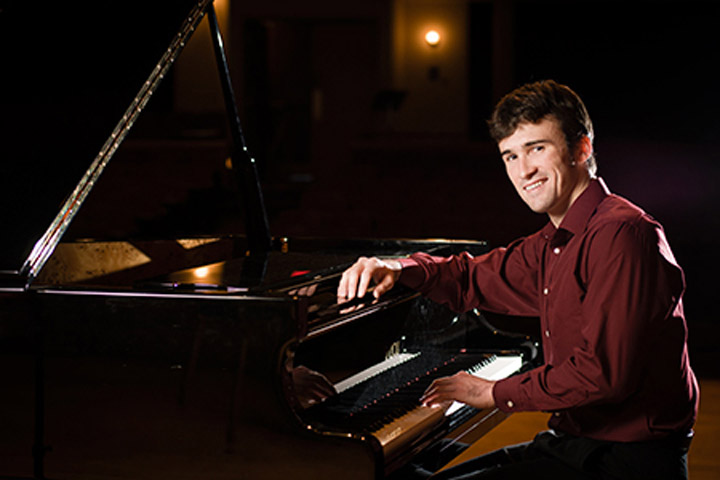 "Ten percent of musical ability can be attributed to natural talent and the other 90 percent comes from regular, focused, and goal-oriented practice."
During his time at Florida State University, David Meder has not shied away from opportunities to become exceptionally well rounded. This young musician has successfully completed three majors in his years on campus, not solely to acquire knowledge, but to eventually recognize his calling — music.
Maintaining a flawless 4.0 GPA, Meder completed work in political science and Spanish before finally rediscovering his childhood destiny with music.
"My journey through three majors has taught me much about myself and has illuminated my future career path," Meder said.
In the Department of Political Science, Meder participated in the Research Intensive Bachelors Certificate Program. His findings were presented at the Southern Political Science Association Conference in 2011 and published in the Pi Sigma Alpha Undergraduate Journal of Politics.
In the field of Spanish, Meder won the Winthrop-King Scholarship for study abroad in Costa Rica (May 2011) and a scholarship through Sigma Delta Pi, the National Collegiate Hispanic Honor Society, for study in Spain (June/July 2011). Meder developed finesse for the Spanish language while abroad, residing with local families and attending culture and literature courses.
Though he distinguished himself in his studies of political science and Spanish, it is music that most captivated Meder.
"Ten percent of musical ability can be attributed to natural talent and the other 90 percent comes from regular, focused, and goal-oriented practice," he said. "Every day I go into the practice room to work on something. There is never going to be a point where I can say that I have done enough, or that I am 'fluent.'"
This gifted musician won his first classical piano solo competition in 5th grade, and was motivated to pursue the genre of jazz when starting an afterschool jazz band with his classmates the following year.
Meder relishes in improvisation with jazz, seeing the creation of music in real time as the most gratifying thing. Meder most enjoys contributing to produce something meaningful and beautiful.
"There are a lot of problems in this world, and I know I will never be the one to develop a cure for cancer or stop global warming," Meder said. "What I can do, however, is play something that hopefully makes people happy and that leaves them feeling more inspired than before."
In April 2011, Meder earned the opportunity to attend the prestigious Betty Carter Jazz Ahead program at the Kennedy Center. The two-weeklong program offers workshops and classes with jazz masters and culminates with a performance by participants in the nationally known venue. A few months later, Meder was invited to attend a weeklong residency at the Ravinia Music Festival in Illinois where he also participated in a workshop led by jazz legends David Baker and Curtis Fuller, and had the chance to perform.
"The faculty at both the Kennedy Center and the Ravinia Festival are legends of American music, and many of them will not be around much longer," Meder said. "It was an honor just to meet them and hear their stories face-to-face. That, for me, was a tremendous learning experience."
At Florida State, Meder was mentored by Associate Professor Leon Anderson, the highly regarded director of the jazz studies program in the College of Music. Meder praised Anderson as a consummate professional who teaches by example.
Anderson in turn praised Meder.
"David is one of the up and coming young voices in the modern jazz scene today," Anderson said. "He is a brilliant pianist and composer/arranger with a very forward-thinking approach to jazz music. He continues to keep it fresh while still paying homage to the roots of the music. It has been an honor working with him locally, nationally and internationally."
Meder was a finalist in the University of West Florida's national Jazz Piano Competition and was honored with "Best Jazz Soloist" in DownBeat Magazine's Student Music Awards.
Along with his academic undertakings, Meder has served as a pianist in Tallahassee's Celebration Baptist Church and as the music director and worship leader for the Baptist Collegiate Ministry. Currently, Meder has his own teaching studio in Tallahassee where he shares his passion for piano with locals of all ages.
"I enjoy seeing improvement from week to week in my students and knowing that I was a part of that," Meder said humbly. "Each student brings a new challenge."
Meder will graduate with summa cum laude distinction this spring. This talented musician will attend New York University to pursue graduate studies in music while working as an adjunct piano faculty member to NYU undergraduates.
---
Produced by the offices of Information Technology Services, the Provost, Student Affairs, Undergraduate Studies and University Communications.