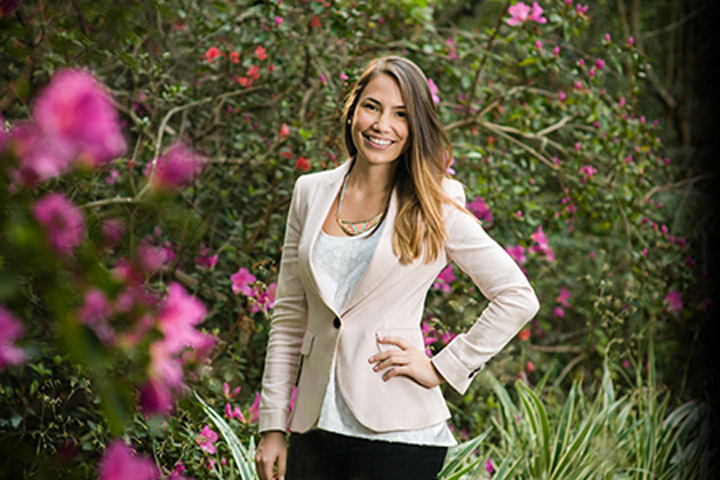 "The power that we have to make a difference now just by choosing not to purchase a water bottle is so crucial."
Sustainability management has become a key contributor to a positive reputation for major corporations, small businesses and even academic institutions. The notion of being environmentally friendly is more prevalent today than in years past.
With the goal of enhancing Florida State University's reputation, Venezuelan-born Ariana Cano has been making tireless efforts to create a more sustainable campus since her freshman year. She is the impassioned founder and campus coordinator of Take Back the Tap, an FSU environmental advocacy campaign associated with Food and Water Watch and the grassroots movement, which encourages students to reduce their use of bottled water and suggests the consumption of tap water.
Helping to build a foundation of sustainability on Florida State's campus has been the starting point for Ariana Cano's future in environmental affairs. Teaching the community to balance the economical, social and environmental sides of life has been Cano's chief objective. She credits political science Assistant Professor Eric Coleman's Environmental Political Policy course for sparking her belief in her endeavors.
"Sitting in his class was finally when it all clicked," she said. "Coleman made me think I can do this for a living … I can study this. After that point on, and spending so much time waking up early to recycle or to go to waste audits or food audits, I discovered this was definitely what I wanted to do with my life."
As a student double-majoring in political science and editing, writing, and media, Cano has polished her skills in diplomacy to prepare for a future working in environmental public policy. Also earning double minors in French and international affairs, Cano has become a seasoned intellectual in her time at Florida State. This multilingual trailblazer's infectious spirit has won her the support of hundreds of students, staff and faculty members, and even government officials for her work with promoting sustainable living.
"A lot of people talk about water issues on an international level, but there are a lot of problems on the national level that we don't discuss at all," Cano said. "The power that we have to make a difference now just by choosing not to purchase a water bottle is so crucial. Starting Take Back the Tap at FSU was my opportunity to say 'this is a huge crisis in the world.'"
While this initiative has caused some local controversy with debate of the safety of tap water, Cano wholeheartedly supports the ethics of her organization, acquiring more than 800 student signatures for the campaign and holding multiple events to raise awareness since its inception on campus.
This advocate's knowledge of environmental issues and service as a committee chair of With Words — a museum-style exhibit on campus — has allowed students to be educated on deceptive environmental marketing in Cano's co-created "Greenwashing Room," located in the university's Center for Leadership and Social Change.
Elsewhere, Cano has served three consecutive terms as volunteer coordinator with Garnet and Gold Goes Green (G4), a game day recycling program. Already the most visible recycling effort in FSU history, Cano expanded the program to collaborate with Dance Marathon during her junior year, and has now successfully organized two sustainable DM events.
"Under her leadership, both the Garnet and Gold Goes Green and Take Back the Tap programs have seen tremendous increases in participation and expansion," said Elizabeth Swiman, Cano's mentor and FSU's director of Sustainability. "Best of all, she leaves her legacy at the university by tirelessly working to make it a cleaner, greener Florida State."
Through her efforts in conjunction with the Office of Sustainability, Cano assisted in coordinating popular events such as Rez Goes Green, Campus Earth Day and most notably Chuck It For Charity, a drive to collect items that students would otherwise throw out as they conclude each semester. The project won her recognition from Bonnaroo's 2012 Sustain-U T-Shirt drive, and complimentary tickets to the arts and music festival.
"Ariana is such a compassionate advocate for the environmental concerns she champions," said Craig Filar, the director of the Office of National Fellowships. "It is easy to understand why she has become such a pivotal leader on campus in this area. She is a true embodiment of the Seminole Spirit."
Cano has been honored with the "Who's Who Among Students in American Universities and Colleges" award, the FSU Torchbearer award and the Academic Leadership award. Due to her contributions to Florida State, Cano became a student marshal at Convocation, a member of the Garnet and Gold Key Honorary Leadership Society, and has represented the university at multiple national leadership conferences.
After graduation, Cano will attend graduate school at the University of Vermont. She hopes a degree in natural resource management will aide in her aspirations of becoming an environmental lawyer.
"I followed my instinct and desire to want to make a difference here," said Cano, waxing poetic about her time at Florida State. "What I accomplished is not just because of me, it's because of a lot of the people who I worked with. I remember when I first walked into the Sustainability office — when Elizabeth Swiman first got the director position — I thought it was so big for one student, just me, but it just kept growing to what it is today. I'm going to miss it so much."
---
Produced by the offices of Information Technology Services, the Provost, Student Affairs, Undergraduate Studies and University Communications.