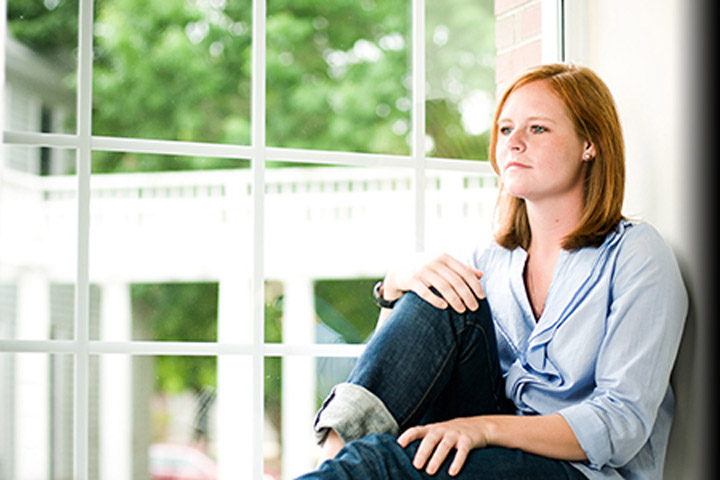 "If we are going to advance human rights, it has to be through solutions that will provide education and opportunity for people all over the world, not merely putting a Band-Aid on conflicts that have a deep-rooted history."
Human trafficking is second only to drug trafficking as the most profitable illegal industry in the world. In the summer of 2011, while working with youth in Vietnam, Erin Fabrizio took a side trip to Thailand that changed her life. She had heard that sex trafficking was a huge problem in the region. When she went to the red light district in Bangkok, she was horrified by the many young girls "working" there. While researching a term paper back in the states that fall, she discovered how prevalent the issue is here in the United States.
"Many students are aware that human trafficking exists, but do not know that it happens right in their own communities. We hope to inspire more students to join the fight against it," Fabrizio said.
Fabrizio is the president of Trafficked, a student organization that is dedicated to bringing awareness of the problem of human trafficking on a local, national and global scale. The organization fundraises for local organizations that help survivors and combat human slavery.
Fabrizio was in Vietnam with Coach for College, a program that sends Atlantic Coast Conference athletes to promote higher education among rural Vietnamese youth. As a freshman, she ran on the Florida State cross country b-team but due to several injuries is no longer able to compete. However, she has been able to continue running and her involvement with athletics by working as an undergraduate manager for the cross country team.
"It was at first sad to realize her body just couldn't handle the rigors of being a collegiate distance runner but now I see it was really a blessing for Erin," said FSU's Head Cross Country Coach and Assistant Track Coach Karen Harvey. "She ended up finding out she has other talents, one being a passionate leader and leading the fight against human trafficking. I am proud of Erin and all she stands for."
The athletics at Florida State were one of the factors Fabrizio used to decide which university to attend.
"I found that Florida State had everything I was looking for. I wanted to go to a school that had an excellent reputation for its international work, a commitment to undergraduate research, and an opportunity for me to continue in my athletic pursuits," Fabrizio said.
Another big factor was Florida State's Honors Program.
"The Honors Program offers smaller class sizes which allow you to interact more with professors and fellow students," Fabrizio said. "It also offers special Honors Seminars each semester on topics that reflect current trends in various fields as well topics that professors may currently be researching."
Fabrizio could be referred to as an expert on the subject of honors. She is member of the honor societies of Golden Key, Phi Eta Sigma, Phi Beta Kappa and the National Society of Collegiate Scholars. She is currently working to fulfill the requirements to graduate with honors in two different ways. One is through course work and the excellent honors classes here. The second is through the Honors in the Major program. Fabrizio is writing a thesis on international justice and the prosecution of atrocity crimes. In the fall of 2012, she was one of Florida State's two nominees for a Rhodes Scholarship.
Craig Filar, director of the Office of National Fellowships at Florida State, has worked with Fabrizio since her first semester here and most recently on her Rhodes Scholarship application.
"Erin Fabrizio made an immediate impression upon me when I had the great fortune to meet her during her first semester at FSU," Filar said. "Erin has worked tirelessly to encourage other students to investigate the nature of human rights in our own community and around the world. She will leave a legacy at FSU which is indicative of the exceptional students which the Office of National Fellowships supports."
After graduating, Fabrizio hopes to study Swahili and human rights in Kenya for two semesters through a Boren Scholarship for which she has applied. Kenya is a hub for human trafficking in East Africa, and she hopes to work with organizations there to see how to combat this human rights issue with a worldwide effort.
After her studies abroad, Fabrizio plans to attend law school in order to prepare for a career in international public policy.
"I see public policy as a way to create long-term, systemic change," Fabrizio said. "If we are going to advance human rights, it has to be through solutions that will provide education and opportunity for people all over the world, not merely putting a Band-Aid on conflicts that have a deep-rooted history."
---
Produced by the offices of Information Technology Services, the Provost, Student Affairs, Undergraduate Studies and University Communications.