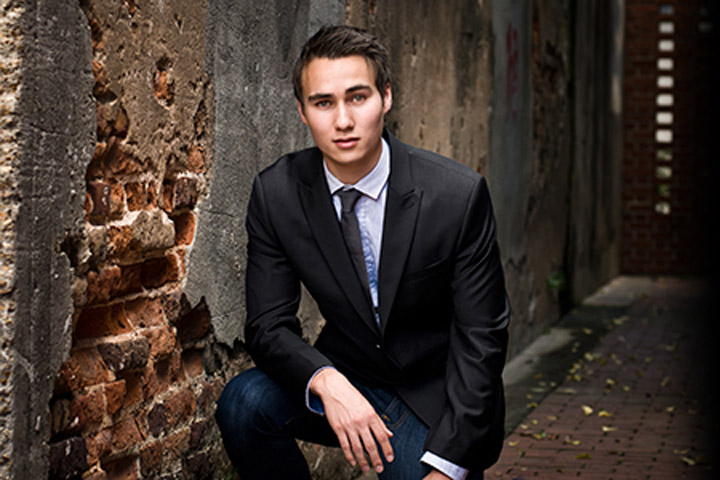 "I have a deep-rooted fascination for and interest in criminology."
On July 22, 2011, Colin Jacobsen was at home in his native Norway when the unthinkable happened. A terrorist attack unfolded in Oslo against that country's Labor Party, killing eight people. It was followed by a mass shooting at the camp of the Workers' Youth League of the Labor Party, which killed 69 people — many of whom were teenagers.
"Norway is such a small country that I feel everyone, including myself, either knew some of the victims or knew someone who did," Jacobsen said.
The attacks, perpetrated by now-convicted mass murderer Anders Behring Breivik, were fueled by a hatred of multiculturalism.
"I am a product of multiculturalism," said Jacobsen, whose American mother has a mixed heritage of Korean, Hawaiian and Danish, and whose father is Norwegian. "I identify with more than one culture, so I am passionate about using criminology to combat this type of hatred."
Jacobsen chose to study criminology because of his fascination to understand why behavior turns deviant. He chose to attend Florida State University because of its top-rated College of Criminology and Criminal Justice.
"I have a deep-rooted fascination for and interest in criminology," said Jacobsen, who has a 4.0 GPA. "I have always wanted to understand how people become who they are, and I often find myself reflecting on how human genetic inclinations and environment contribute to direct behavior."
Jacobsen has turned his passion to combat the kind of hatred demonstrated in the 2011 Norway attack into an Honors in the Major thesis, "Breivik's Sanity: Historical and Contemporary Right-Wing Political Violence in Norway." He is conducting the work under the direction of Florida State criminology Professor Daniel Maier-Katkin.
"Colin was creative, hard-working, thoughtful and enthusiastic in organizing his in-country research time to include visits to the Breivik trial, to archives, libraries and museums, as well as interviews with lawyers, psychiatrists and political leaders," Maier-Katkin said. "It has been great fun for me to be able to offer a degree of guidance to Colin, who has always been wonderfully open to criticism, always trying to figure out how to make his work better and clearer."
In addition, Jacobsen was awarded an Undergraduate Research and Creative Activity Award earlier this year. Offered by the university's Office of National Fellowships, the awards come with a $4,000 stipend to conduct a summer research project.
"I used the award to spend the summer of 2012 in Norway, where I conducted research into the historical and contemporary ideology of right-wing extremism in Norwegian culture," Jacobsen said.
Jacobsen expressed gratitude to Maier-Katkin and the staff of the Office of National Fellowships for their guidance and support.
"Dr. Dan's support and help has been crucial for my academic success, as have the resources and help given to me by the Office of National Fellowships," he said.
Jacobsen was inducted into the Florida State chapter of Golden Key, an international honor society, in spring 2012, and made the President's List in fall 2011. What's more, he successfully completed the Citizen's Police Academy at FSU, a voluntary eight-week training program of the FSU Police Department that offers hands-on law enforcement experience.
Outside of his academic pursuits, Jacobsen has found numerous ways to volunteer throughout the community. He is serving as vice president of community investment and agency relations for the university's Student United Way campaign, which allows him to coordinate volunteer opportunities for members of the university community. Through the Florida State's Community Outreach Program, Jacobsen has volunteered with the Damayan Garden Project, ECHO-Tallahassee and the Tallahassee Museum.
"Helping others in need is truly a worthwhile endeavor. It gives me a different perspective on life and reminds me not to take things for granted," he said.
Currently, Jacobsen is applying for a Fulbright scholarship through the Office of National Fellowships to pursue a master's degree in the study of countering organized crime and terrorism from University College London. He also plans to apply to other graduate schools to pursue a master's degree in criminology. His ultimate goal is to work for a government agency such as Interpol, the CIA or the FBI and focus his career on public service in the area of national and global security, and in the protection of democratic institutions.
---
Produced by the offices of Information Technology Services, the Provost, Student Affairs, Undergraduate Studies and University Communications.