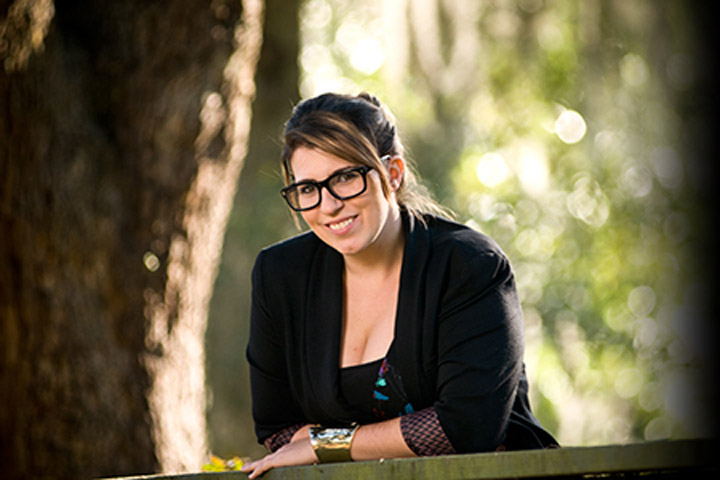 "I have found that the best way to say 'thank you' to those who displayed kindness to me is to try my best to display it threefold with others."
Barby Moro will be the first to tell you that she is hardly a typical Florida State University student.
She works full time for the Southern Scholarship Foundation — a job she's passionate about — and juggles a full life replete with a lively roster of volunteer work, school, family and friends.
Moro, 29, a first-generation Cuban-American from Miami, is the first person in her mother's family to go to college. She graduated in December 2012 with a master's degree in public administration.
Her emphasis? Nonprofit management and strategic leadership.
It is her second master's from Florida State. She graduated in 2008 with combined bachelor's and master's degrees in emotional disturbances and learning disabilities, with specializations in reading, severe and profound disabilities and autism.
Moro accomplished all this while serving as a member of the civic organization Leadership Tallahassee and as a member of the Leon County Commission on the Status of Women and Girls. She was recently awarded the "Golden Ace" in the nonprofit career category by the Tallahassee Network of Young Professionals, which recognized her as one of its "Top 20 Under 40."
Moro also assisted in founding several nonprofit organizations, including The Oasis Center for Women and Girls in Tallahassee.
"Barby is an amazing example of a fabulous student who remained in Tallahassee after graduating, and made the city better because of it," said Haley Cutler, executive director of The Oasis Center.
Moro's devotion to community service dates back to her childhood. It's a deeply rooted value that has helped her map the course of her life.
"My parents raised me to believe that while no one was better than me, I was not to believe I was better than others," Moro said. "From a very early age, I remember my father explaining to me why people needed people and that we were not alone in this world. If we ate in a restaurant, my father would buy a meal for the homeless man outside. If someone was struggling with something, my father always listened to them and helped them however he could. My mother never met a stranger, and sunshine lives through her smile. Though we did not have much, my parents were grateful for all we had because, compared to their lives in Cuba, we were rich. Because we were so blessed, we had a responsibility to show kindness to others in every way possible. This is a core belief for me that helps guide everything I do.
"Wherever I do, whatever I do, I just want to live in eternal gratitude for all the good that has come my way," she said. "I have found that the best way to say 'thank you' to those who displayed kindness to me is to try my best to display it threefold with others."
While at Florida State, Moro received several awards, including the Humanitarian of the Year and the Bob E. Leach Award. She also was named a Service Scholar through the Center for Leadership and Social Change. In addition, she was selected as a Community Catalyst by the Knight Creative Communities Institute of Tallahassee.
"A Community Catalyst is one of 30 volunteer community members committed for one year to educate, engage and enable fellow citizens to build a more authentic, sustainable and prosperous community," Moro said.
Moro originally came to Florida State because of her selection as a Service Scholar. She joined the Florida Army National Guard on her 18th birthday because, she recalled, "I wanted to serve the country that was able to provide so much for my family."
At the time, Moro said, "You could request placement in conjunction with school. I requested to be stationed in Tallahassee because of the programs provided through the Center for Leadership and Social Change. The idea that a university would have a department solely dedicated to social justice, community service and service learning was beyond awesome to me. I wanted to be a part of that."
Her long-term goals and dreams draw upon her experiences at Florida State as well as in the Tallahassee community.
"I would love to be able to travel and create programs that meet a need within whatever community of which I am a part. I am happy wherever I go and believe anything is what you make of it," Moro said.
"Also, I would love to remain in higher education, maybe even be a part of some other university's equivalent to the Center for Leadership and Social Change. Wherever I go, I hope to be of service, doing my small part in helping others and spreading sunshine."
---
Produced by the offices of Information Technology Services, the Provost, Student Affairs, Undergraduate Studies and University Communications.