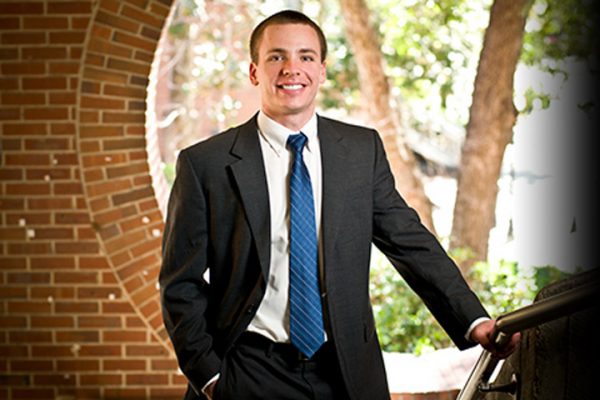 "I accumulated more than 350 hours of service. However, I would like to think it is the impact of those hours that matters, not just the number."
With his undergraduate career nearing an end, Florida State University senior Timothy Gooldy has emerged as a fine example of responsibility and character.
Along the way, he often took 18 or more credit hours during a single semester while maintaining an outstanding 3.77 GPA. He earned several scholarships and worked his way through college in the student union's bagel shop, which will allow him to graduate debt-free. And through it all, he found time to get involved with his fellow students and community.
"Juggling my school, work, volunteer and financial responsibilities has been a challenge, but it has matured me, and I would not trade the experience for an easier time," said Gooldy, who has been an Honors Program student since his freshman year.
Joining the Honors Program gave Gooldy the opportunity to conduct research through the university's Program in Neuroscience. His research delves into the interactions of neurotransmitters in the brain that control high-fat food intake, and is the subject of his Honors in the Major thesis. Diana Williams, a professor of neuroscience in the Department of Psychology, is supervising his work.
"It has been a pleasure to work with Tim, and he has become an important member of our team," Williams said. "His hands-on laboratory skills are excellent, and he has been intellectually engaged in our work from the beginning."
Williams praised Gooldy's ability to assimilate new information as "impressive" and the questions he asks about the scientific literature in the field as "insightful."
"Tim is quick to see the 'real world' and clinical relevance of basic scientific findings, a skill that will serve him well in his future as a doctor," Williams said.
Beyond the classroom, Gooldy is a member of the Garnet and Gold Scholar Society, which encourages students to pursue activities in three of five areas of engagement.
In addition, Gooldy has found ways to serve the community and his fellow students through the American Cancer Society and the American Medical Student Association.
"During my sophomore year, the father of one of my best friends died of cancer," Gooldy said. "To honor his memory, I began helping the local chapter of the American Cancer Society with the many events it facilitates throughout the year, especially the Relay for Life at FSU."
Over the past two years, Gooldy has served in various leadership roles with the university's Relay for Life team, from team captain to vice president of the university portion of the event.
As a member of the American Medical Student Association, Gooldy has served on its executive board and mentored pre-med students.
"I remember how overwhelmed I felt as a freshman, and how relieved I was to have an older student to talk to," Gooldy said. "Through the American Medical Student Association, I had that chance, and now I get to be the mentor."
Because of these experiences, Gooldy was asked to serve as an orientation leader for incoming pre-med freshmen during the university's New Student Orientation in the summer of 2013.
"Working with these two organizations has helped me grow into a leader and taught me the value of being engaged in my community," Gooldy said. "Throughout my time at Florida State, I accumulated more than 350 hours of service. However, I would like to think it is the impact of those hours that matters, not just the number."
After graduation, Gooldy has his sights set high on earning a dual Doctor of Medicine/Master of Business Administration degree to allow him to manage a large-scale medical practice, work in health policy and better understand the ever-increasing complexities of the nation's health-care system.
"Medicine is part practice, part business," Gooldy said. "Implementing sound business practices in my medical practice will allow for better treatment, lowered costs for my patients and myself, and an overall improved experience for everyone."
---
Produced by the offices of Information Technology Services, the Provost, Student Affairs, Undergraduate Studies and University Communications.