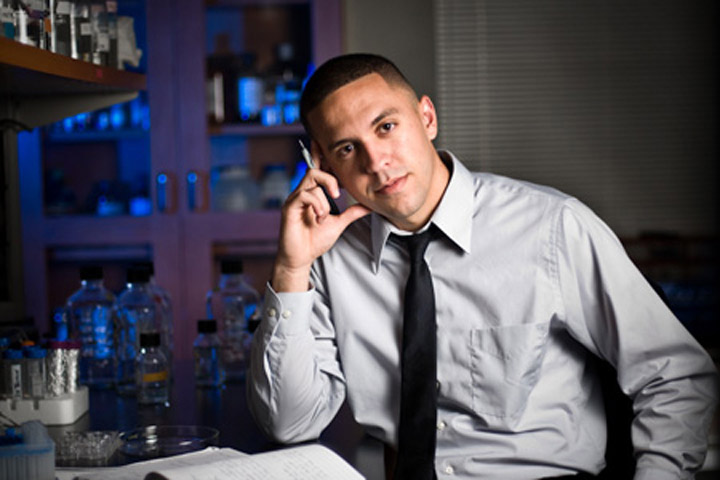 "My goal is to use medicine to improve the lives of others by pushing research to its limits and contributing to the innovation and progress of the field."
From conducting scientific research projects to observing and assisting doctors as they performed surgery, Florida State University senior Manuel Ozambela has taken advantage of several meaningful opportunities as an undergraduate biological science major to fuel his journey toward becoming a doctor.
"My goal is to use medicine to improve the lives of others by pushing research to its limits and contributing to the innovation and progress of the field," Ozambela said.
During his first semester as a freshman, Ozambela found a research opportunity in the laboratory of College of Medicine Professor Cathy Levenson. That project involved investigating potential treatments to improve behavioral outcomes following brain injuries.
As a junior, Ozambela began his current research project developing magnetic resonance imaging biomarkers to predict a brain tumor's level of resistance to chemotherapeutic drugs. Levenson and Victor Schepkin, an associate scholar/scientist with the National High Magnetic Field Laboratory, continue to supervise this research.
"This work is important because brain cancers typically become lethal when they develop resistance to drug therapy," Ozambela said. "There are currently no efficient ways to deal with drug resistance, so developing biomarkers may also contribute to the design of new drug therapies."
Ozambela made this research the topic of his Honors in the Major thesis, titled "Using Ultra High Field Magnetic Resonance Imaging to Track Chemotherapeutic Resistant Brain Tumors." What's more, he received Florida State's Undergraduate Research and Creative Activity Award to support his research over the summer of 2011.
During fall 2009, Ozambela worked in an externship sponsored by the FSU College of Medicine's Undergraduate SSTRIDE program. After completing training as a clinical assistant, he had the opportunity to shadow surgeons at Capital Regional Medical Center in Tallahassee. He was allowed to "scrub in" and observe doctors as they performed more than 25 surgeries, ranging from an open-heart bypass to a gallbladder removal and knee replacements. Ozambela even assisted doctors during a hysterectomy by using surgical instruments to hold open the patient's abdomen.
"This was a very rewarding experience because it helped me understand the effect that a doctor can have on an individual's life," Ozambela said. "The result of a surgery will have significant implications for a patient's quality of life. I realized that it takes a considerable amount of skill and courage to accept that sort of responsibility."
In addition to these educational experiences, Ozambela has served as president of the Minority Association of Pre-Med Students (MAPS), a pre-professional society that champions the recruitment of underrepresented students into the health care and medical professions.
Through MAPS, Ozambela was part of an initiative that trained bilingual students to become CPR instructors. The students then traveled to rural communities around Tallahassee providing free CPR instruction in Spanish to migrant workers and their families.
"MAPS has played a large role in my undergraduate career," Ozambela said. "The organization has helped me develop into a stronger candidate for medical school. Through my community involvement with MAPS, I have an improved sense of the importance of serving others, which continues to inspire and motivate me as I pursue a career in medicine."
After graduating in spring 2012, Ozambela plans on attending medical school, possibly pursuing specialized training in oncology or neurology.
---
Produced by the offices of Information Technology Services, the Provost, Student Affairs, Undergraduate Studies and University Communications.