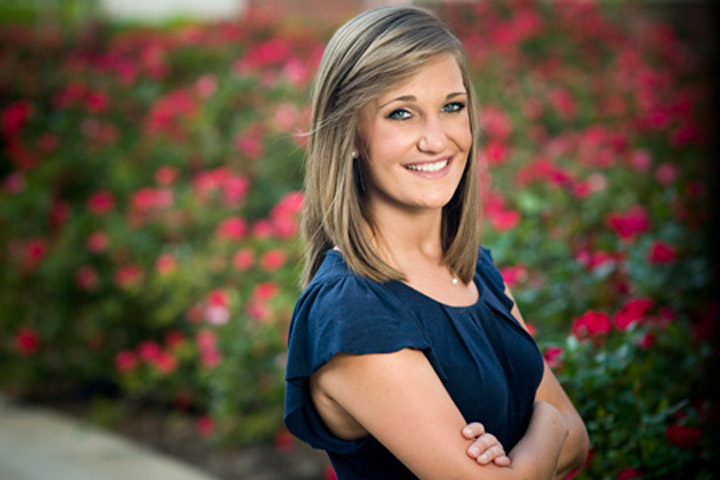 "Serving as an Orientation leader deepened my involvement on campus and really showed me what leadership, diversity and friendship are all about."
Nikki Jacobs chose to bring her math and science skills to Florida State and found a good fit for them in the College of Engineering. She also brought her people skills, and those led her to choose a major in industrial engineering.
"It's the broadest and most 'people-based' engineering choice," said Jacobs, a senior from Titusville, Fla. "An industrial engineer isn't going to find herself stuck behind a desk."
Neither has Jacobs. As a serious student and equally serious participant in campus life and leadership over the past four years, she has engineered a well-balanced FSU experience that has honed critical skills both in and outside of the classroom.
In class, one engineering professor in particular helped bring her major to life.
"I've had the privilege of taking a class with Dr. Samuel Awoniyi, who truly exhibits a passion for teaching and total dedication to his students," Jacobs said. "He was always available to us when problems arose, and he got to know each of our names in order to really incorporate us into his daily lectures. He didn't just care about us passing the class — he wanted to be sure we completely understood the material and would know how to apply it in the workplace."
Jacobs got a chance to do just that during a junior-year internship at a Tallahassee-area manufacturing company. Equally significant, said Jacobs, she got to interact with and learn from a diverse group of fellow workers.
Back on campus, she calls her service as an Orientation leader "one of the best growing experiences I have had at Florida State." Helping new Seminoles design and build happy, productive student lives was only natural for this gregarious engineer-in-training.
"Serving as an Orientation leader deepened my involvement on campus and really showed me what leadership, diversity and friendship are all about," Jacobs said.
And speaking of friendship, Jacobs is a devoted and active member of her sorority, Kappa Alpha Theta. She has served as the co-chair for philanthropy for FSU's largest women's organization, the Panhellenic Association, which includes Kappa Alpha Theta and 15 other National Panhellenic Council sorority chapters. In that leadership role, Jacobs has helped to coordinate projects with the Boys and Girls Club and other groups that range from after-school tutoring to clothing drives.
She also brings her love of Florida State and enthusiasm for campus life to her work on the Homecoming "Spirit Tribe" committee and as "morale captain" for Dance Marathon, the university's largest student-run philanthropy. It's no wonder she has earned a place in FSU's oldest leadership honor society, Garnet and Gold Key Leadership Honorary, formed to recognize the spirit of service, leadership and loyalty that students such as Jacobs embody.
As graduation approaches, Jacobs looks forward to traveling an exciting variety of paths to her future — just as she did when she first arrived at FSU. She could be an engineer. She'd like to teach. At some point, she hopes to explore other countries. Her commitment to community service continues. She has some big decisions to make, and her time at Florida State has prepared her to choose well.
---
Produced by the offices of Information Technology Services, the Provost, Student Affairs, Undergraduate Studies and University Communications.