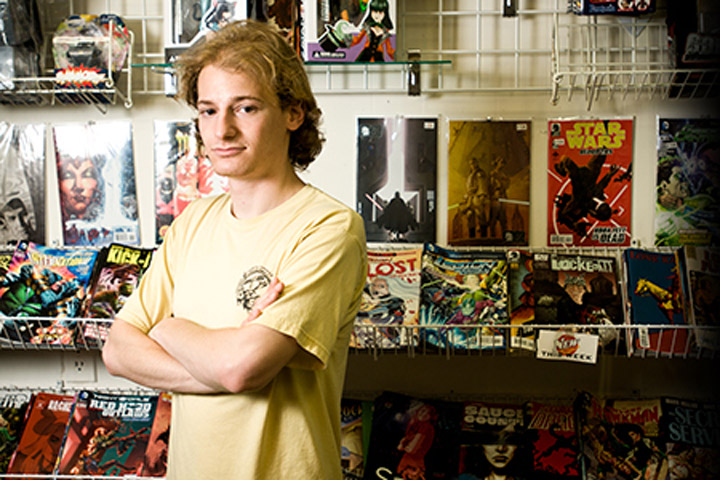 "I want to take the bias Tallahassee has with Frenchtown and break it down by providing the facts, but also providing the story of how popular stigmas are formed."
When David Tiegen, a senior majoring in creative writing, first transferred to Florida State University, he got the usual run-down of where to go — and not go — around town.
"Kids told me to stay away from Frenchtown," he recalls of the historic Tallahassee neighborhood a short walk from campus.
The hollow warnings not only didn't deter Tiegen, they spurred him into digging deeper.
"The usual image of crime and homelessness prevailed among the student opinions I heard," he remembered. "And from a first glance, I could see how it might appear that way. But it also sounded too simple."
A talented comic book illustrator and writer who has since been awarded a Public Service Research Fellowship, Tiegen is using the opportunity to create a "journalist comic" book about Frenchtown. His idea for the book has changed many times, but he has settled on focusing on how we examine truth.
"I want to take the bias Tallahassee has with Frenchtown and break it down by providing the facts, but also providing the story of how popular stigmas are formed," Tiegen said. "The story has two main paths: you follow me, a journalist for this story, in order that we can see how many truths are thought up until we settle on one and then you also follow history for factual comparison, context, and to see whether the truths seem to be real. The ultimate effect will be a story about recycling the same facts over and over again to get multiple truths. The idea is to develop a complex understanding of places like Frenchtown and to understand how media has created its stigma."
Before coming to Florida State, Tiegen wrote a weekly comic while a student at Florida Gulf Coast University in Fort Myers. Tiegen, who attended Alexander W. Dreyfoos School of the Arts in West Palm Beach, calls himself a "cornerstone to the usual lineup at Williams Reading Night every Friday," where he likes to "test" his new stories.
He says he's more writer than artist but loves both.
"The earliest intuition of a passion I can remember is being amazed by storytelling. I can draw, though I am not trained by any means," he said. "I only have confidence in my art skill insofar as journalistic comics and Web comics, since both of these forms support autobiography through style or learning how the author sees the world by how he illustrates it."
Tiegen, who hopes to someday professionally create and illustrate comics as well as teach at a university, believes that "journalism itself is in a great transitional phase along with the rest of printed text."
The comics genre, he said, is no exception.
"New creators and companies are emerging all over, and with that, new genres of comics are starting to flourish," he said. "Some of journalistic comics has spread to newspaper infographics. Their ability to condense information is useful for quick information and complex information, and thinking of comics in this way has begun to appear useful to all kinds of publishers."
Studying comics at the university level — which he calls an emerging field in academia — has long been his goal. The research grant reaffirmed that goal because it provided a tangible — and meaningful — project to pursue.
"I had been looking for a way to study comics in my university for a while," he said, "and, having settled that creative writing would be the closest I got, I then thought the grant would help me pursue my interest further and make it a direct part of my career."
---
Produced by the offices of Information Technology Services, the Provost, Student Affairs, Undergraduate Studies and University Communications.